These sweet roasted eggplant meatballs are perfectly complemented by a creamy, tangy, roasted red pepper tahini sauce in this Mediterranean pasta dish.
I have been brainstorming ideas for a delicious vegan meatball recipe for quite a while now. And these also happen to be gluten-free and oil-free!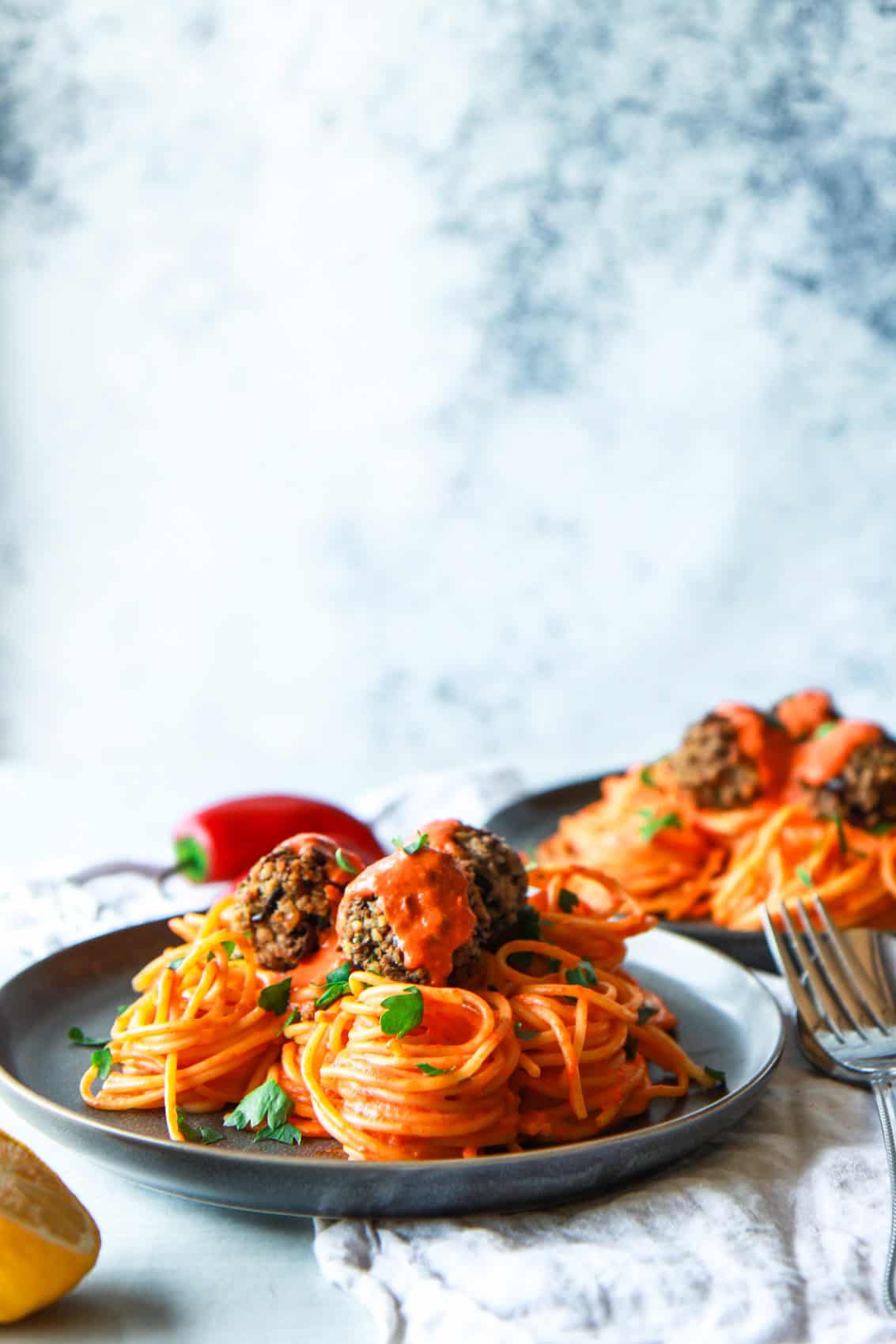 I was never a fan of red bell peppers as a child. I was actually, surprisingly enough, not a fan of eggplants either, and now they have become one of my favorite vegetables! All it took was some time roasting in the oven for me to fall in love with both of these beautiful vegetables. Roasting eggplants and bell peppers brings out a sweetness that complements Mediterranean cuisine so well.
To make the meatballs, the sweet roasted eggplant is simply pulsed with walnuts, breadcrumbs, parsley, and garlic! The walnuts hold the meatballs together and their nuttiness brings out the sweet aroma of the roasted eggplant.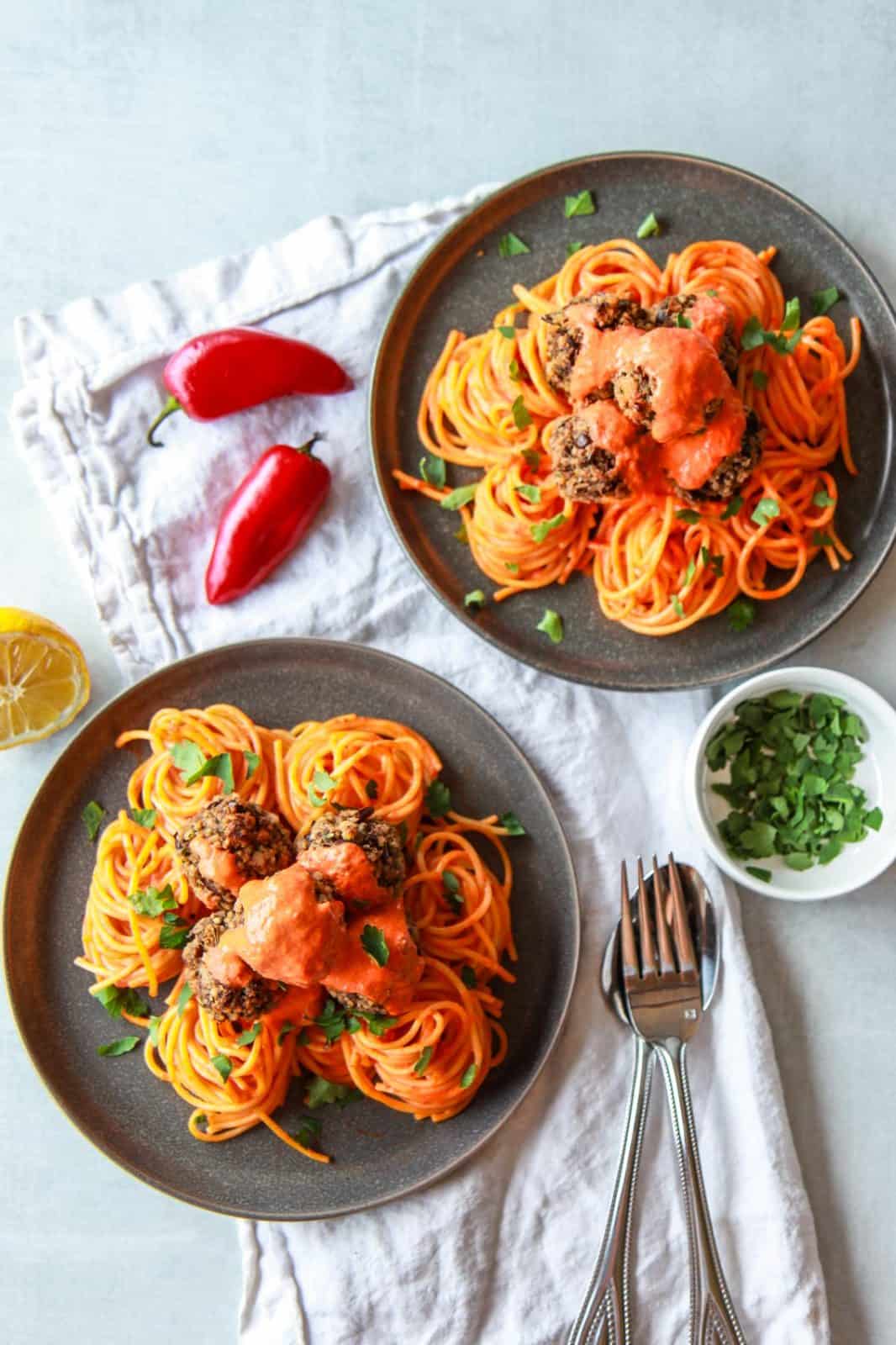 Tahini was the perfect choice to complement the sweet flavors present in this pasta dish. It turns the roasted red peppers into a savory, tangy sauce. Of course, I love adding tahini to anything and everything, but it makes this pasta dish so creamy and irresistible. It makes such a deliciously creamy pasta sauce that, once you taste it, it is hard to believe this sauce is completely dairy-free!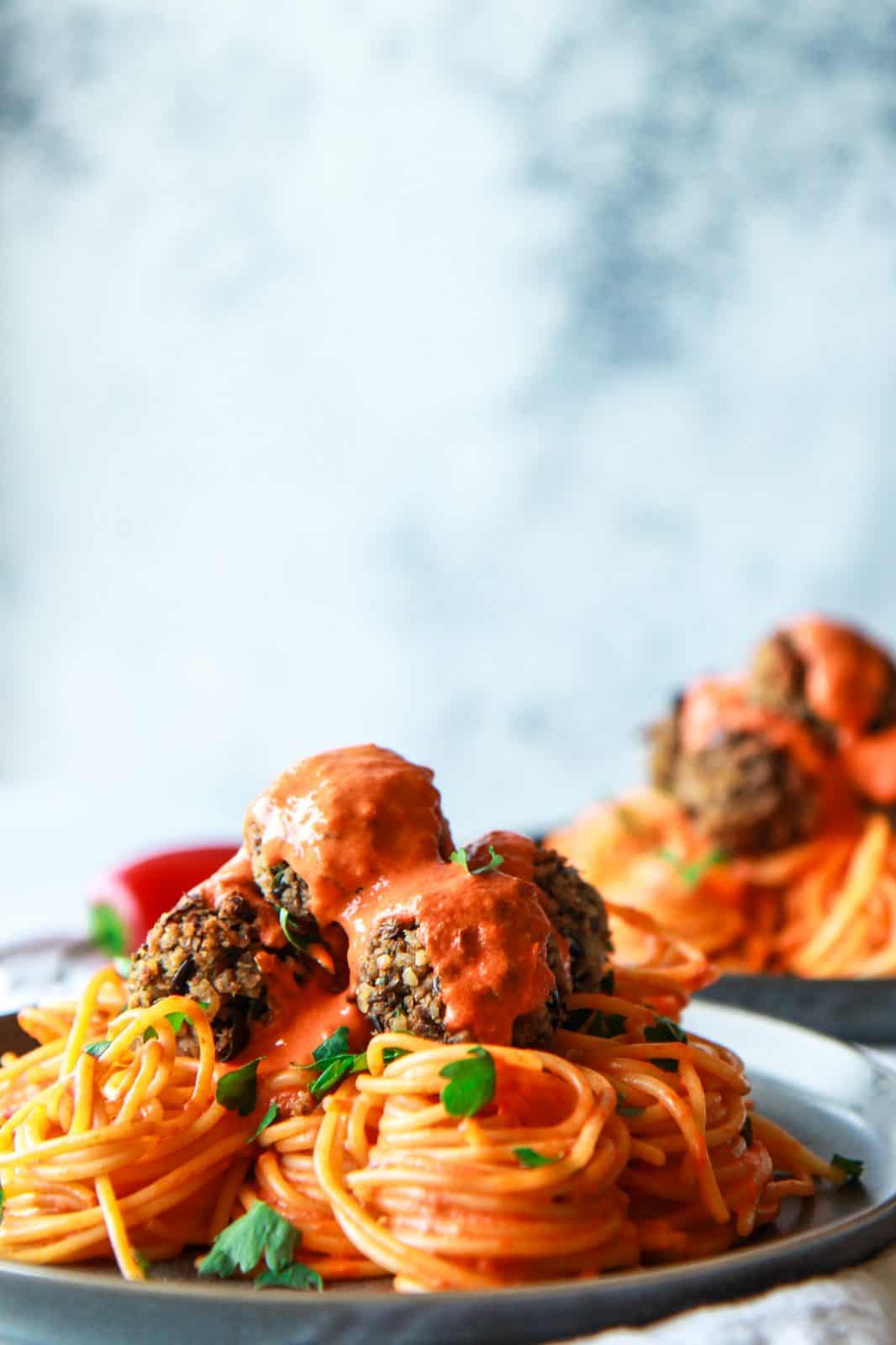 Topped with some fresh chopped parsley and toasted pine nuts, a favorite topping of any Middle Eastern dish, this pasta is done in about an hour, although it looks like it took much more time and effort to prepare!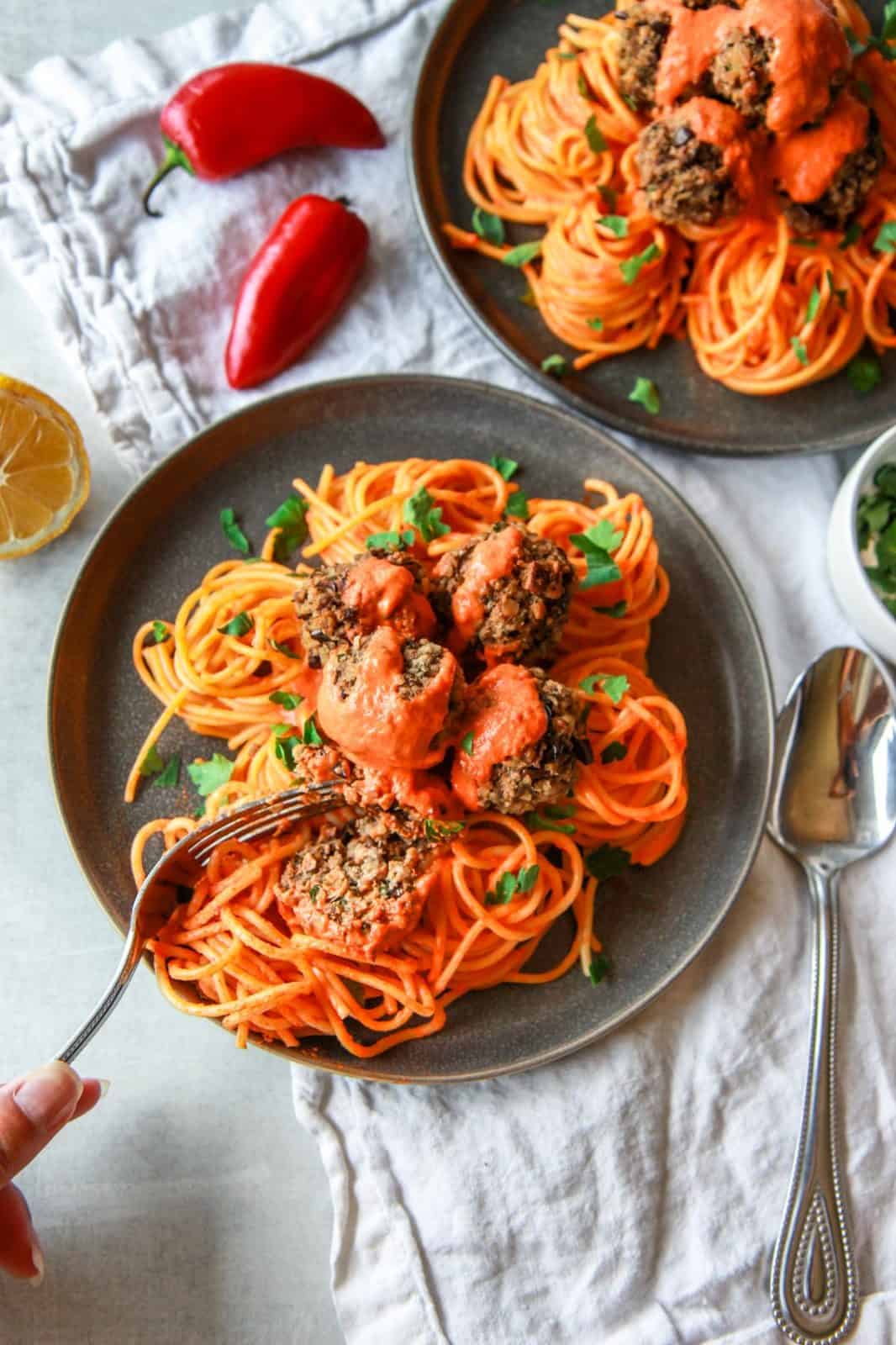 Don't forget to let me know if you try out this recipe in the comments below or pin it for later! I would also love to see your recreations on Instagram @zenandzaatar.
If you enjoy this free recipe, consider supporting me further by purchasing or gifting my e-book, including this recipe and over 55 others! Have the best vegan recipes at your fingertips, downloaded to your device, without the ads and extra text on my blog. Buy it HERE!
Eggplant Meatballs with Roasted Red Pepper Tahini Pasta
Total Time:
1 hour
5 minutes
Baked vegan eggplant meatballs served over a roasted red pepper tahini pasta. Topped with fresh parsley and toasted pine nuts. This Mediterranean-inspired pasta dish is oil-free and gluten-free, so everyone can enjoy it!
Ingredients
Eggplant Meatballs
1 eggplant
½ cup breadcrumbs (use gluten-free panko to keep GF)
1 cup walnuts (raw or roasted)
¾ cup parsley
2 cloves garlic
½ tsp sea salt
3-4 tbsp aquafaba or other vegan egg replacer
1 tbsp olive oil (optional, helps hold shape)
For Serving
¼ cup pine nuts (for topping)
8-10 oz spaghetti pasta (I used brown rice and quinoa spaghetti to keep this dish GF)
Instructions
Preheat oven to 500F. Line or grease a baking sheet. Slice eggplant in half lengthwise, and place it skin-side up on the baking sheet. You can begin to prepare the red pepper tahini simultaneously- place the 2 red bell peppers on the baking sheet as well.
Remove the eggplant after 18-20 minutes, once it is roasted and tender but not too soft. Leave the red bell peppers to roast for another 10-15 more minutes. Once you remove the red bell peppers, cover them with foil and set aside to cool.
Chop the roasted eggplant into chunks to fit in the food processor. Place walnuts, parsley, and garlic into a food processor and pulse for a few seconds, until crumbly. Then, add eggplant chunks, breadcrumbs, aquafaba, salt, and olive oil if using. Pulse for a few seconds until just combined. Be careful not to pulse for too long, or the mixture will be harder to shape. Check the texture by scooping and forming a ball. The mixture will be soft but should not fall apart. If the mixture is too sticky, add a little bit of breadcrumbs and pulse again, and if it seems dry, add the other tbsp of aquafaba.
Lower the oven heat to 415F. Line a baking sheet with parchment paper. Scoop about 2 tbsp of the eggplant mixture, shape into a ball, and place onto the sheet. This is easily done with a cookie scoop.
You should end up with about 18 meatballs. Bake the eggplant balls for 30 minutes, until browned. They will have a firm outside but delicate inside.
While the eggplant meatballs bake, prepare the pasta according to package directions. I brought a pot of salted water to a boil and cooked my pasta for about 10 minutes, until al dente. Reserve one cup of the cooking water and drain the rest of the pasta.
Finish preparing the roasted red pepper tahini sauce according to directions.
Dry toast the pine nuts in a saucepan over medium heat for about 5 minutes, until they just begin to brown.
Assemble the pasta. Pour the red pepper tahini sauce over the noodles, reserving some of the sauce for topping. If it's thick, thin it out with the reserved pasta water until you reach the desired consistency. Top pasta with eggplant meatballs, fresh parsley, and toasted pine nuts. Serve immediately.
Recommended Products
As an Amazon Associate and member of other affiliate programs, I earn from qualifying purchases.