There are many varieties of moussaka because various Middle Eastern and Mediterranean countries each have their own version of the dish, which typically consists of some form of an eggplant casserole with tomato sauce. Today I will be sharing the Syrian moussaka, which is traditionally made vegan with layers of eggplant, onions, tomatoes, chickpeas, and plenty of olive oil. The word moussaka, or مسقعة, in Arabic means "cold," as this dish is commonly served warm or cold alongside fresh, warm, pita bread. After the dish is left to cool, the flavors meld and marinate together, resulting in a dish that is even tastier the next day.
I made this for my non-vegan family during this month of Ramadan as an iftar dish. Although not usually added in the Syrian version, I decided to add slices of browned potatoes, to create a more filling main dish and because baked potatoes make everything better. To my surprise, everyone helped themselves to seconds and thirds, commenting on how delicious it had turned out, and not a single person asked where the meat was.
The tantalizing aromas of garlic, onion, and tomatoes shine through thanks to the olive oil in this dish, which caramelizes the vegetables and creates a delicious sauce perfect for soaking up with fresh pita bread. The eggplant and potato slices are also beautifully caramelized with olive oil before baking all the layers of the dish together.
The chickpeas add protein to the dish and make for a fun, colorful combination of different textures and shapes. Adding fresh tomatoes in addition to the canned tomatoes brightens up the dish and creates a playful combination of tomato flavors. The dish is finally topped with crunchy pine nuts toasted in olive oil, which is drizzled over the baked dish. Fresh mint leaves are a refreshing final touch.
This dish is delicious served hot over a bed of basmati rice or alongside pita bread. It is even better the next day served cold or barely warm, scooped with your favorite pita bread.
Don't forget to let me know if you try this delicious recipe in the comments below or pin it for later! I would also love to see your recreations on Instagram @zenandzaatar. I hope you love this simple, classic, Mediterranean dish!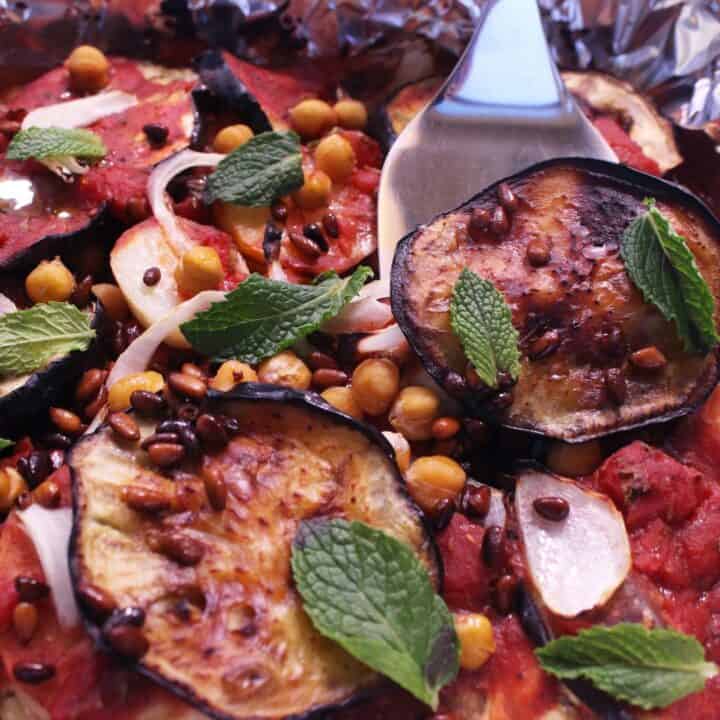 Syrian Moussaka with Eggplant and Potato (Vegan)
Total Time:
1 hour
5 minutes
A Syrian moussaka or layered Mediterranean vegetable casserole, made with eggplants, potatoes, tomatoes, and chickpeas.
Ingredients
2 large eggplants
2 large potatoes
¼ cup olive oil (see notes for oil-free method)*
2 tomatoes
1 onion
2 cups cooked or canned chickpeas
1 15 oz can tomato sauce
1 15 oz can diced tomatoes
½-1 cup water
4 cloves garlic, minced
2 tsp salt
½ tsp black pepper
½ tsp sumac
1 tsp cumin
¼ cup parsley, chopped
For Topping
¼ cup pine nuts
2 tbsp olive oil (optional)
fresh mint leaves
Instructions
Preheat oven to 425F. Peel potatoes and cut into thin slices. Cut eggplants into thin slices as well. Grease a large baking sheet with olive oil (you may need to use 2 sheets) and place the eggplant and potato slices on the sheet. Try not to overlap the slices. Place the olive oil into a small bowl, and use it to brush the tops of the eggplant and potato slices. Bake the eggplant and potato slices for 25 minutes, until the tops begin to brown.*
Meanwhile, prepare the tomato sauce. Pour the tomato sauce and diced tomatoes into a large bowl. Add minced garlic, salt, pepper, sumac, cumin, and chopped parsley. Stir thoroughly to combine.
Chop the onion into thin rings or strips. Chop the tomatoes into thin slices.
Once the eggplants and potatoes are browned, remove them from the oven and set aside. Begin to assemble the moussaka for baking. Line a large, deep, baking dish with aluminum foil if desired. Drizzle the bottom with olive oil. Pour ¼ of the tomato sauce mixture on the bottom of the baking dish and spread the sauce around, creating a very thin layer to start off with.
Layer half of the potato and eggplant slices on top of the sauce. Top with half of the onion slices. Then, top with all of the tomato slices. Pour half of the chickpeas over the dish. Pour ½ of the remaining tomato sauce mixture over all of the layers and spread evenly. Layer the remaining eggplant and potato slices over the sauce, reserving a few slices to decorate the top later. Layer the remaining onion slices on top of the eggplants and potatoes. Pour the rest of the chickpeas and tomato sauce over the dish. Top the dish with the few eggplant and potato slices that you reserved.
Add ½ cup water to the baking pan to thin out the sauce a little bit. If it still looks dry, you can add another ½ cup of water. Drizzle the top with some olive oil if desired. Bake for 25-30 mins.
Meanwhile, prepare the roasted pine nuts for topping, if using. In a small saucepan, roast the pine nuts in olive oil for 3-5 minutes. Alternatively, dry toast the pine nuts until slightly browned and fragrant. Watch closely to see when they just begin to brown, and immediately remove from the heat and set aside.
Remove the moussaka from the oven, and top with the roasted pine nuts. Top with fresh mint leaves and serve.
Notes
*Oil-free method: Make sure you use parchment paper so that the veggies do not stick. While the oven preheats, sprinkle the sliced eggplant with a little bit of salt, over a towel, to draw out the moisture. Arrange the potato and eggplant slices in a single layer on the parchment paper before baking, and check halfway through to make sure they do not get too browned.
Nutrition Information:
Yield:

5
Serving Size:

1
Amount Per Serving:
Calories:

548
Total Fat:

24g
Saturated Fat:

3g
Trans Fat:

0g
Unsaturated Fat:

19g
Cholesterol:

0mg
Sodium:

1655mg
Carbohydrates:

78g
Fiber:

18g
Sugar:

21g
Protein:

14g
Nutrition information is provided as a courtesy and is an estimate only. This information comes from online calculators. Although zenandzaatar.com attempts to provide accurate nutritional information, these figures are only estimates.