What if you never had to worry about looking for balanced, delicious vegan recipes again?
With the Vegan is Delicious e-cookbook, there's no need to waste time searching for recipes you will love, or spend money on expensive vegan takeout. You'll learn how to cook delicious and simple plant-based meals from the comfort of your home that will be on your table within the hour.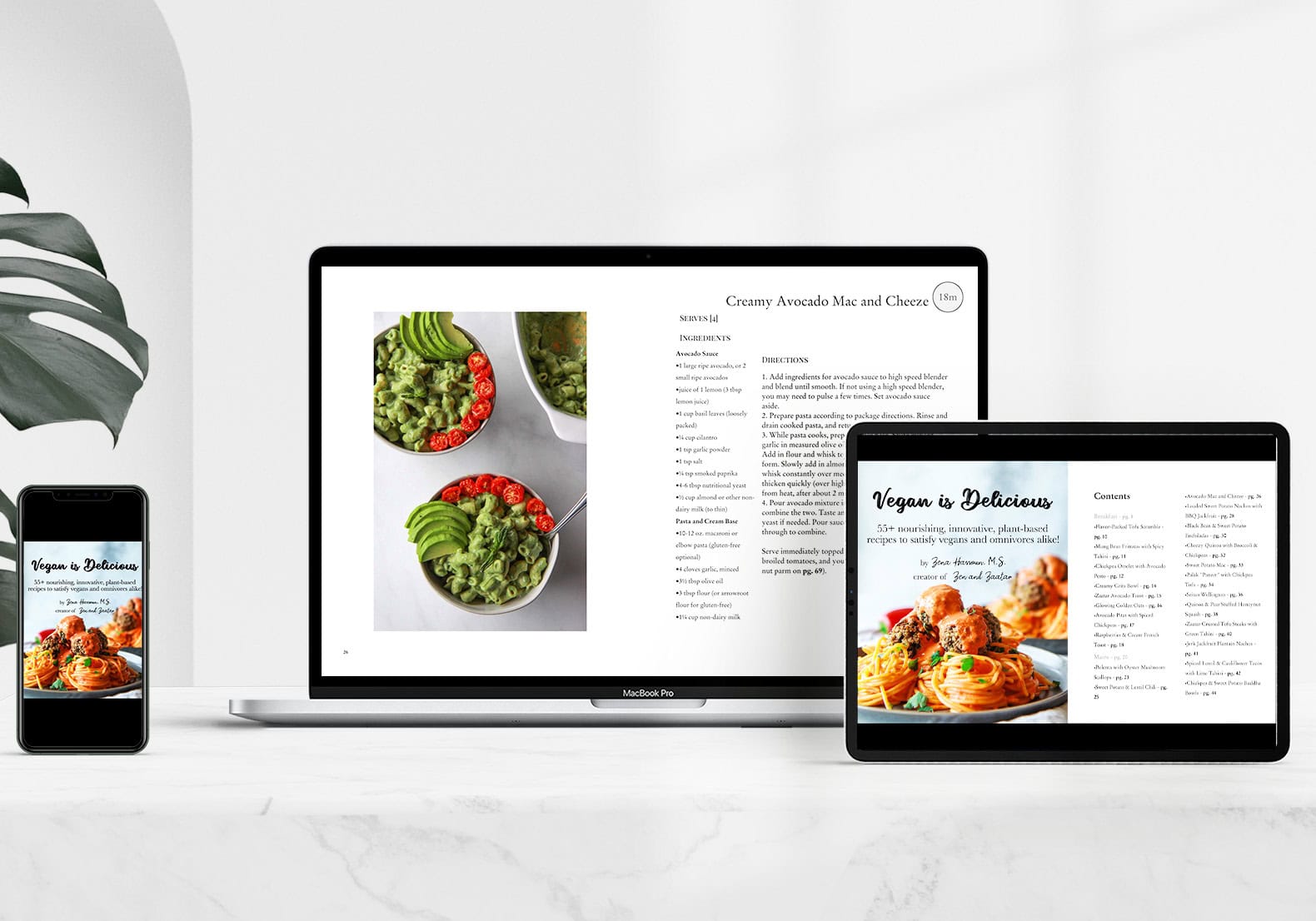 Say goodbye to meal planning and feel your best with over 55 chef-designed vegan recipes + a free vegan meal plan & grocery guide to jump-start your journey.
Only 19.99 14.99
new year sale: 25% off!


Tell me if this sounds like you:
You don't know what to make with the groceries you've bought, so you end up spending money on takeout again.
You spend too much money on vegan alternatives because you think they're difficult and expensive to make on your own.
You're bored of eating the same vegan dishes every week.
You're feeling uninspired in the kitchen, so you eat out for another night.
You're tired of wasting time searching for vegan recipes that your whole family, including the picky eaters, will enjoy.
You're not feeling your best after relying on overly processed vegan foods for convenience.
Now what if there was a way to have the best nutritious, delicious, simple vegan recipes accessible to you at the click of a button wherever you may be?
That's exactly why I created Vegan is Delicious, because I want to help you feel your best through balanced, gourmet, plant-based meals that taste incredible, eliminating the need for expensive vegan alternatives or pricey takeout meals.
So are you ready to start making amazing, balanced vegan meals in an hour or less that won't break the bank?
Here's how you can do it: Buy Vegan is Delicious right now and lock in its lowest price ever!

Vegan is Delicious will:
Provide delicious, nutritious, and creative plant based meal inspiration.
Show you how to make amazing vegan recipes that even picky eaters love.
Help you stop feeling uninspired in the kitchen.
Help you create beautiful vegan dishes that will impress anyone.
Provide you with recipes that make you feel your best.
Help you feel your best with nutritious, whole-foods plant-based recipes.
Prove to you that vegan food does not have to be boring.
Show you that incredible vegan food doesn't have to be expensive or time consuming.
With recipes like:
and more!
Right now, you're struggling with finding balanced vegan meals that make you feel good, taste amazing, and don't take forever to make...
Imagine if you had a large collection of chef created, meat-eater approved, delicious, and nutritious plant-based recipes available to you at any time?
Let's make it happen!
Buy Vegan is Delicious at it's lowest price right now.
And start making simple, delicious plant based recipes from the comfort of your home.
So... why am I sharing this right now?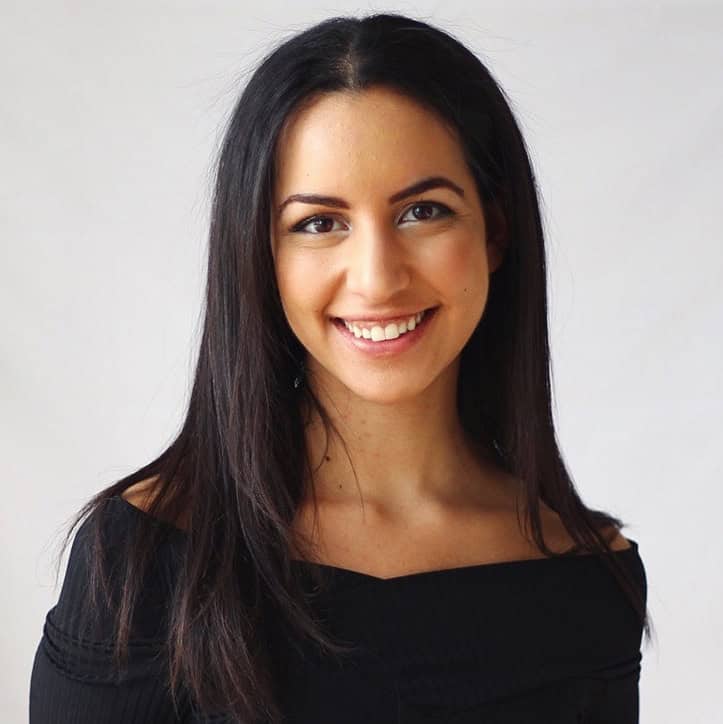 Hi! I'm Zena Hassoun, a vegan chef and health expert with a passion for designing beautiful, yet nutritious plant-based meals. After graduating with a Master of Science in Medical Health Sciences, I wanted to use my knowledge to help people feel their best both mentally and physically on a plant-based diet. Adopting a vegan diet does not mean that you have to miss out on the foods you once used to love, and I strive to illustrate that through my recipes!I hope to inspire you to eat food that makes you feel good and find peace and joy in life's day to day moments.
I've been developing and sharing vegan recipes for over 4 years through Zen and Zaatar, but I wanted to create a high quality resource for my readers who wanted the best, nutritious vegan recipes available to them wherever they went at the click of a button. My goal with Vegan is Delicious is to simplify my reader's lives, many of whom are busy with their full time jobs and families, and want to come home to delicious, nutritious recipes and feel inspired in the kitchen once again.
If you purchase NOW, you get: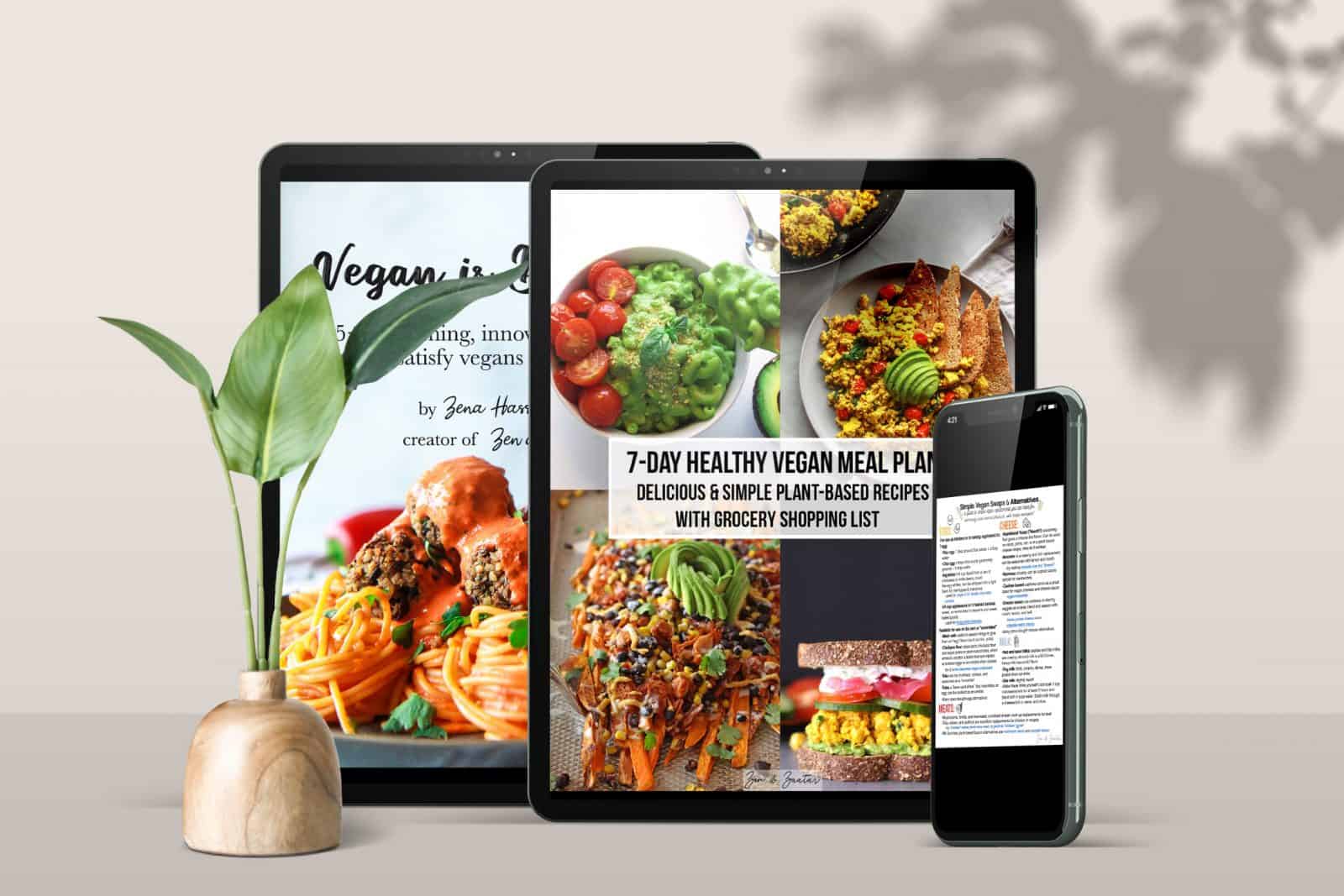 The Vegan is Delicious e-cookbook

($19.99)

7-Day Healthy Vegan Meal Plan with Grocery List

($14.99)

Vegan Substitutions Guide

($9.99)
A total value of 44.97, now only 14.99!
That's a total savings of 67% OFF!
Lock in this price today! The price will be going up soon.

So how does this work?
After purchasing Vegan is Delicious, you will get an email from me, Zena Hassoun, notifying you that "Your Zen and Zaatar order is now complete."
Inside the email, you will see a download link for the item "Vegan is Delicious E-book (Limited Bundle)." Once you click through, you will be able to download the .zip file which includes the Vegan is Delicious e-cookbook in 2 formats (PDF and EPUB), the 7-Day Healthy Vegan Meal Plan with Grocery List, and Vegan Substitutions Guide. Once you open the .zip file, all of these items will show up in your Downloads in a folder.
If you're having any issues with downloads, please reach out to me at [email protected].
FAQs About Vegan is Delicious:
Q: Do you have options for gluten-free or oil-free diets?
A: Many of the recipes are gluten-free or oil-free, or can be made gluten-free or oil-free with simple substitutions. These are noted with symbols for each recipe, and a guide to gluten-free and oil-free adaptations is included as well.
Q: How long do I have access?
A: Once purchased, the e-cookbook, meal plan, and substitutions guide are yours to keep forever- that's a lifetime of access!
Q: Can I buy this, try this, then ask for a refund?
A: Due to the digital nature of this product, we are unable to offer refunds after purchase.