Kunafa (also spelled Knafeh or Kanafeh) is a decadent, traditional Middle-Eastern dessert consisting of sweet, gooey, melted cheese sandwiched between two layers of shredded phyllo dough and soaked in an orange blossom syrup. This vegan kunafa is almost indistinguishable to the traditional dairy version, and many have reported it is even better!
Almost like a sweet cheese-stuffed baklava, it is easy to see from the pictures why this dessert is a favorite among many different Middle-Eastern countries! There is never a large gathering, party, or special event that is missing a large tray of kunafa, with its sweet orange blossom aroma traveling through the air.
You can choose to bake it in a round or rectangular cake pan; both are equally aesthetically pleasing but I prefer the rectangular sheet for large gatherings. If you use a smaller cake pan you may be tempted to finish it all by yourself!
I made this vegan kunafa for the first time for a large family gathering, where there were many dedicated kunafa fans as well as ones who had never tried it before. Everyone said it was indistinguishable from the traditional version and some liked it even more! The cheesy filling had the perfect gooey texture and the syrup soaked through the dessert wonderfully. Those who had never tried it before were pleasantly surprised.
The traditional recipe uses at least twice the amount of (vegan) butter that I used, but this slightly healthier version was not lacking at all in flavor and still gained a perfectly golden brown crust. I also loved using coconut sugar for the syrup as it gave the syrup a beautiful caramel color!
I hope you enjoy this irresistible dessert as much as I do!
Don't forget to let me know in the comments below if you try it or pin it for later! And I would love to see your recreations on Instagram @zenanzaatar #zenanzaatar!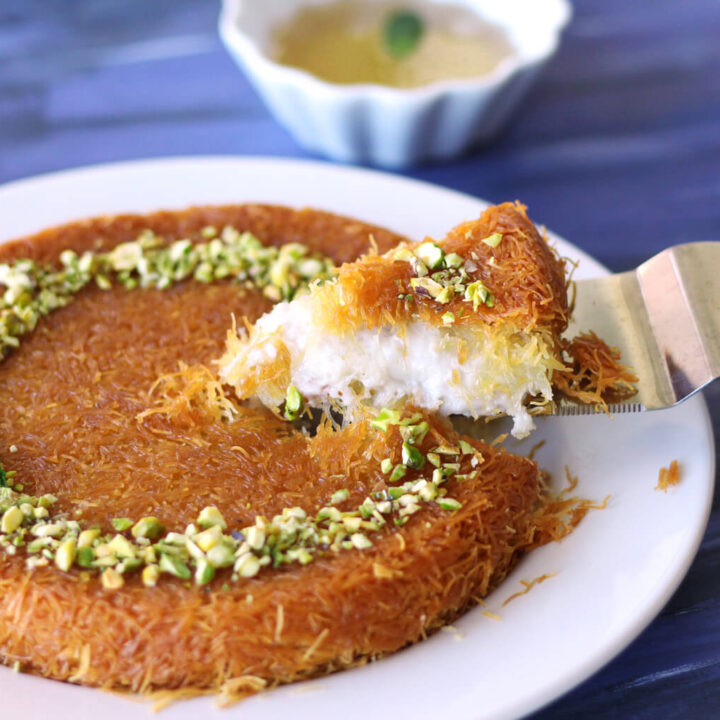 Vegan Kunafa (Knafeh) | Shredded Phyllo and Sweet Cheese Dessert
The vegan version of kunafa (knafeh), a traditional Middle-Eastern shredded phyllo dough and sweet cheese dessert, soaked in orange blossom syrup and topped with pistachios!
Ingredients
Kunafa Dough:
Sweet Cheese Filling:*
1 ¼ cup cashews (soaked for at least 2 hours if you don't have a high speed blender)
5 cups warm water
¾ cup tapioca starch
1.5 tbsp olive oil
1.5 tbsp lemon juice
1.5 tsp salt
Orange Blossom Syrup:
1 cup water
2 cups coconut or raw sugar (normal sugar will work fine as well, but brown sugars give it the caramel color)
1 tsp lemon juice
Toppings:
Instructions
Preheat oven to 350F.
Chop the kataifi into segments to fit inside the food processor. Process until the dough is shredded into small, crumbly strands instead of clumped together.
Melt butter in the microwave or over a saucepan. Place the shredded dough into a large bowl. Pour melted butter over the dough and mix together until the dough is completely coated with butter. This works best if you use your hands.
Lightly grease the sides of a 9x13in baking dish or 12 in round baking pan. Divide the dough in half. Cover the bottom of the baking dish with half of the dough, and press with your hands to pack it down. Press some of it up the sides of the pan as well.
Put all ingredients for sweet cheese filling in a high speed blender. You may need to separate it into 2 batches so it will fit in the blender. Blend until completely smooth, 1-2 minutes.
Once it has all been blended, pour the filling into a pot or large saucepan, over medium high heat. Constantly stir. After a few minutes, the mixture will begin to separate. Keep stirring until the mixture becomes an even, stretchy, melted mozzarella-like consistency. This will take about 5 minutes. Once the stretchy cheese consistency has been achieved, pour this filling over the layer of dough in the baking pan.
Wait about 5 minutes for the cheese to begin to cool. Then, sprinkle the other half of dough evenly over the cheese layer. Press it down softly to even the layer out.
Leave out for 5 more minutes before putting it into the oven. Bake for 35-45 minutes, until the top of the dough is visibly browned.
While the kunafa bakes, prepare the orange blossom syrup. Combine sugar and water in a saucepan over medium-high heat, and stir constantly. Bring to a boil. Once it boils, add lemon juice and simmer for 3-5 more minutes. Remove from heat and stir in orange blossom water. Set the syrup aside.
Remove kunafa from the oven, and let cool for at least 5 minutes before attempting to flip the dessert. Flipping it is optional, but will make the finished dessert more visually appealing. First, loosen the kunafa from the edges of the dish with a knife. Cover the top of the baking dish with a large, flat baking sheet or other large, rectangular serving dish. Flip the baking dish while it is covered by the sheet, so it will end up on the baking sheet.
Top the kunafa with crushed pistachios. Pour ¼-1/3 of the orange blossom syrup evenly over the dessert (depending on how sweet you would like it.) Serve immediately while still hot, with extra syrup on the side. Slice, drizzle with extra syrup, and enjoy!
Notes
**Available from international grocery stores or online!
Recommended Products
As an Amazon Associate and member of other affiliate programs, I earn from qualifying purchases.