This Syrian pasta with lentils is the ultimate Middle-Eastern comfort food. It is flavored with pomegranate, sumac, and caramelized onions, and topped with crispy homemade pita chips. This pantry-friendly meal is easy to make when you are running low on ingredients, and the lentils and pasta cook in the same pot.
There are so many simple Arabic dishes that are vegan to begin with or can be easily prepared so. Today I will be sharing my version of one of my favorites, a pasta with lentils made the Syrian way; its name in Arabic translates to "finger burner." It is called this because this dish is so delicious that you can't help but risk trying some while cooking it.

The ingredients are so simple but one of the stars of this dish is pomegranate molasses. Combined with sumac, a tangy Middle Eastern spice, it takes this seemingly basic recipe to a whole new level.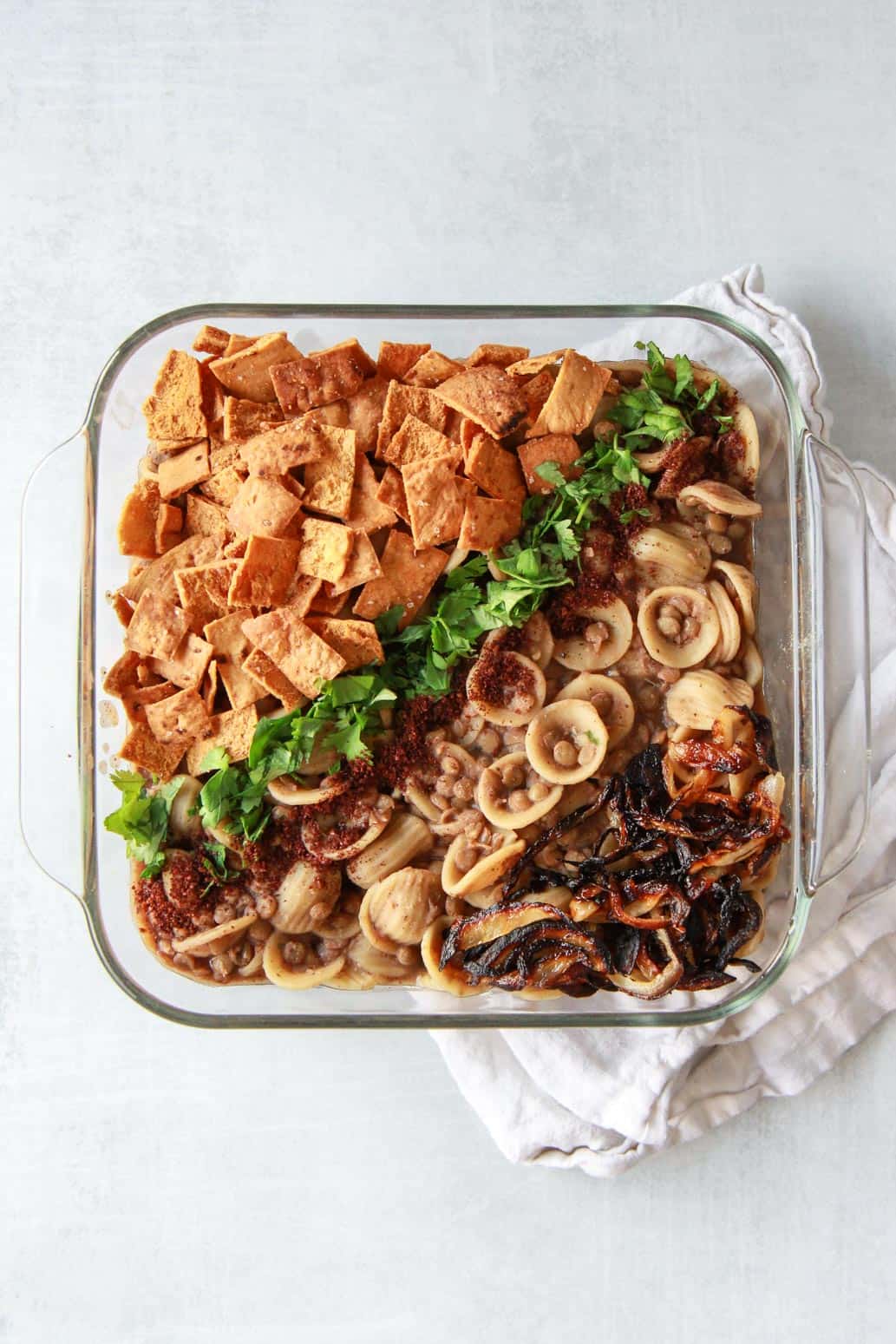 When my mom first made this dish for me as a child, I immediately fell in love. It was such a comforting and simple dish that reminded me of my summer visits to Syria as a child, as it included all the traditional Syrian and Middle Eastern flavors, with bright and tangy flavors shining through.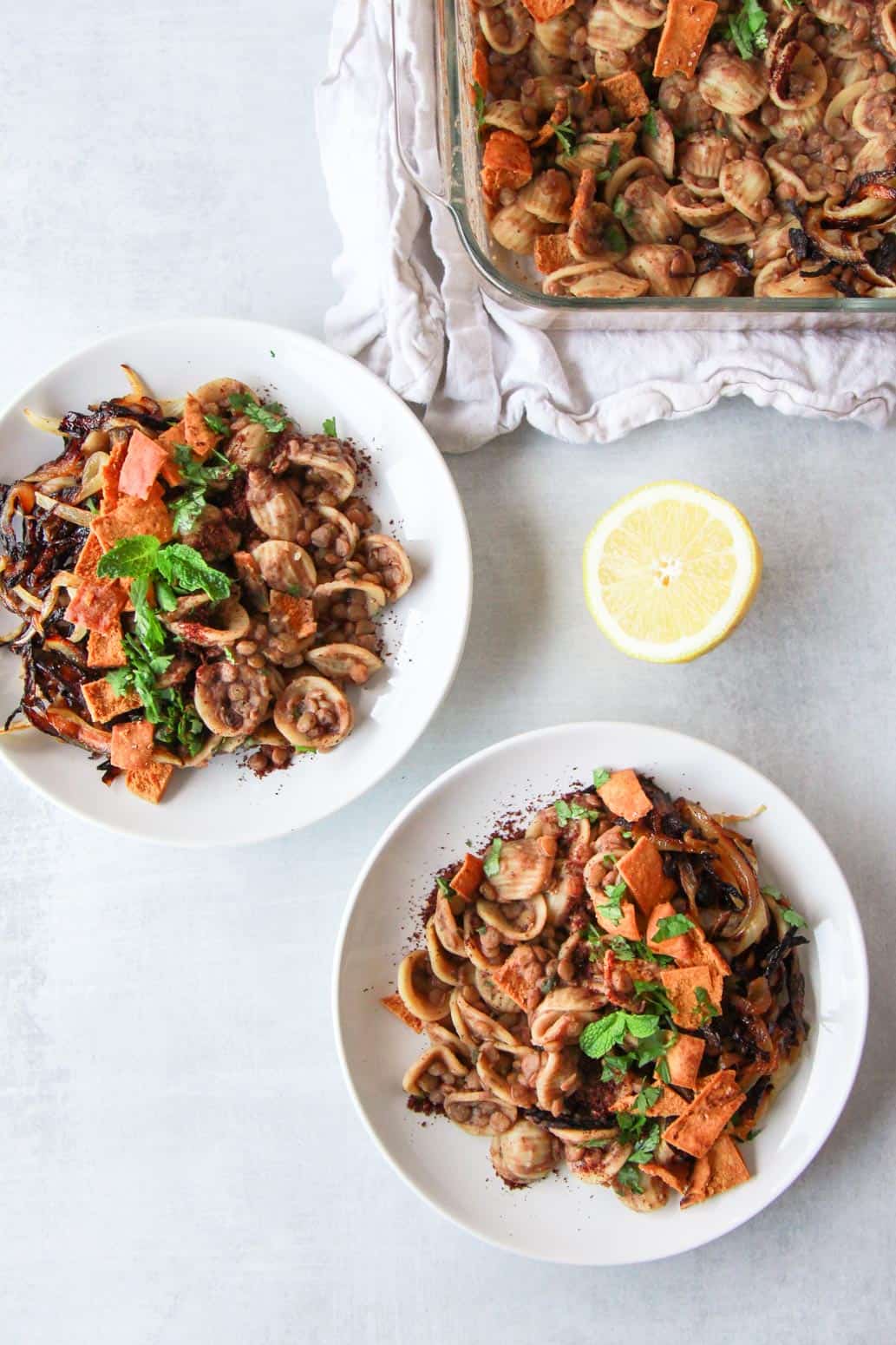 The crunchy pita chips on top give the dish a pleasant texture and crunch with every bite, and the cilantro and garlic fuse together, creating a tantalizing aroma.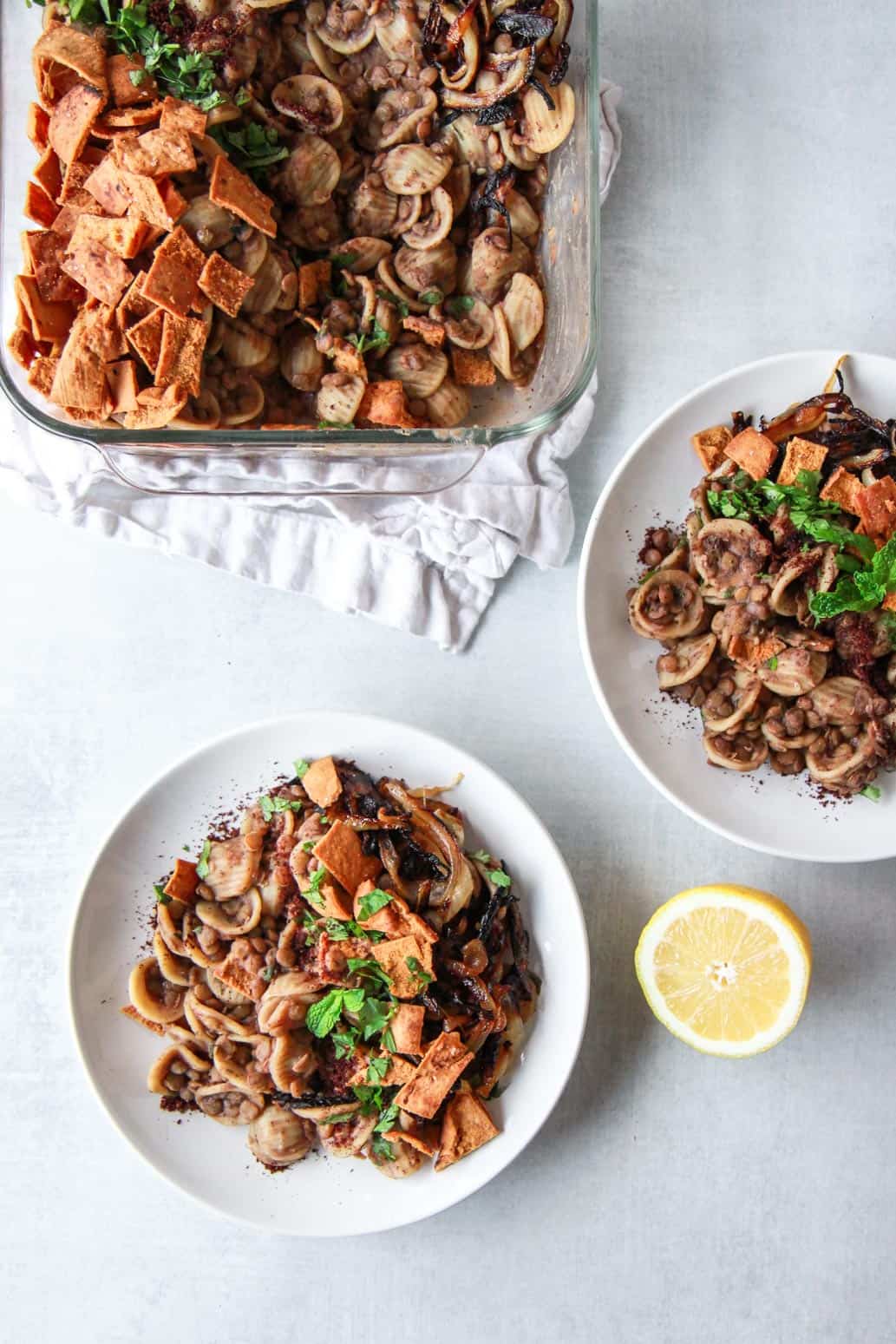 We cannot forget about the crispy caramelized onions. This is my absolute favorite way to cook onions because I love their crispy texture and the caramelized flavor they bring along with it.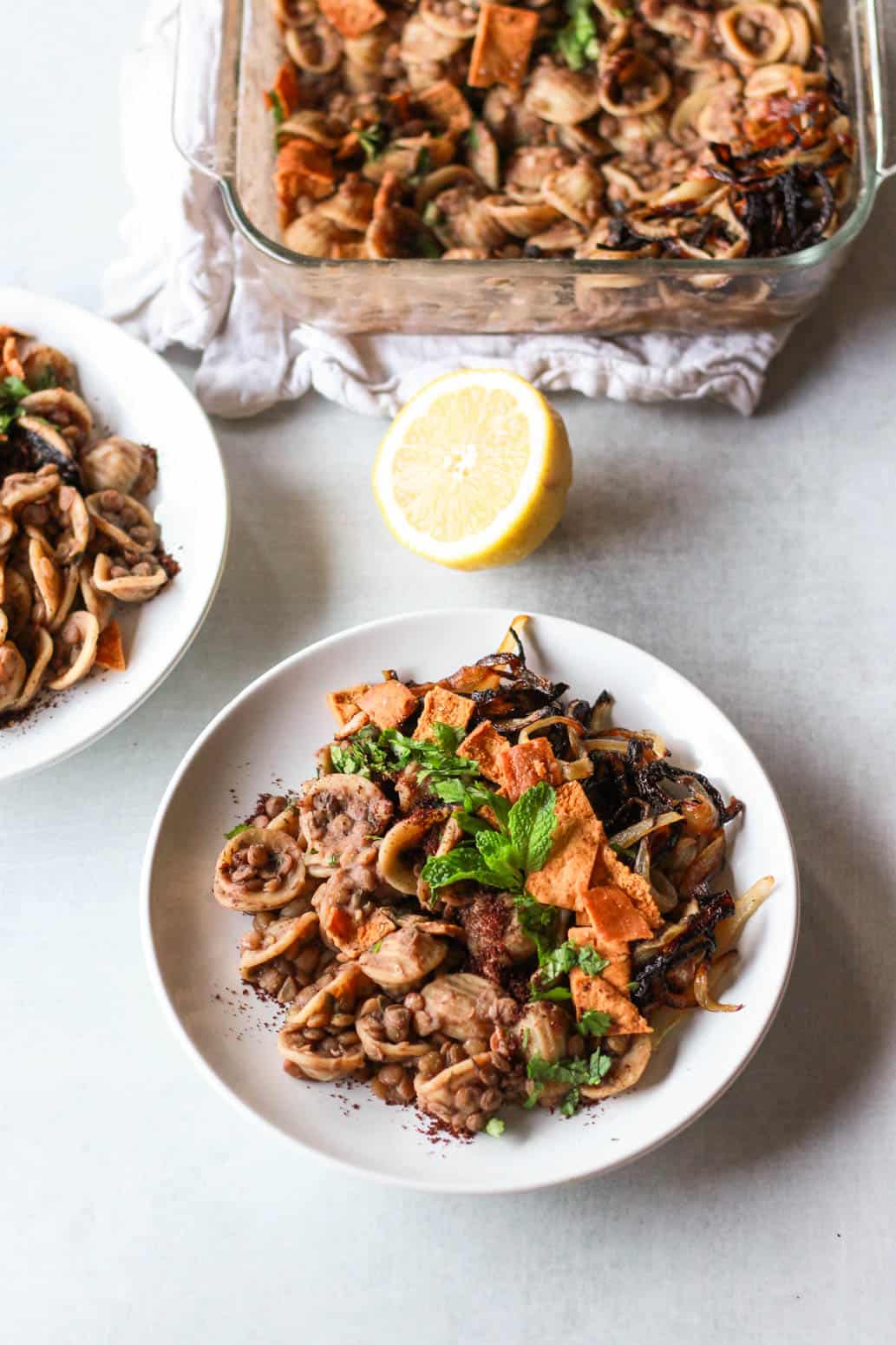 I hope you enjoy this dish as much as I do! Don't forget to tag your recreations on Instagram @zenandzaatar #zenandzaatar or pin this recipe for later!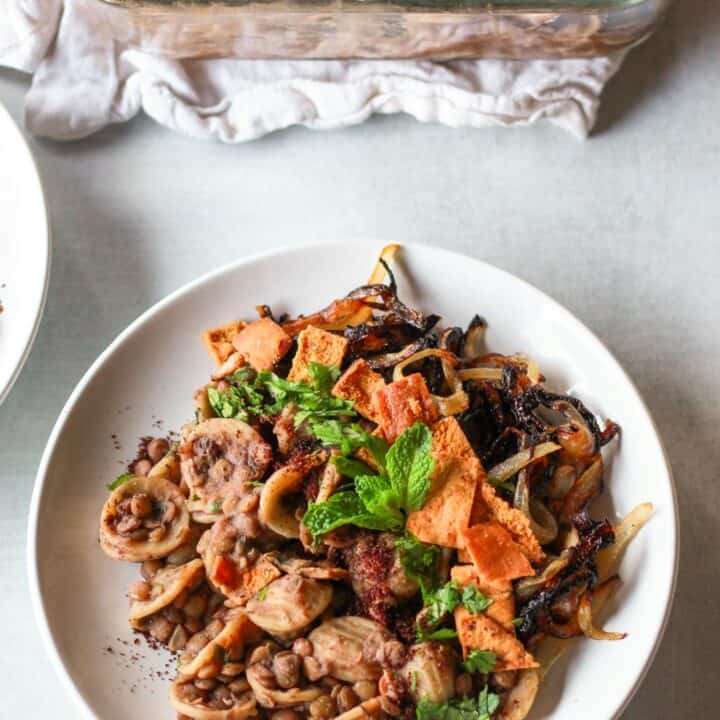 Pasta with Lentils, Syrian style (Horaa Esbao) | حراق اصبعه ("Finger Burner")
A delicious way to make pasta with lentils, Syrian style, infused with the flavors of cilantro, sumac, and pomegranate molasses! Topped with crunchy pita chips and crispy caramelized onions.
Ingredients
1 cup brown or green lentils
6 cups water
8-10 oz. pasta (I like orecchiette)
1 large yellow onion (sliced into rings/strips)
1 ½ tbsp olive oil
1 ½ tbsp vegetable oil
½ tsp dried mint
2 tsp sumac
1 tsp salt
1 tbsp lemon juice
¾ cup cilantro, chopped
3 cloves garlic, minced
Pita Chips
2 pita rounds
1-2 tbsp olive oil
pinch of sea salt
Instructions
Preheat oven to 400 F. Rinse and drain lentils. Put lentils in a pot with the water over medium-high heat and bring to a simmer. Reduce heat to medium-low and cook for for 20-30 minutes, until just cooked or al dente. (Note: The level of water should remain above the lentils throughout. Add more water ½ cup at a time if this is not the case.)
Separate pita rounds with a knife so that they are only one layer thick. Cut the rounds into small squares and toss in olive oil and salt. Place onto a baking sheet lined with parchment paper and sprinkle with sea salt if desired. Bake for 7-10 minutes, until crispy.
Meanwhile, sauté the onions in a mixture of olive oil and vegetable oil in a saucepan over medium-high heat until they are crispy, caramelized, and browned on the edges. This will take about 20 mins.
Add sumac, dried mint, salt, and dry pasta to the pot with the lentils and liquid in it, and bring to a simmer over medium heat. There should be enough liquid left in the pot to cook the pasta. Cook pasta with the lentils for the time specified on the package, I cooked my orrecchiette for about 12 minutes, until al dente.
Drain caramelized onions, reserving remaining oil, and place onions on a plate lined with paper towels. Add half of onions to the pasta and lentil mixture and reserve the remaining onions for topping.
Sauté cilantro and garlic until fragrant in the remaining oil, 2-3 minutes. Add half to pasta and lentil mixture, and reserve the remainder for topping.
Add lemon juice and pomegranate molasses to the pasta and lentils.
Serve hot, topped with the remaining cilantro and garlic, crispy onions, and pita chips. Drizzle with some extra pomegranate molasses, sprinkle with sumac, and serve with lemon if desired.
Recommended Products
As an Amazon Associate and member of other affiliate programs, I earn from qualifying purchases.