This creamy avocado mac recipe has finally answered my prayers of discovering a vegan mac and cheese that tastes just as good as "real" mac and cheese. And how could it not turn out to be amazingly delicious, when it includes avocado?!
Watch me show you how to make this creamy vegan avocado mac and cheese in the video below!
Watch on YouTube!
Avocado's buttery, creamy texture lends sandwiches and toasts a canvas that can easily be complemented by an array of toppings, but it is also just as delicious alone. Paired with herbs like basil and cilantro that complement its color and bring out its richness, avocado is truly the star of this dish.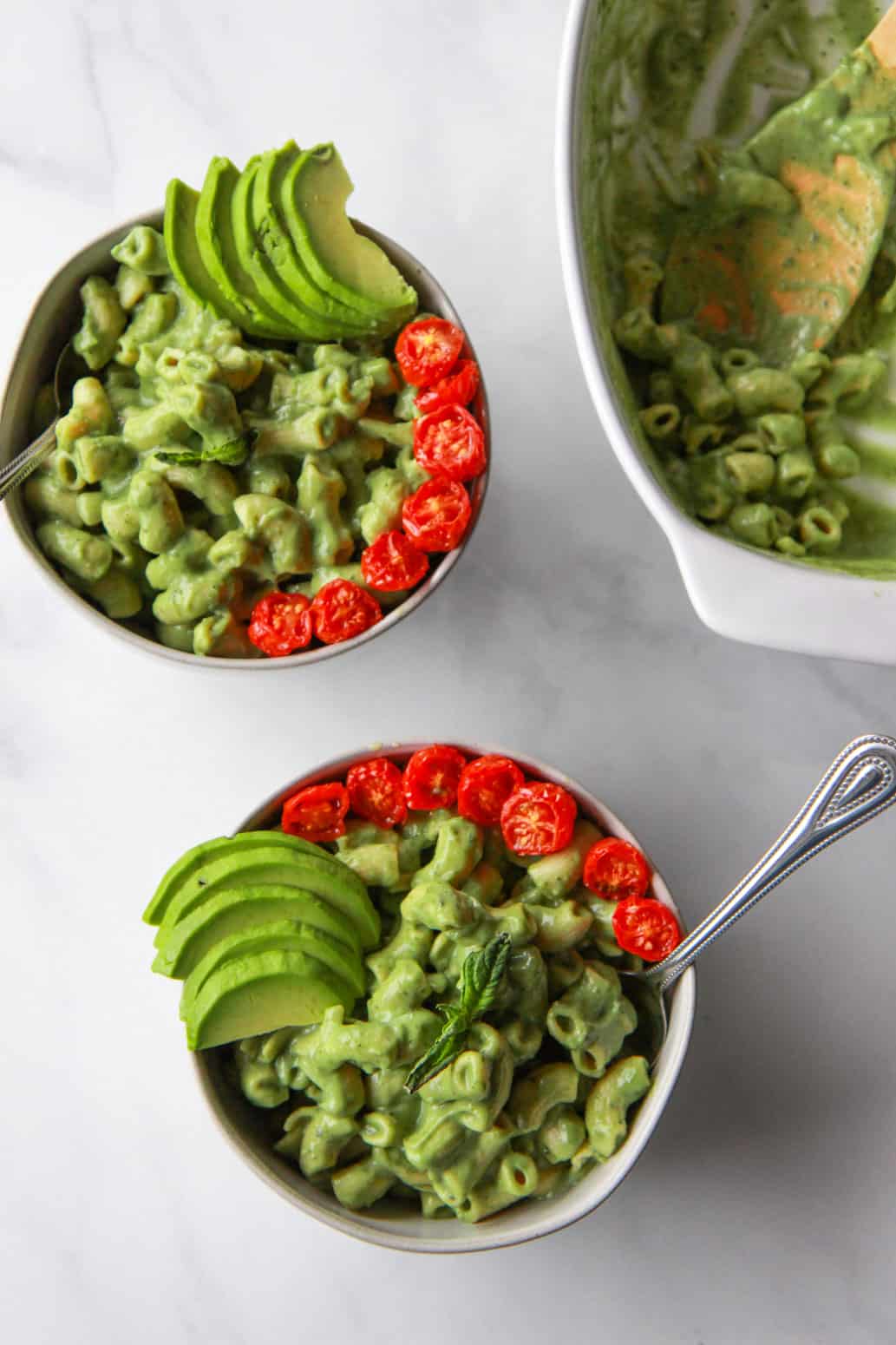 And the best part of this avocado mac is that it only takes about 15 minutes to put together! While you are cooking the pasta, simply blend together a creamy avocado sauce and prepare the fragrant garlic sauce base in a saucepan. Then, combine the three parts. And that's it.
The spices used, in combination with the garlic, give this mac a truly cheesy flavor that I could not believe the moment I tasted it.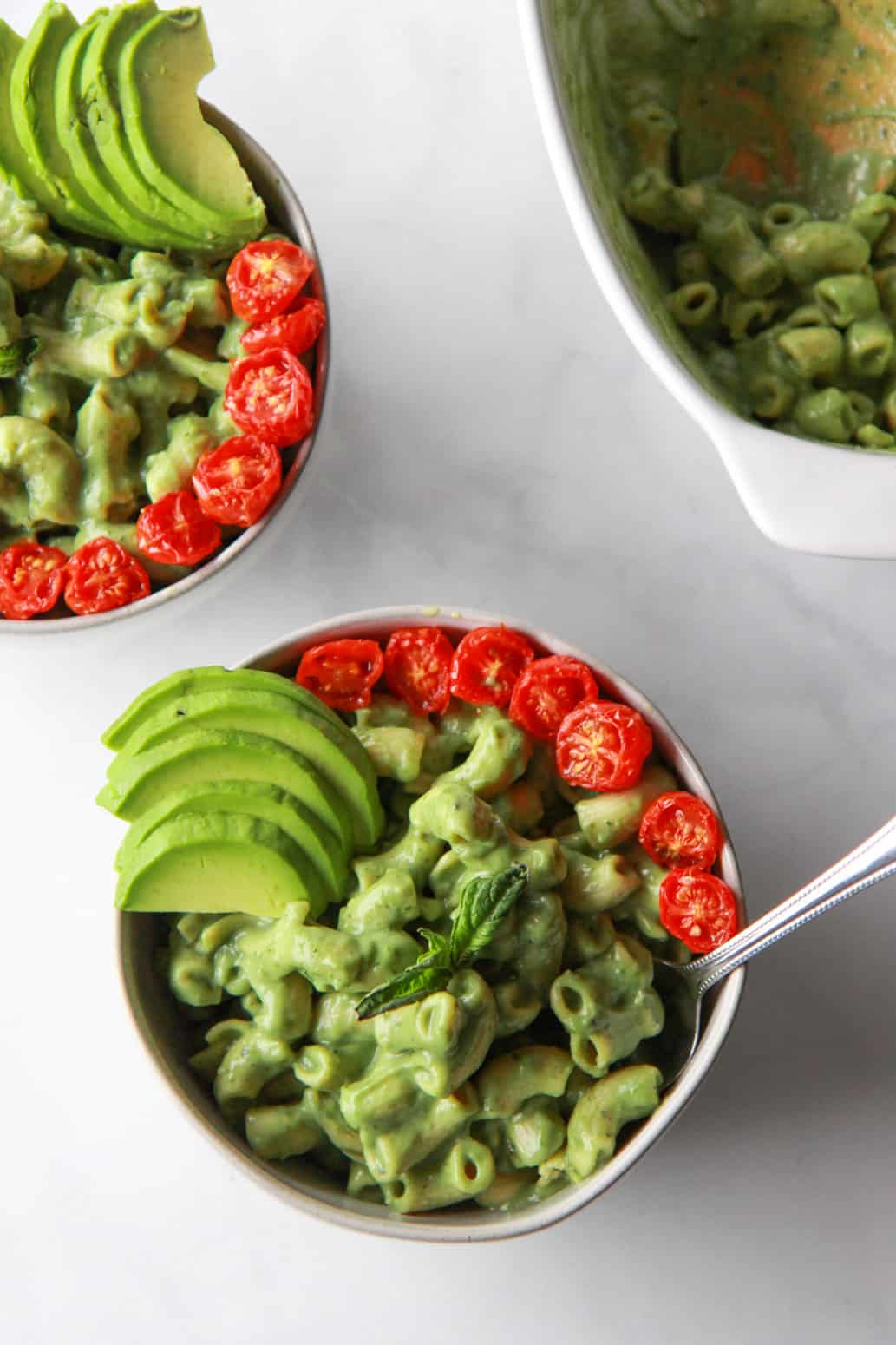 This version of mac and cheese puts a healthy spin on a classic comfort food, and I definitely did not feel guilty about finishing most of it in one sitting.
I hope you love this amazing avocado mac and cheese as much as I do; let me know if you try it out! And don't forget to tag your recreations on Instagram- #zenandzaatar and @zenandzaatar!
Creamy Avocado Mac and Cheese (Vegan)
A creamy and simple vegan avocado mac and cheese that comes together in under 20 minutes. A healthy spin on a classic comfort food.
Ingredients
Avocado Sauce
1 large ripe avocado, or 2 small ripe avocados
juice of 1 lemon (or 3 tbsp lemon juice)
1 cup basil leaves (loosely packed)
¼ cup cilantro
1 tsp garlic powder
1 tsp salt
¼ tsp smoked paprika
4-6 tbsp nutritional yeast
½ cup almond or other non-dairy milk (to thin)
Pasta and Cream Base
10-12 oz. macaroni or elbow pasta (gluten-free optional)
4 cloves garlic, minced
3½ tbsp olive oil
3 tbsp flour (or arrowroot flour for gluten-free)
1¼ cup almond or other non-dairy milk
Instructions
Add ingredients for avocado sauce to high speed blender and blend until smooth. If not using a high speed blender, you may need to pulse a few times. Set avocado sauce aside.
Prepare pasta according to package directions. Rinse and drain cooked pasta, and return to pot.
While pasta cooks, prepare sauce base. Sauté minced garlic in measured olive oil until fragrant, about 2 minutes. Add in flour and whisk to combine, ensuring no lumps form. Slowly add in almond milk a little at a time and whisk constantly over medium high heat. Sauce will thicken quickly (over high heat). Once thickened, remove from heat, after about 2 minutes.
Pour avocado mixture into sauce base and whisk to combine the two. Taste and add salt or more nutritional yeast if needed. Pour sauce over cooked pasta and stir through to combine. Serve immediately topped with avocado slices for garnish, broiled tomatoes, and your favorite vegan parmesan.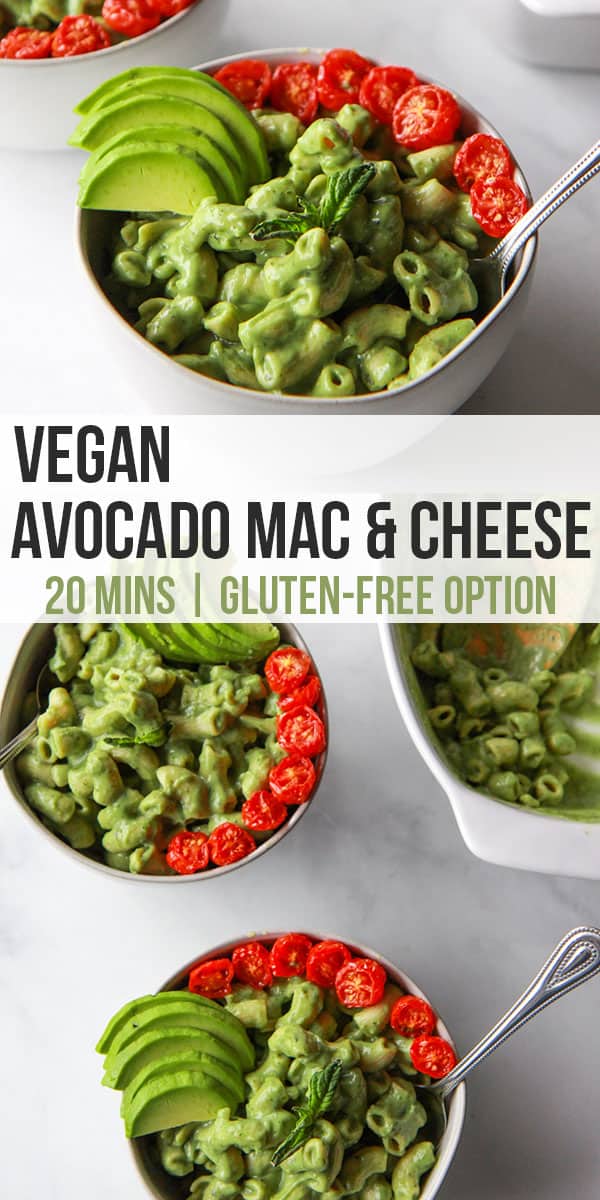 Save
Save
Save
Save
Save
Save
Save