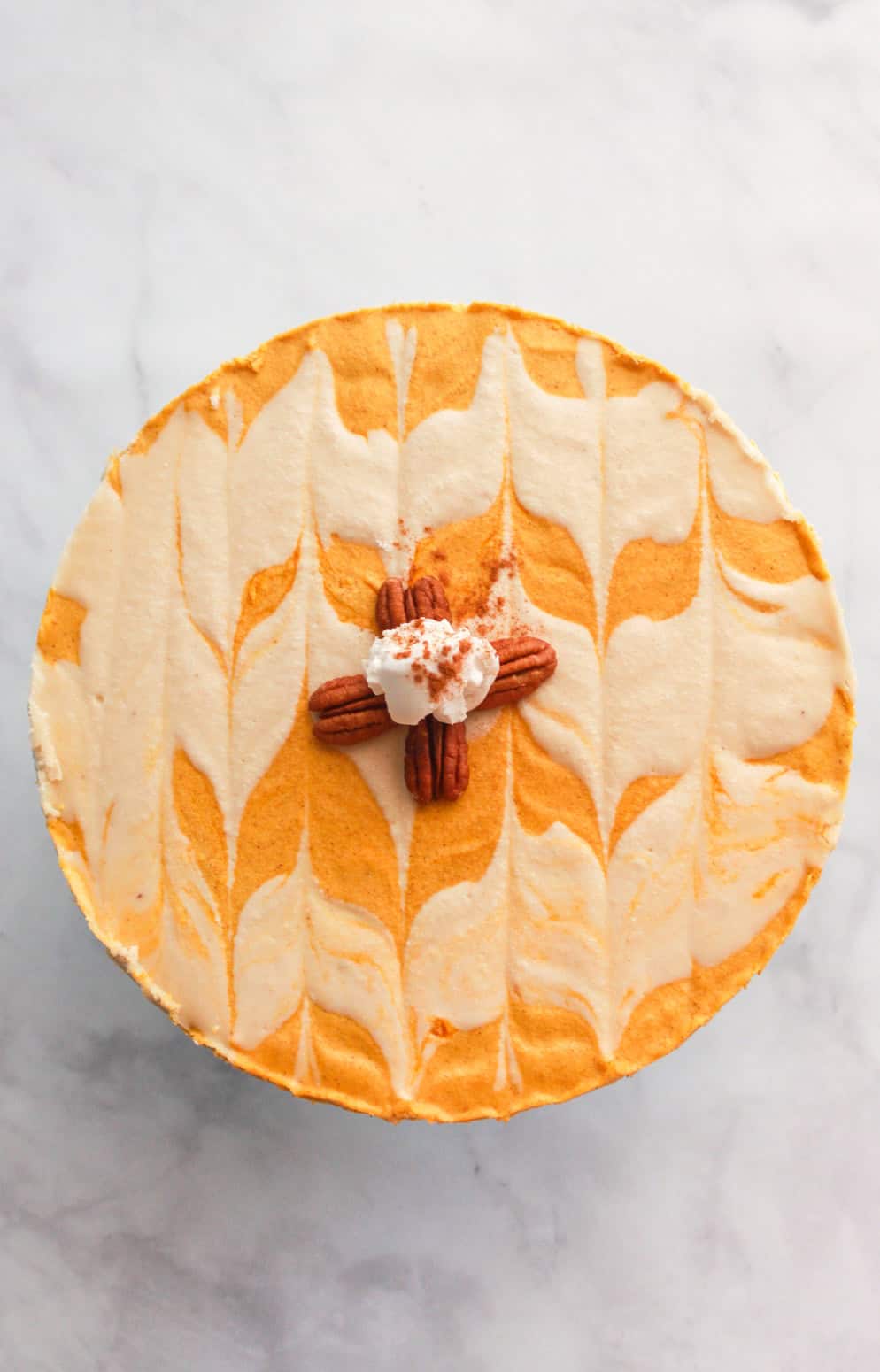 This no-bake vegan pumpkin cheesecake is perfect for the holiday season. You would never guess that this decadent dessert is also raw and gluten-free, without sacrificing any of the creamy richness and indulgent flavor.
Watch me show you how to make this easy, raw, vegan pumpkin cheesecake in the video below!
Watch the full video right
here
on
YouTube
!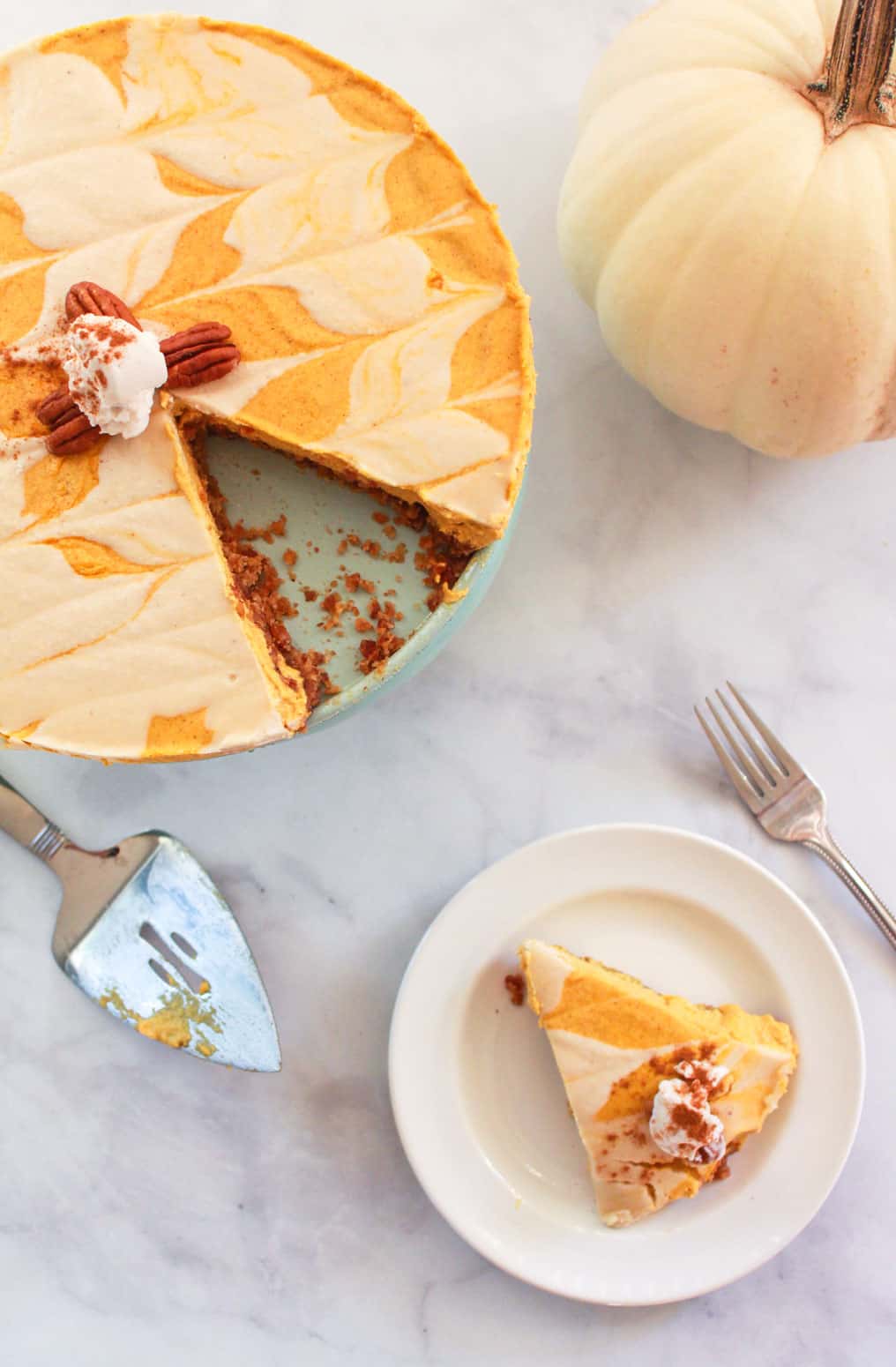 The crust for this raw vegan pumpkin cheesecake is simply made from only 2 ingredients- nuts and dates. While the crust sets in the freezer, we will prepare the cheesecake filling in the blender. The entire cheesecake sets in the freezer until firm, making this a no-bake recipe that you can leave to set while you prepare a holiday dinner.
Although this "cheesecake" is entirely raw and vegan, it surprisingly tastes like the real deal! My omnivore husband, an avid cheesecake enthusiast, can attest to this.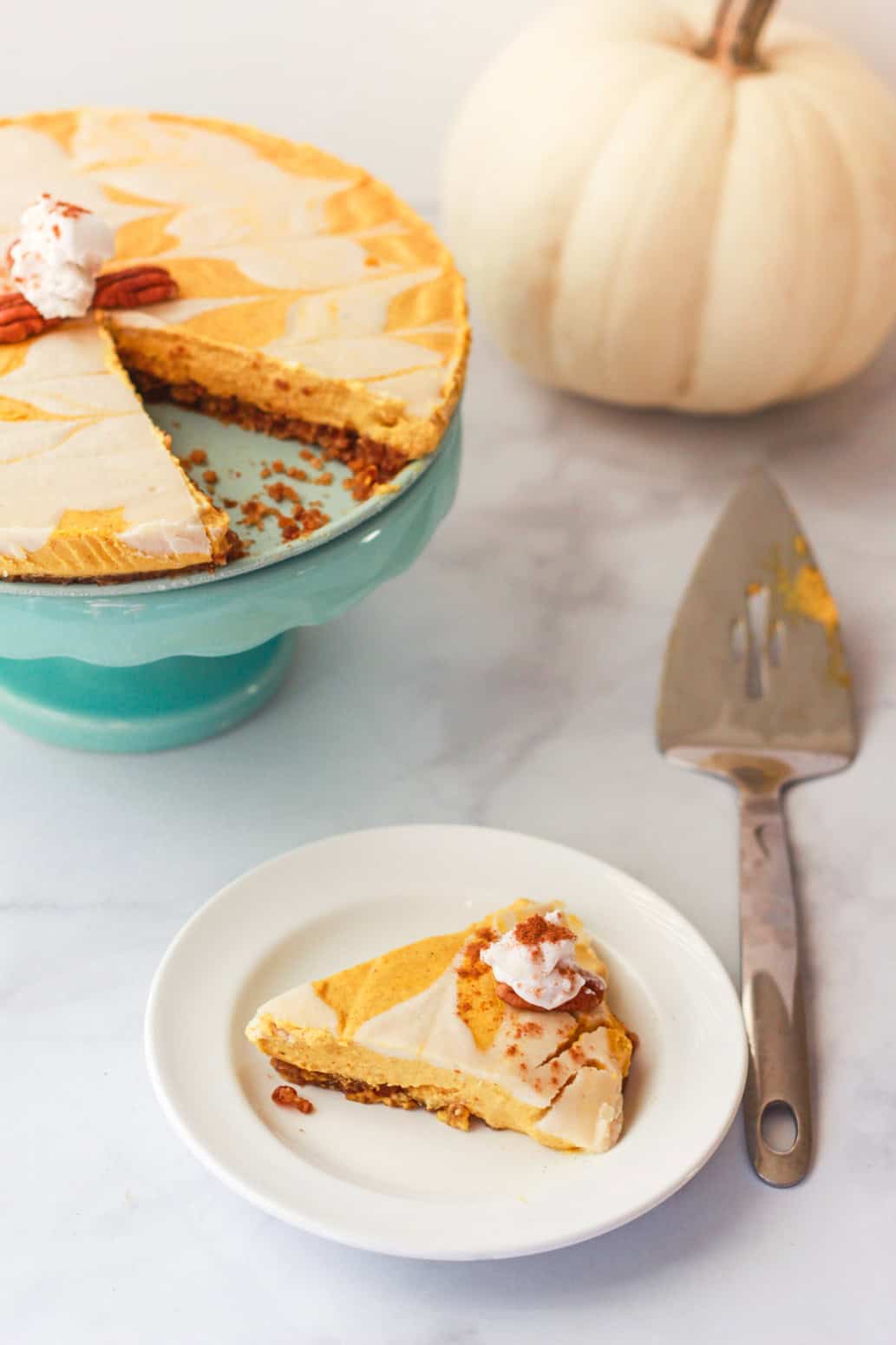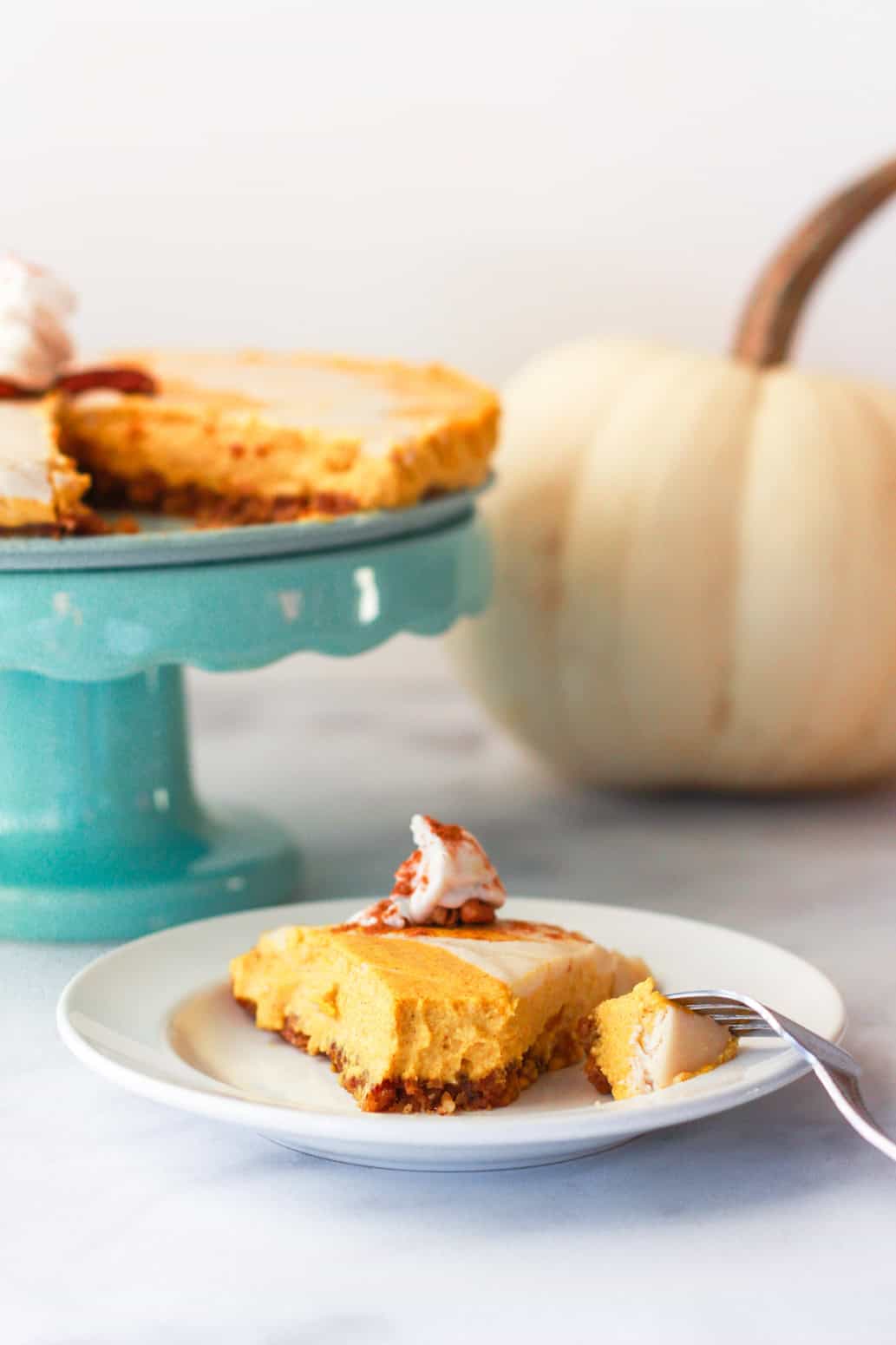 I hope you love this recipe as much as I do! If you make this vegan pumpkin cheesecake, I would love to see your recreations tagged on Instagram @zenandzaatar #zenandzaatar! Or just pin this recipe for later!
If you enjoy this free recipe, consider supporting me further by purchasing or gifting my e-book, including this recipe and over 55 others! Have the best vegan recipes at your fingertips, downloaded to your device, without the ads and extra text on my blog. Buy it HERE!
No-Bake Vegan Pumpkin Cheesecake (Raw, Gluten-Free)
Total Time:
3 hours
20 minutes
A no-bake vegan pumpkin cheesecake that simply sets in the freezer! Also raw and gluten-free, this pumpkin cheesecake is creamy and decadent without the guilt.
Ingredients
Crust
1 ½ cups raw walnuts or pecans
1 cup pitted medjool dates (about 8 large)
pinch of sea salt
1 scant tsp vanilla
1 tsp water (optional to make more sticky)
Cheesecake Filling
1 ½ cup soaked cashews (Soak at least 2 hours or overnight)
¾ cup coconut cream (Chill a can of full fat coconut milk for a few hours or overnight. The thick solid top layer is the cream.)
¼ cup lemon juice
1 tsp vanilla
½ cup maple syrup
¼ tsp sea salt
2 tbsp coconut oil (optional, to set better)
1 cup pumpkin purée
1 tsp pumpkin pie spice
1 tsp cinnamon
½ tsp turmeric (optional, boosts color)
Instructions
Grease an 8-inch springform pan with coconut oil, or line with parchment paper. (You can use a 9-inch or smaller pan, but the cheesecake will be thinner. For a thick cake, use 6 or 7 inch.)
Pulse the ingredients for the crust in a food processor, until it becomes dough-like and just sticks together. Do not over process. Pat down the crust in your springform pan. If it isn't sticky enough, add the water. Set in the freezer while you prepare the filling.
Place all ingredients for the cheesecake filling, except for the pumpkin purée, pumpkin pie spice, and turmeric, in a blender. Omit the coconut oil if you are oil-free. Blend until very smooth and no lumps remain. Set aside ½ cup of the mixture to make the design on top.
Add the pumpkin filling and pumpkin pie spice to the blender, and blend until smooth. If you want it to look more orange and bright, add the turmeric for color. Pour the pumpkin cheesecake filling over your prepared crust.
Drizzle stripes of the plain white cheesecake filling over the orange pumpkin filling, so there are alternating orange and white stripes. Drag a knife horizontally, perpendicular to the vertical lines, alternating directions (a "zig-zag" type motion), across the layers, to get the swirls shown in the photos. Set in the freezer for at least 3 hours, or until firm.
Take out of the freezer, and run a warm knife around the edges to loosen the cake, before removing from the springform pan. Top with pecans and whipped coconut cream. Leftovers can be frozen for a week. Enjoy!
Recommended Products
As an Amazon Associate and member of other affiliate programs, I earn from qualifying purchases.