Want to skip the ads and fluff and download this recipe straight to your device? Download this recipe and over 55 other vegan recipes as part of my e-book, HERE!
This seitan chicken recipe is a protein-packed plant-based meat alternative! Made from vital wheat gluten, these chicken breast style seitan cutlets are done in an hour, are flavored with savory herbs, and can be used in a variety of recipes.
You will start by creating a dough out of vital wheat gluten and knead it. This provides elasticity which helps create a more realistic vegan meat texture.
The seitan dough is then shaped into pieces resembling chicken cutlets, and simmered until cooked through. This recipe is unique in that you don't need a steamer since we instead will just simmer the seitan in broth.
Once cooked, you can use this seitan chicken in a variety of recipes. It is delicious when sautéed, seasoned, and browned and can be eaten on its own with a side of rice or vegetables. You can use it in sandwiches or pasta dishes, such as my seitan piccata.
Seitan is an excellent source of plant-based protein. It is great to incorporate into your meals as an alternative to the usual tofu or tempeh.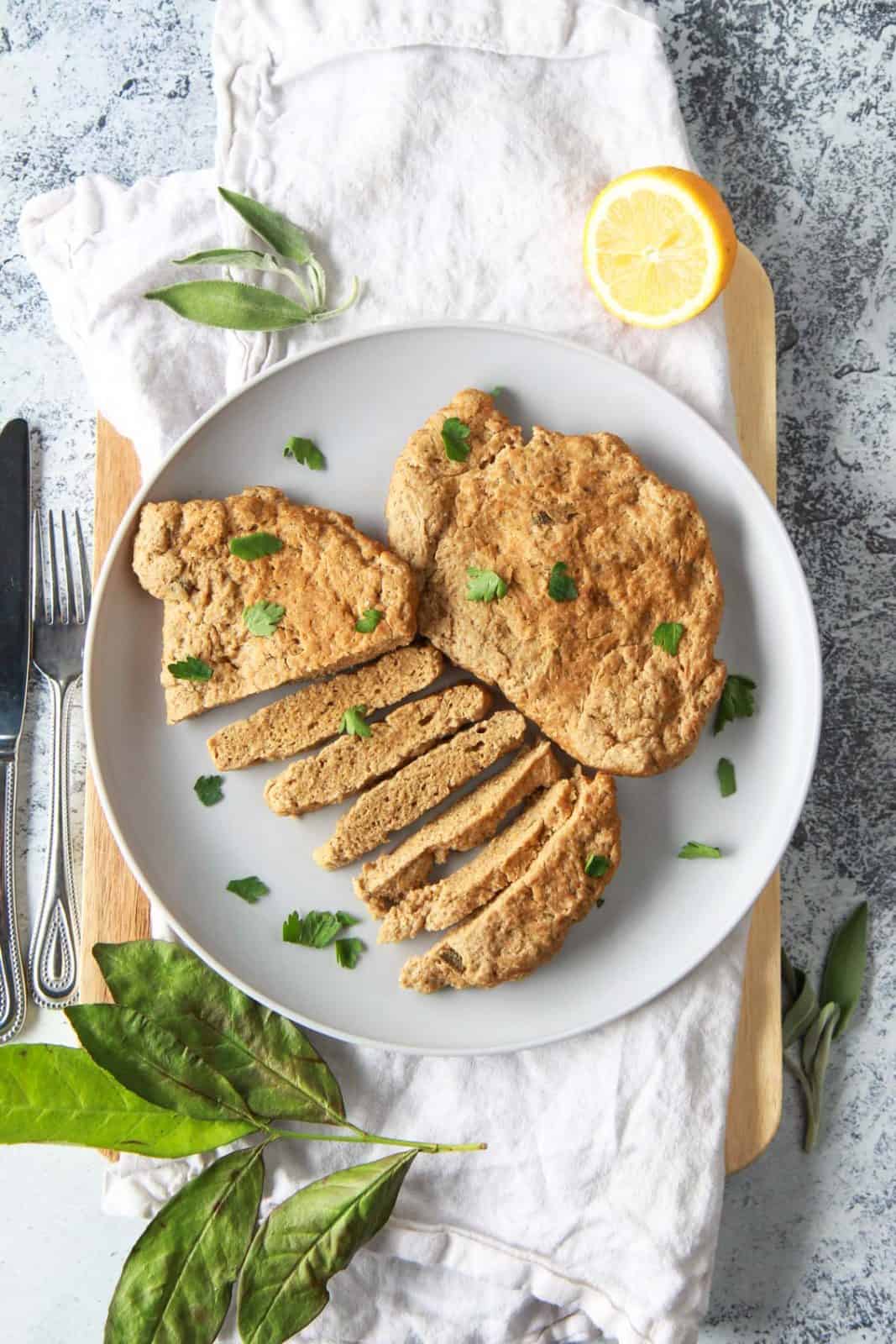 This seitan chicken can be stored in the refrigerator to use for meals throughout the week.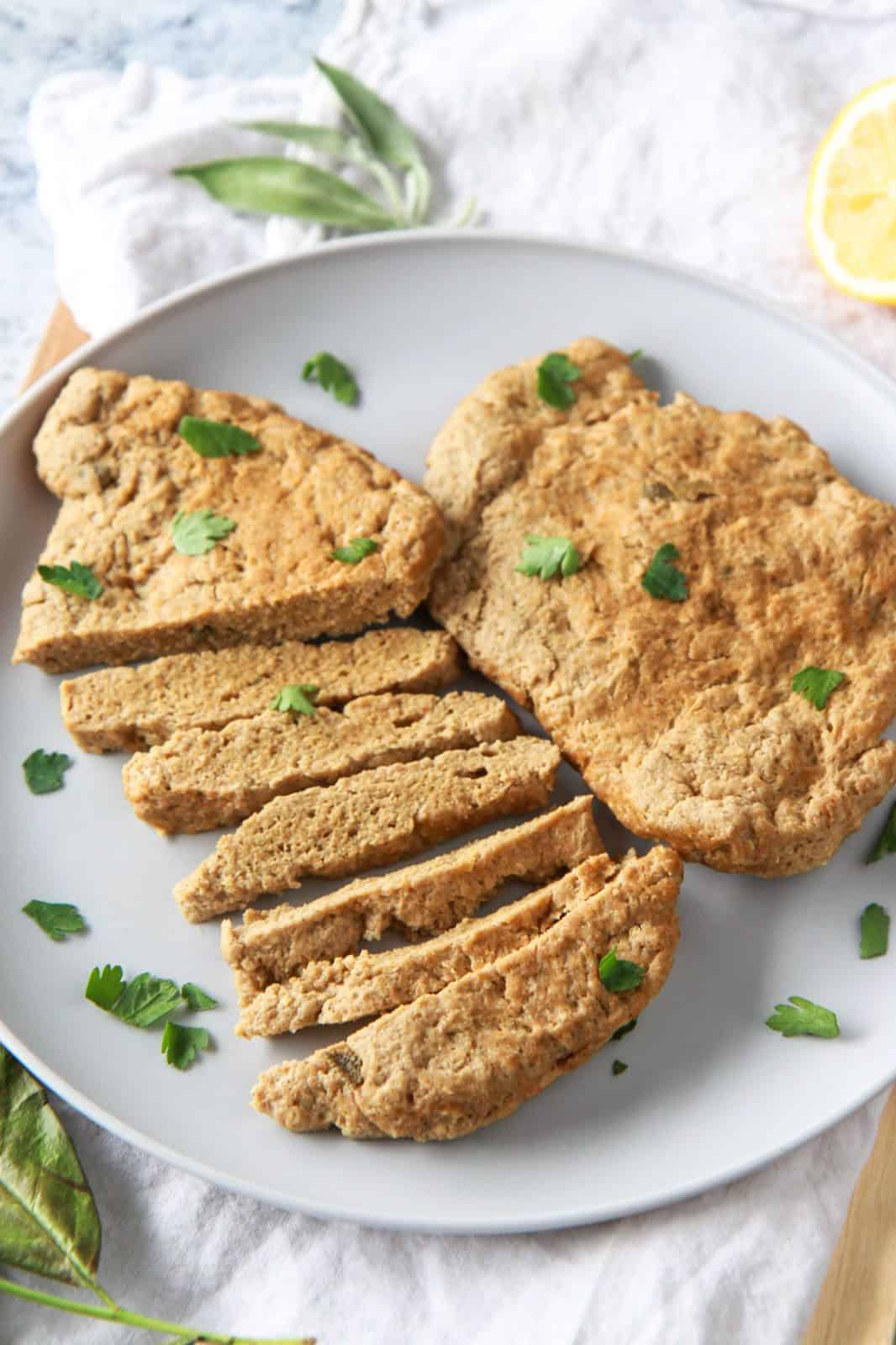 I hope you guys love this recipe! Don't forget to tag your recreations on Instagram @zenandzaatar or #zenandzaatar, or pin it for later!
If you enjoy this free recipe, consider supporting me further by purchasing or gifting my e-book, including this recipe and over 55 others! Have the best vegan recipes at your fingertips, downloaded to your device, without the ads and extra text on my blog. Buy it HERE! 
Easy Chicken Style Seitan (Vegan)
These seitan chicken cutlets are easy and versatile. A vegan meat replacement, this plant based chicken alternative is simmered and done in under an hour.
Ingredients
2 cups vital wheat gluten
¼ cup chickpea flour
1 tbsp chopped sage
1 tbsp poultry seasoning
2 tsp onion powder
1 tsp garlic powder
¼ cup nutritional yeast
1 tsp smoked paprika
1½ tsp salt
1¼ cup water
½ cup tahini
2 tbsp lemon juice
6-8 cups vegetable broth (or 50/50 mixture broth and water)
Instructions
Whisk together dry ingredients in a large bowl.
Whisk together water, tahini, and lemon in a separate bowl. Make a well in the center of the dry ingredients, and then add the wet ingredients to the dry ingredients.
Mix together well with a wooden spoon, and then begin to knead with hands. Knead for a few minutes until a stretchy dough is formed. If it is too sticky, add a little more wheat gluten until it is easy to work with.
Shape the dough into 4 -6 "chicken breast"-shaped pieces. Let rest while you prepare the broth.
Bring the vegetable broth to a boil in a large pot, there should be enough to cover the seitan.
Place the seitan pieces in, lower heat slightly to a simmer, and cover pot. Simmer for 45 minutes, flipping the seitan pieces halfway through. Turn off the heat and let rest for 15 mins. Remove seitan and set aside.
To serve, I recommend to pan-fry the seitan pieces in some oil, or brush them with oil and marinade and bake them until slightly browned, for a tasty meat substitute. These are also excellent in my seitan piccata recipe.