This simple vegan shakshuka, consisting of soft baked chickpea eggs in a tangy red pepper and tomato sauce, is BURSTING with flavor and done in just under 30 minutes- the perfect addition to your Sunday brunch menu!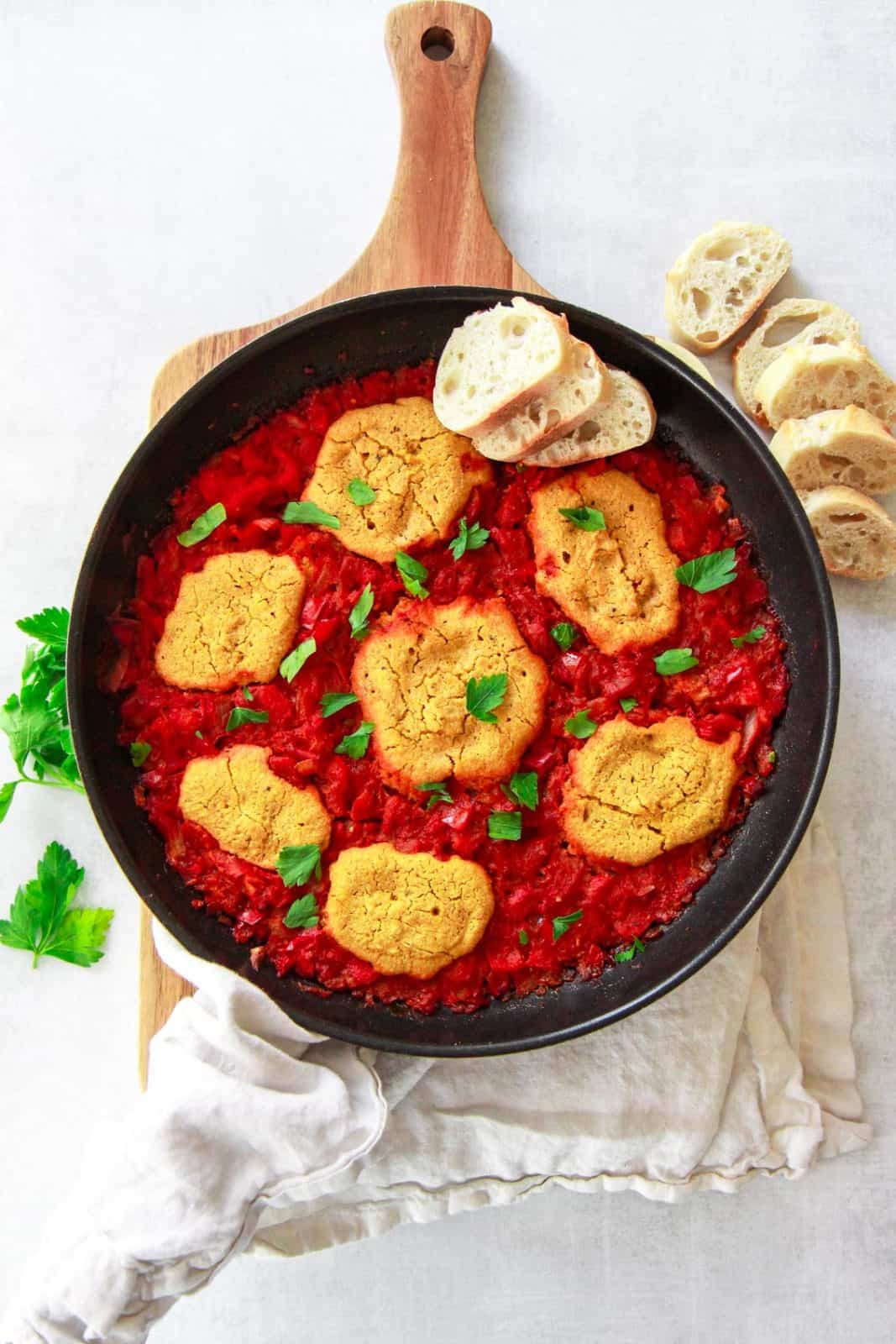 Watch me show you how to make this authentic chickpea shakshuka in the video below!
Watch the full video on YouTube!
Where is Shakshuka from?
The inspiration for this style of a now popular breakfast dish comes from my Palestinian roots, although shakshuka's origins can be traced back to North Africa, specifically Tunisia. Nowadays, it is commonly enjoyed across various Mediterranean countries with different twists! There is a similar Syrian dish, which we call "bayd w banadora," and even a similar Italian dish called "eggs in purgatory."
Traditionally its base is made up of a robust, tangy sauce with tomatoes, sweet red pepper, onion, garlic, and the spice that is a favorite across Middle-Eastern cuisine, cumin. Once the sauce thickens, eggs are cracked into wells in the sauce. In this recipe, a chickpea batter replaces the eggs beautifully- I even prefer the taste and texture. The chickpea eggs are soft inside and form an amazing crust when baked with a drizzle of olive oil.
Ingredient Breakdown:
Tomatoes & Red Bell Pepper: When sautéed in olive oil, these create the base for a robust and tantalizing tomato-red pepper sauce!
Olive Oil: We will sauté all the ingredients for the sauce in a good quality olive oil, and use some more to drizzle on top of the vegan shakshuka before baking in the oven.
Tomato Paste: This will thicken up the tomato sauce.
Garlic & Onion: These are a must for creating a flavorful and addicting sauce!
Chickpea Flour: This serves as the base for creating our vegan eggs. They have an eggy flavor and get a delightfully crispy crust in the oven. You can find it online right here.
Nutritional Yeast: This adds depth of flavor to our chickpea egg mixture. You can find it online right here.
Black Salt: Optional, but will add a scarily convincing eggy flavor to our chickpea eggs. You can find it online right here.
Paprika & Cumin: The main spices to pack this Middle Eastern dish with aromatic flavors.
Baking Powder: This helps the chickpea eggs get nice and fluffy!
Plant Milk + Vinegar: This keeps the chickpea egg batter light and fluffy.
How to Make the Best Vegan Shakshuka:
To make this chickpea shakshuka, we will begin by preparing the batter for our plant-based chickpea "eggs." We will whisk chickpea flour along with the other ingredients together and set the batter aside. Then we will sauté onions, garlic, red bell pepper, cumin, and tomatoes until deliciously fragrant. After some more seasoning, we will create wells in the tomato sauce mixture and drop dollops of the chickpea egg batter into them. We will make sure they cook evenly by stirring slightly and covering, before drizzling the vegan shakshuka with olive oil, and putting it in a preheated oven to set. Once done, we top with parsley or cilantro and serve with fluffy bread!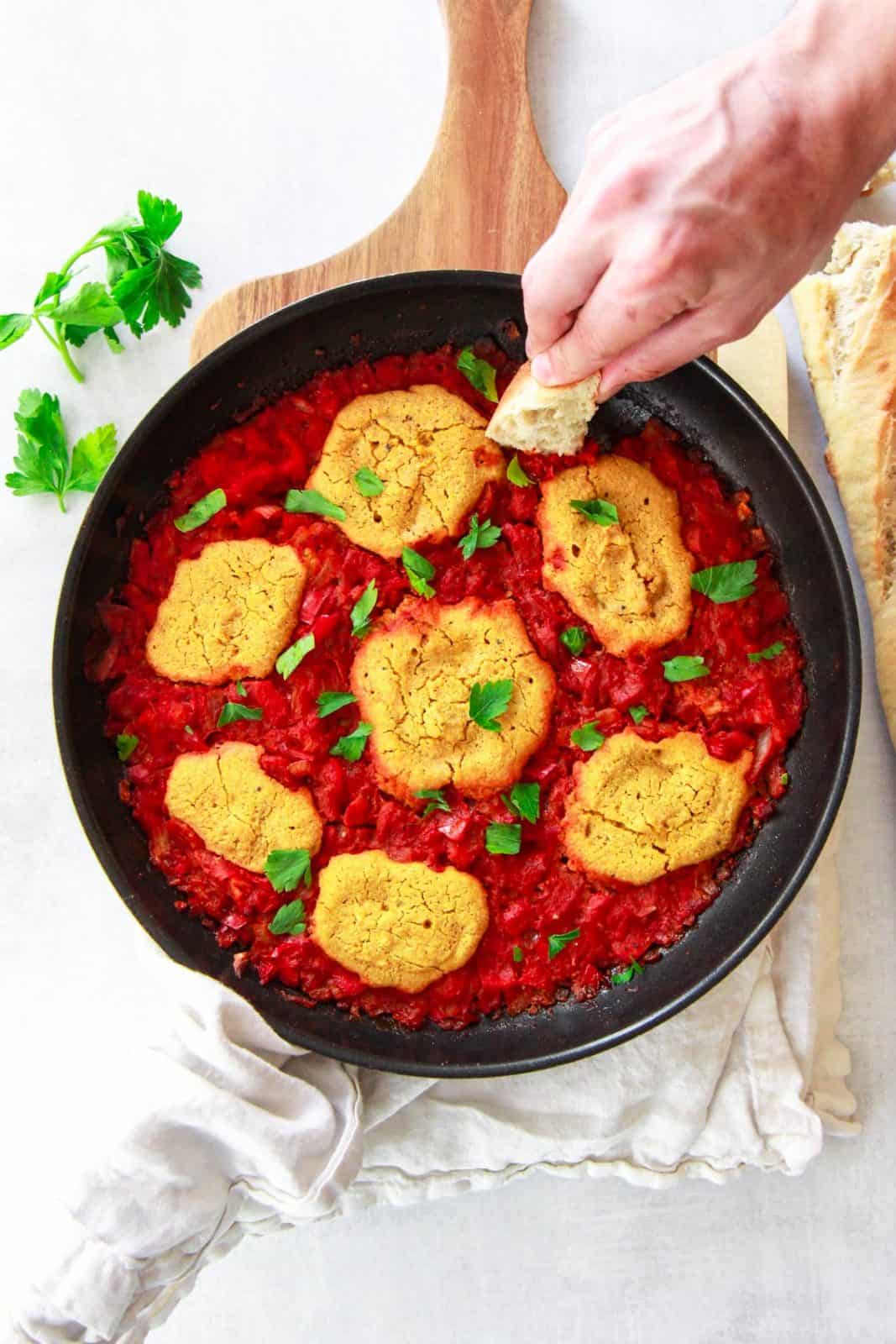 Why You'll Love this Chickpea Shakshuka:
Authentic: I took inspiration from my Palestinian roots to make a dish that's authentic to the region!
Bursting with Flavor: The robust sauce is filled with flavors from juicy tomatoes and roasted red pepper, cumin, and paprika. The chickpea eggs are seasoned delightfully with nutritional yeast and other spices including black salt, for a more eggy flavor.
A Filling Brunch or Dinner: Although this dish is typically served for breakfast or brunch, it's very filling, especially with the protein from the chickpeas, and makes a beautiful dinner as well.
Crowd Pleaser: This is an incredible dish to serve when you are wanting to impress others! It's been a fan favorite.
Quick: Ready and on the table in just 30 minutess!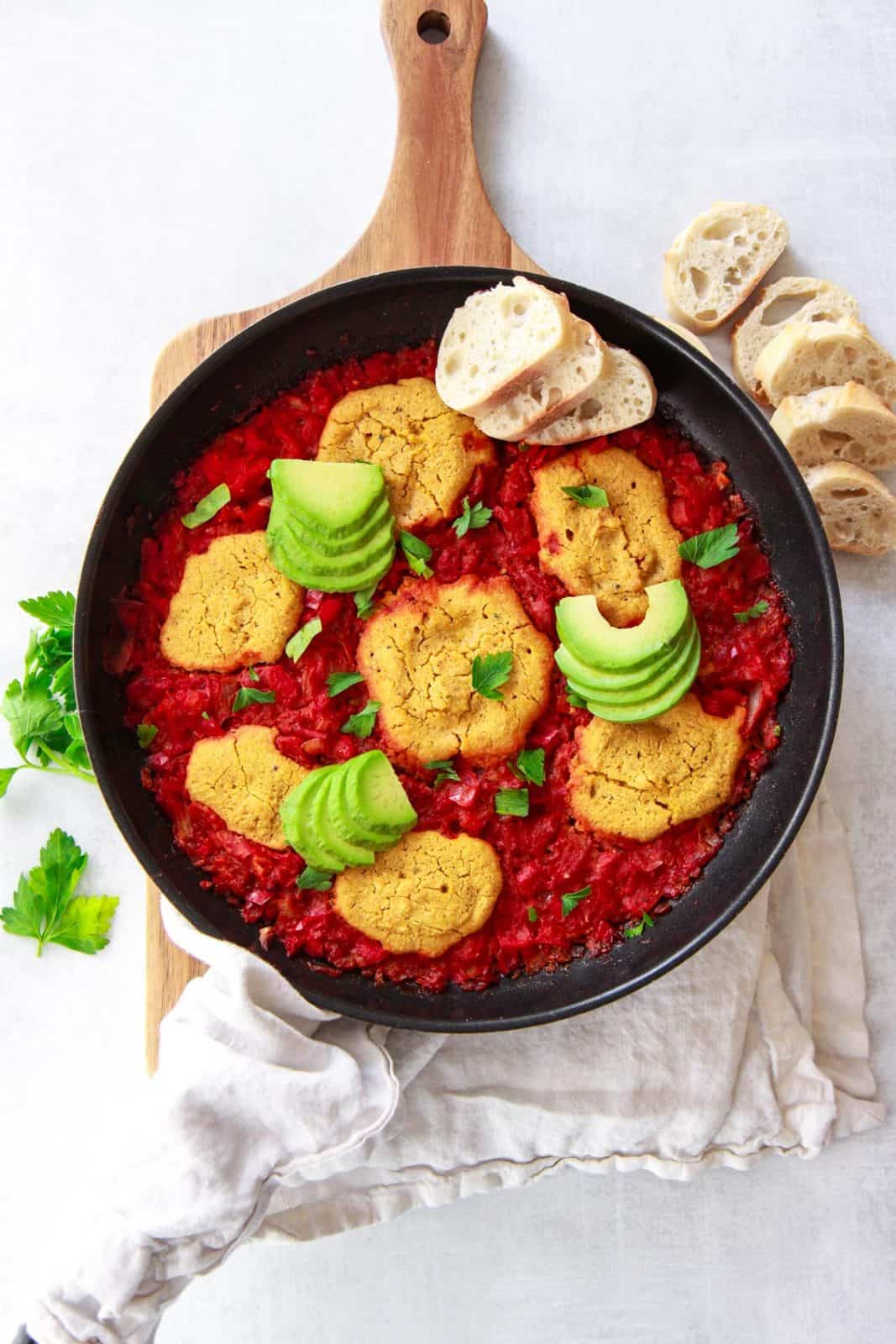 How to Serve Vegan Shakshuka
Once you take it out of the oven, sprinkle some parsley or cilantro on top! My non-vegan family absolutely loves this vegan version of shakshuka, especially with the unique texture of the chickpea eggs! It was difficult not to finish off the whole skillet for a weekend brunch, especially when we used fresh baked bread to scoop it up and soak up the tantalizing sauce. I recommend using a baguette or fluffy pita bread. Sliced avocado also makes a delicious topping for this Middle Eastern brunch. This dish not only makes the perfect brunch dish, but is also great for a quick and easy lunch or dinner!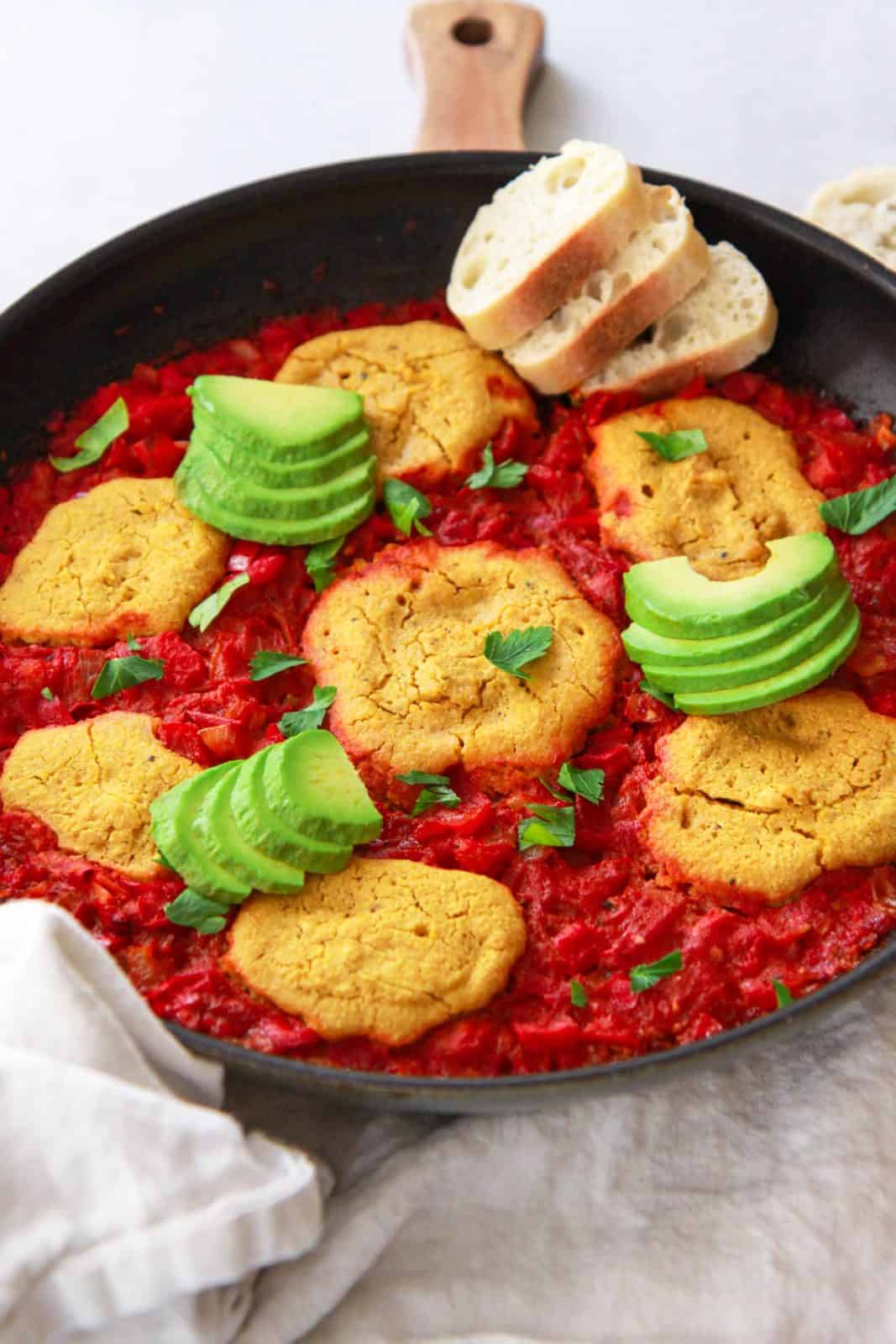 I hope you enjoy this recipe as much as I do! Let me know in the comments below if you try it, and don't forget to post your recreations on Instagram @zenandzaatar, or pin this one for later!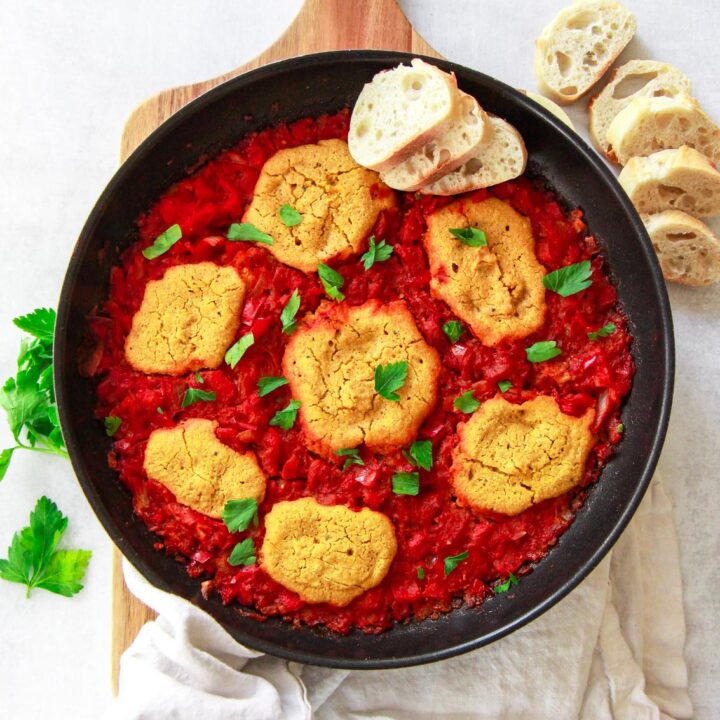 Best Vegan Shakshuka
A 30-minute vegan shakshuka, a Middle-Eastern brunch classic consisting of soft baked chickpea eggs in a tangy red pepper and tomato sauce! Perfect when scooped with fresh baguette.
Ingredients
Tomato Base
3 small or 2 large tomatoes, diced (or 1 15 oz. can diced tomatoes)
1 small red pepper, finely diced
3 tbsp tomato paste
¼-1/2 cup water
3-4 cloves garlic, minced
½ onion, finely diced
1 tsp paprika
1 ½ tsp cumin
2 tbsp olive oil (optional)
Salt and pepper, to taste
Chopped parsley or cilantro, for garnish
Chickpea Batter
½ tsp turmeric
½ tsp garlic powder
½ tsp onion powder
¼ tsp paprika
¼ tsp salt
1 tsp baking powder
¾ cup + 2 tbsp almond milk
1 tsp white vinegar
Instructions
Preheat oven to 425F. Whisk dry ingredients for chickpea batter in a large bowl. Whisk in almond milk and vinegar, and mix thoroughly until smooth. Set aside.
Sauté onion, garlic, and red pepper in olive oil in a large oven-proof saucepan over medium-high heat (cast-iron skillet works best).* Add cumin. After onions are soft and translucent, about 5 mins, add paprika, diced tomatoes, and tomato paste. Add salt and pepper. If the mixture gets too thick and sticky, add ¼-1/2 cup water slowly, until desired consistency is reached.
Make about 6-8 small wells in the sauce, and divide big dollops of chickpea batter among them. Let cook for 3-5 mins. As the bottom of the batter dollops start to get cooked during this time, you may stir them slightly with a wooden spoon so that they can get cooked more evenly. Cover the pan and let cook for 5-8 more mins, so that the batter will get cooked through.
When you see the top of the chickpea batter slightly hardened and not completely liquid anymore, remove the pan from heat. Optionally drizzle over the chickpea batter with 1 tbsp olive oil and place the pan in the preheated oven. Cook for 8-10 mins, until the top is slightly browned.
Sprinkle with chopped parsley and serve immediately, alongside fresh baguette or pita bread!
Notes
*Alternatively, sauté the veggies in 2-4 tbsp of water, until the onions are translucent and peppers are softened. Add more water 1-2 tbsp at a time if needed, as the pan gets dry.
Recommended Products
As an Amazon Associate and member of other affiliate programs, I earn from qualifying purchases.
Nutrition Information:
Yield:

4
Serving Size:

1
Amount Per Serving:
Calories:

196
Total Fat:

9g
Saturated Fat:

1g
Trans Fat:

0g
Unsaturated Fat:

7g
Cholesterol:

0mg
Sodium:

407mg
Carbohydrates:

24g
Fiber:

6g
Sugar:

8g
Protein:

8g
Nutrition information is provided as a courtesy and is an estimate only. This information comes from online calculators. Although zenandzaatar.com attempts to provide accurate nutritional information, these figures are only estimates.
(Published on 4/4/2017, updated on 6/17/2020.)