These sweet potato and black bean enchiladas are the BEST vegan enchiladas I have ever made! I am so excited to finally share this recipe with you after 3 tries perfecting the perfect salsa-to-cheese ratio and perfecting a gooey, flavorful vegan cheese that gets just the right level of browning in the oven just like the real deal!

These enchiladas make amazing comfort food for cold winter nights when you just want to snuggle at home and dig into something warm, cheesy, and delicious. It snowed for the first time this season in Atlanta yesterday and I felt like I was in a winter wonderland! As a California girl, it is rare that I ever see such a beautiful sight! Of course I took the opportunity to play in the snow, take photos, and film a new What I Eat in a Day video for my YouTube channel. I can't wait to share it with you! But for now, let's get back to this recipe...
These enchiladas are simply stuffed with a mashed sweet potato and aromatic spiced black bean mixture. I used chili-lime tortillas for an extra kick. They are then covered in tangy salsa verde and the most amazing roasted red pepper and chipotle cashew cheese! They are ready in less than an hour.
Avocado, pepitas, and cilantro make great toppings!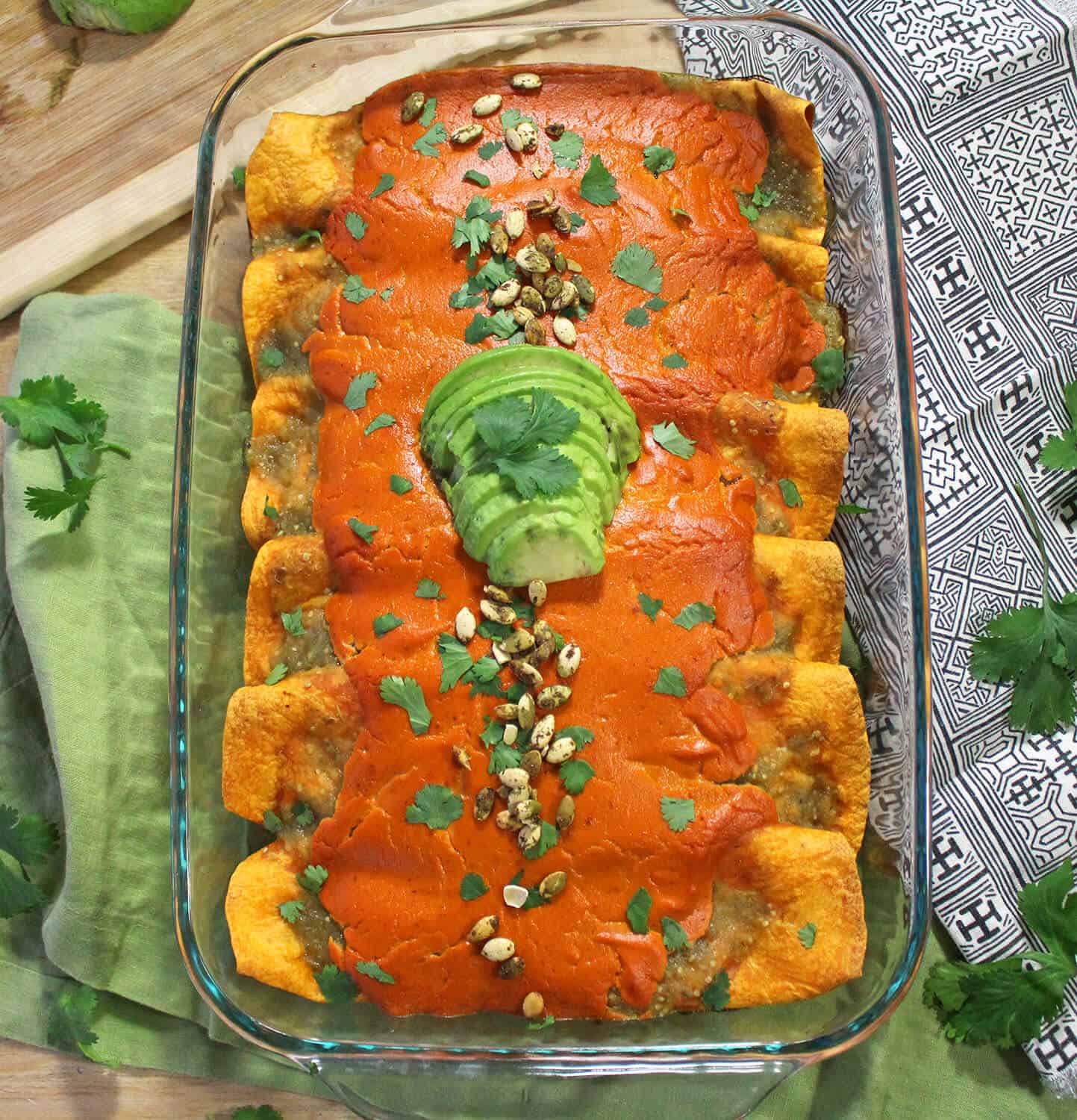 I hope you guys enjoy this recipe as much as I do! Don't forget to tag @zenandzaatar #zenandzaatar on Instagram if you recreate it or pin this recipe to save for later! 🙂
If you enjoy this free recipe, consider supporting me further by purchasing or gifting my e-book, including this recipe and over 55 others! Have the best vegan recipes at your fingertips, downloaded to your device, without the ads and extra text on my blog. Buy it HERE!
Sweet Potato and Black Bean Enchiladas with Chipotle Cashew Cheese (Vegan)
The best sweet potato and black bean enchiladas covered in tangy salsa verde and a gooey, vegan chipotle cashew cheese.
Ingredients
Enchiladas
1 15 oz. can black beans
1 lb. sweet potatoes
½ yellow onion, diced
2 tbsp neutral flavored oil (optional)
3 cloves garlic, minced
1 tsp cumin
½ tsp sea salt
¾ cup-1 cup salsa verde
5-6 flour tortillas (can opt for a gluten-free tortilla instead)
Pepitas, cilantro, and avocado for topping (optional)
Chipotle Cashew Cheeze
1 roasted red pepper
½ cup cashews, soaked for at least 20 mins
2 tbsp - ¼ cup water
½ tsp sea salt
2 cloves garlic
2 tbsp lemon juice
1 tbsp tapioca starch
3 tbsp nutritional yeast
2 chipotle peppers in adobo (or 3 tbsp of surrounding liquid for less heat)
Instructions
Preheat oven to 425.
Peel and dice sweet potatoes, and add to a pot of boiling water. Reduce heat to medium low and cover, simmering for 15-20 mins, until soft and easily pierced with a fork. Remove potatoes and mash them with a fork or potato masher in a medium bowl.
Drain black beans, reserving 2 tbsp of liquid.
Sauté diced onion in oil until translucent over medium heat, 3-5 mins.* Add garlic, cumin, black beans, liquid, and salt, and sauté for about 5 more mins, until fragrant. Set aside black bean mixture.
Blend all ingredients for chipotle cashew cheese in a high speed blender until smooth. Start with 2 tbsp of water and if too thick, add more water 1 tbsp at a time.
Put ¼ cup + 2 tbsp salsa verde at the bottom of a 9x13 baking dish and spread around evenly. If the tortillas need to be softened to work with, microwave them. Divide the mashed sweet potato and black bean mixture amongst 5-6 tortillas, and place seam side down in the baking dish. Top with ¼ cup + 2 tbsp more salsa verde, adding more if desired. Pour cheese sauce over enchiladas and smooth with a spoon.
Bake for 12-17 minutes.
Remove from oven, top with cilantro, pepitas, and avocado, and serve! Enjoy!

Notes
*Oil-free method: simply use 2 tbsp of water to sauté the onions and garlic instead of oil, until soft, fragrant, and translucent.