This vegan palak paneer recipe uses crispy chickpea tofu to mimic the taste and texture of a soft cheese. Also known as saag paneer, this recipe uses coconut milk to add creamy richness to this flavorful spinach curry. This aromatic, Indian-inspired dish is delicious over rice, or scooped up with fluffy naan bread.
Watch me show you how to make this vegan Palak Paneer in the video below!
Watch on YouTube!
I thought Burmese chickpea tofu would be an amazing plant-based alternative to paneer, as unlike soy tofu, it has a depth of flavor. This soy-free chickpea tofu is flavored with some nutritional yeast and lemon juice, helping it to taste similar to cheese. It is easy to prepare and when fried, builds a delightful crispy crust.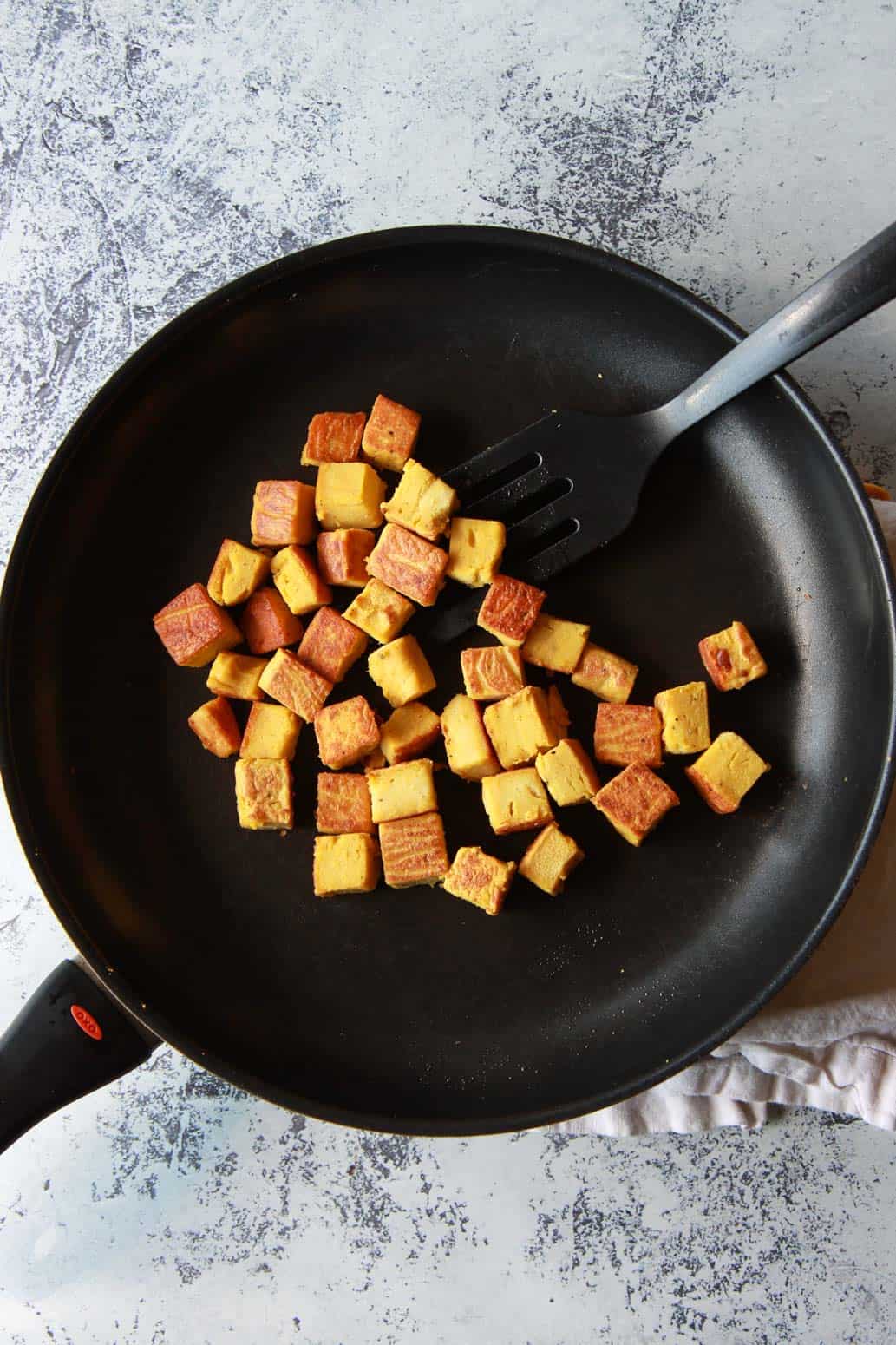 The spinach is blanched before being sautéed. This helps preserve the beautiful bright green color that you see in the photos. Although it is an extra step, it is totally worth it to make this vibrant green curry pop, and only takes about 5 mins.
To make the curry base, we sauté onions, cilantro, garlic, and a wonderful blend of Indian spices together, creating an aromatic foundation. Coconut milk adds creaminess and richness to this dish, and then it is blended together to create a smoother texture, similar to what you would find in a restaurant.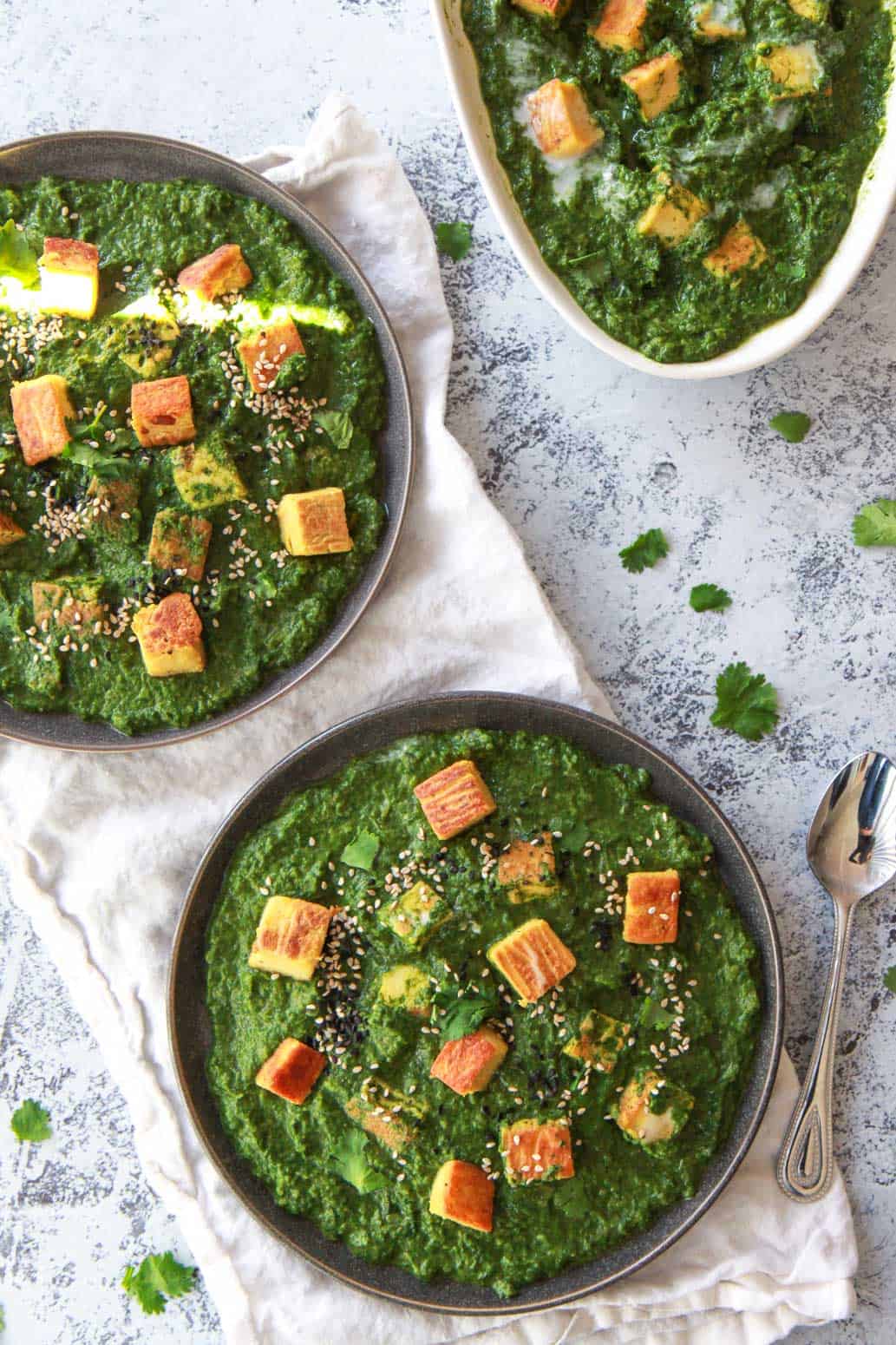 The chickpea tofu pairs so well with the creamy and rich spinach curry. This vegan saag paneer is the ultimate comfort dish and although it may seem daunting at a glance, it is surprisingly simple to make, especially if you multitask.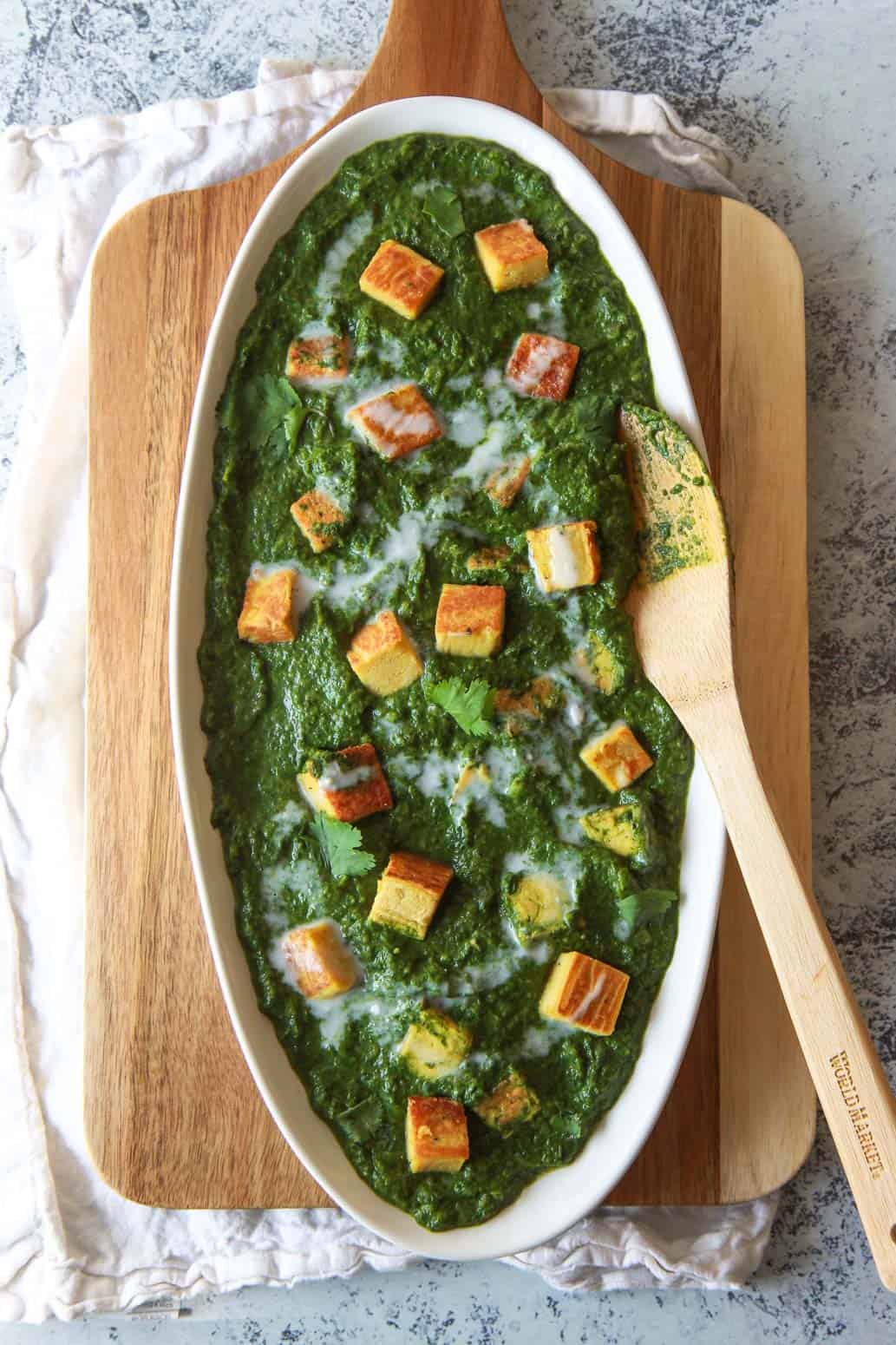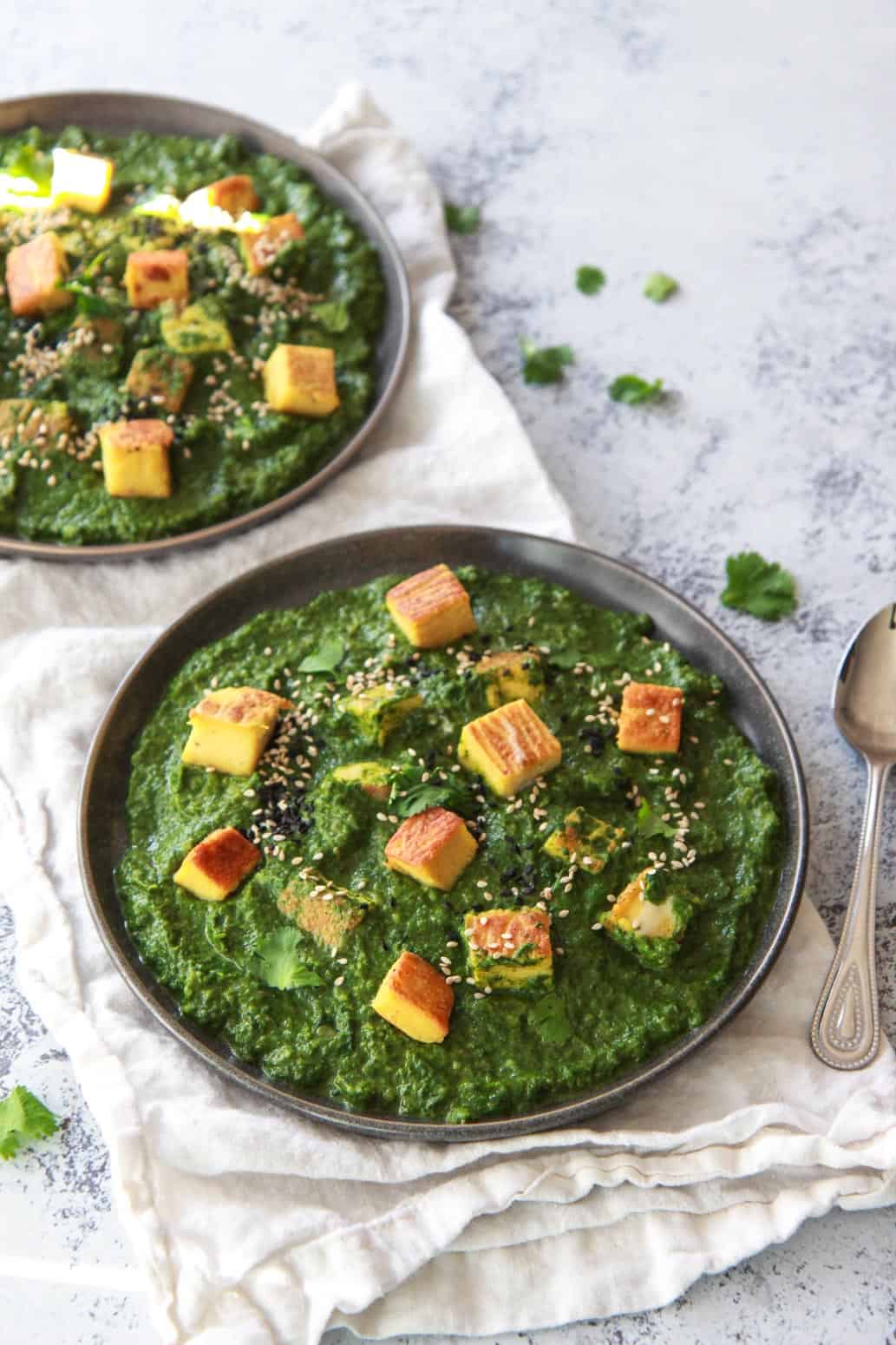 I hope you guys love this vegan saag paneer recipe as much as I do! Don't forget to tag your recreations on Instagram @zenandzaatar #zenandzaatar or pin this recipe to make later!
If you enjoy this free recipe, consider supporting me further by purchasing or gifting my e-book, including this recipe and over 55 others! Have the best vegan recipes at your fingertips, downloaded to your device, without the ads and extra text on my blog. Buy it HERE!
Vegan Palak Paneer with Chickpea Tofu
This vegan palak paneer uses chickpea tofu, replicating the texture and flavor of a soft cheese. This vegan saag paneer, a spinach curry, is made creamy with coconut milk.
Ingredients
1 lb. baby spinach leaves (about 12 cups loosely packed)*
½ large onion or 1 small onion, diced
½ cup cilantro leaves, tightly packed (chopped)
3-4 cloves garlic, minced
1 tbsp fresh ginger, minced (or ½ tsp ginger powder)
½ tsp turmeric
½ tsp coriander
1 tsp cumin
2 tsp garam masala
1 tsp salt
1 cup coconut milk (full fat)
2 tbsp vegetable or avocado oil
Chickpea Tofu
2 cups water
2 tbsp nutritional yeast
¾ tsp salt
¼ tsp black pepper
pinch of turmeric (for color)
1 tbsp lemon juice
1 tbsp vegetable oil (optional, holds tofu together better)
Instructions
Begin by preparing the chickpea tofu. Whisk all the ingredients for the chickpea tofu together in a bowl, until smooth and no lumps remain. Grease a 9 in. loaf pan or line with parchment paper.
Heat a saucepan over medium heat and spray with cooking oil. Pour the chickpea tofu batter into the pan, whisking constantly. After a few mins, it should thicken, similar to a porridge or polenta consistency, that is thick and sticks to the whisk without dripping. This should take 5-7 mins total. Once it has thickened, remove it from the heat and immediately pour it while it's still hot into the loaf pan to take shape. Smooth it out as best you can into a rectangular shape and cool in the fridge for 30 mins.
While the chickpea tofu cools, I like to take this time to dice my veggies and prepare the spinach curry. We will begin by blanching the spinach to preserve its color. Bring a large pot of water to a boil, with enough water to cover all the spinach. At the same time, prepare a large bowl of ice water.
Boil the spinach leaves for 2 mins, until bright green, and then immediately drain the spinach and transfer it to the ice water, to stop the cooking process. One cooled, drain all the liquid and set aside.
Once the chickpea tofu loaf is cooled and firm, slice it into cubes. Fry the chickpea tofu cubes in a saucepan with 1 tbsp of oil over medium high heat, until crispy and browned on all sides, then set aside. This should take 10-15 mins, and you can multitask.
Meanwhile in a large pot, sauté onion in the 2 tbsp of oil, until they are translucent, about 5 mins. Add in chopped cilantro and minced garlic, and sauté until fragrant, about 2 more mins. Add in all the spices except for salt and stir to coat. Then, add in the blanched spinach and salt. Sauté for a few more mins, and then add in the coconut milk and stir everything together.
Pulse the mixture in the pot with an immersion blender until everything is smooth. Alternatively, you can transfer the spinach mixture to a blender and then return it to the pot.
Add in the crispy chickpea tofu cubes to the spinach mixture and heat through. Serve over rice or with flatbread. Enjoy!
Notes
*You can sub 1 10-12 oz. package of frozen spinach for 1 lb. of fresh spinach. In this case, you can skip the blanching and go straight to sautéing the frozen spinach with the rest of the ingredients.
Recommended Products
As an Amazon Associate and member of other affiliate programs, I earn from qualifying purchases.
Nutrition Information:
Yield:

4
Serving Size:

1
Amount Per Serving:
Calories:

332
Total Fat:

22g
Saturated Fat:

12g
Trans Fat:

0g
Unsaturated Fat:

8g
Cholesterol:

0mg
Sodium:

1133mg
Carbohydrates:

27g
Fiber:

8g
Sugar:

5g
Protein:

13g
Nutrition information is provided as a courtesy and is an estimate only. This information comes from online calculators. Although zenandzaatar.com attempts to provide accurate nutritional information, these figures are only estimates.