As a vegan whose family mostly consists of omnivores, I'm all about finding recipes that will please vegans and meat eaters alike. After attending Thanksgiving gatherings for 4 years as a vegan, I'm confident that everyone at the table will look forward to trying the delicious vegan Thanksgiving recipes for appetizers, main dishes, sides, and desserts I've compiled in this list- and they might not even realize that they're vegan (which I think is the best kind of surprise)!
Although Thanksgiving is looking a little different this year, I want to make sure that all of you that are having a small and safe gathering are covered with a list of mouthwatering plant based Thanksgiving recipes. And as small as your gathering may be, I know that my favorite way to indulge in the holiday spirit is to enjoy my favorite comfort foods.
To make it easier, feel free to simply skip ahead to the category of recipes you are looking for:
For an easy Thanksgiving dinner menu, you can simply make my pre-planned 5-course vegan Thanksgiving dinner! Here's a preview of how to make some of my favorite recipes from this round-up.
You watch the full
Vegan Thanksgiving Dinner video on YouTube
. And now, let's get to all the plant-based Thanksgiving recipes!
Vegan Thanksgiving Appetizers
Mutabal shawandar is a vibrant colored Syrian roasted beet dip. This Mediterranean recipe is a great appetizer when you are looking to switch it up from the usual hummus. Sweet beets are accompanied by fragrant roasted garlic in this vegan beetroot dip! The stunning color will wow your guests as part of your Thanksgiving appetizer spread.
Vegan Cheddar Dip with Kale and Bac'n
You won't believe this creamy, bacon and kale cheddar dip is also vegan and gluten-free! This vegan cheddar dip has a sharp, tangy flavor and is infused with smoky coconut bacon and garlicky kale. It would be a delicious addition to a holiday appetizer spread.
This vegan cheesy garlic bread is the perfect side to any holiday meal this year. It's made with homemade vegan mozzarella and served in a fun pull apart style bread.
Hummus & Vegan Cheese Appetizer Platter
This colorful fall-themed vegan appetizer platter features almond cheese, three types of hummus and all the seasonal goodness you can imagine from figs to winter squash and crunchy pecans. Totally customizable to your needs, this ultimate snack board is sure to wow your guests with only minimal preparation time!
Vegan Thanksgiving Mains
This vegan wellington makes a hearty and filling centerpiece for any table! It's filled with "meaty" seitan and covered in an aromatic mushroom mixture and flaky puff pastry. It makes a beautiful and delicious main dish for a holiday dinner, especially when served with my vegan caramelized onion gravy.
Stuffed Butternut or Honeynut Squash with Quinoa Pear Filling
These stuffed honeynut squash are filled with a fragrant quinoa and pear stuffing and topped with a maple-balsamic drizzle. The sweetness of the pear perfectly complements the squash, and nutmeg, walnuts, and toasted sage add warm, earthy, holiday flavors.
Lentil Stuffed Delicata Squash
This delicata squash is stuffed with mushrooms and lentils, cranberries, and pecans! This vegetarian stuffed squash recipe is loaded with cozy, sweet and savory flavors, perfect for a meatless holiday.
This vegan pot roast is a hearty, filling and comforting dinner for the holidays. The variety of veggies as well as the large portobello mushroom caps will make it as a full course meal for the whole family.
Vegan Thanksgiving Sides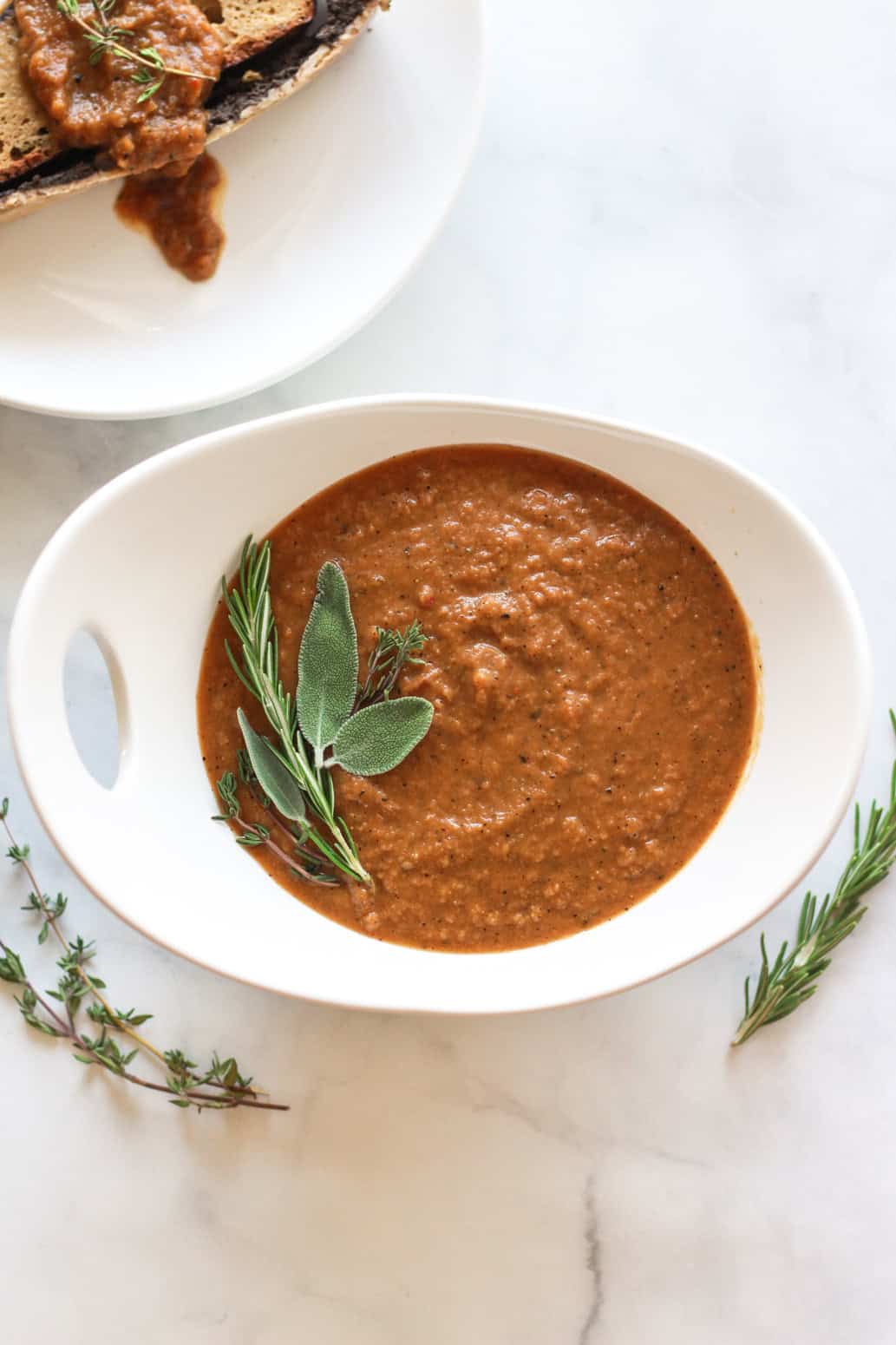 Herbed Caramelized Onion Gravy
This vegan herbed caramelized onion gravy is packed full of aromatic flavor. It has a subtle sweetness, an umami richness, and a complex flavor profile from the delicate herbs. Also gluten-free, this vegan gravy is the perfect accompaniment to my seitan wellington, a hearty main dish that is perfect for the holidays.
This is the best ever vegan mac and cheese! Nut-free, gluten-free, oil-free, sweet potato based, and cheesier than ever! This is a twist on a classic Thanksgiving side that everyone will love.
Lemon Garlic Green Beans with Chickpea Fried Onions
These lemon garlic green beans with crispy chickpea-fried onions are a perfect side dish for any meal! If you are not the biggest fan of green beans, try this recipe- it's packed full of flavor and the crispy onions make all the difference. The green beans are simply roasted in the oven while you fry the onions, for a dish that's ready in under half an hour!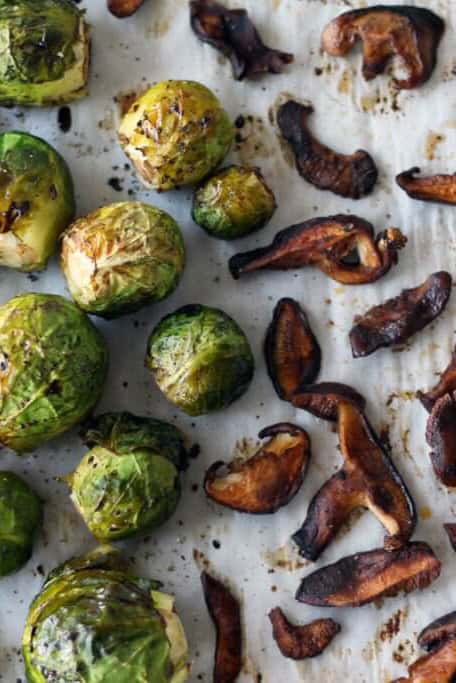 Roasted Brussels Sprouts with Shiitake Bacon and Maple Dijon Dip
Once you make this roasted brussels sprouts appetizer for the first time, you are going to want to have it alongside every meal. They are so addicting! The sweet balsamic roasted brussels sprouts paired with shiitake bacon are complemented perfectly by the creamy maple dijon dipping sauce.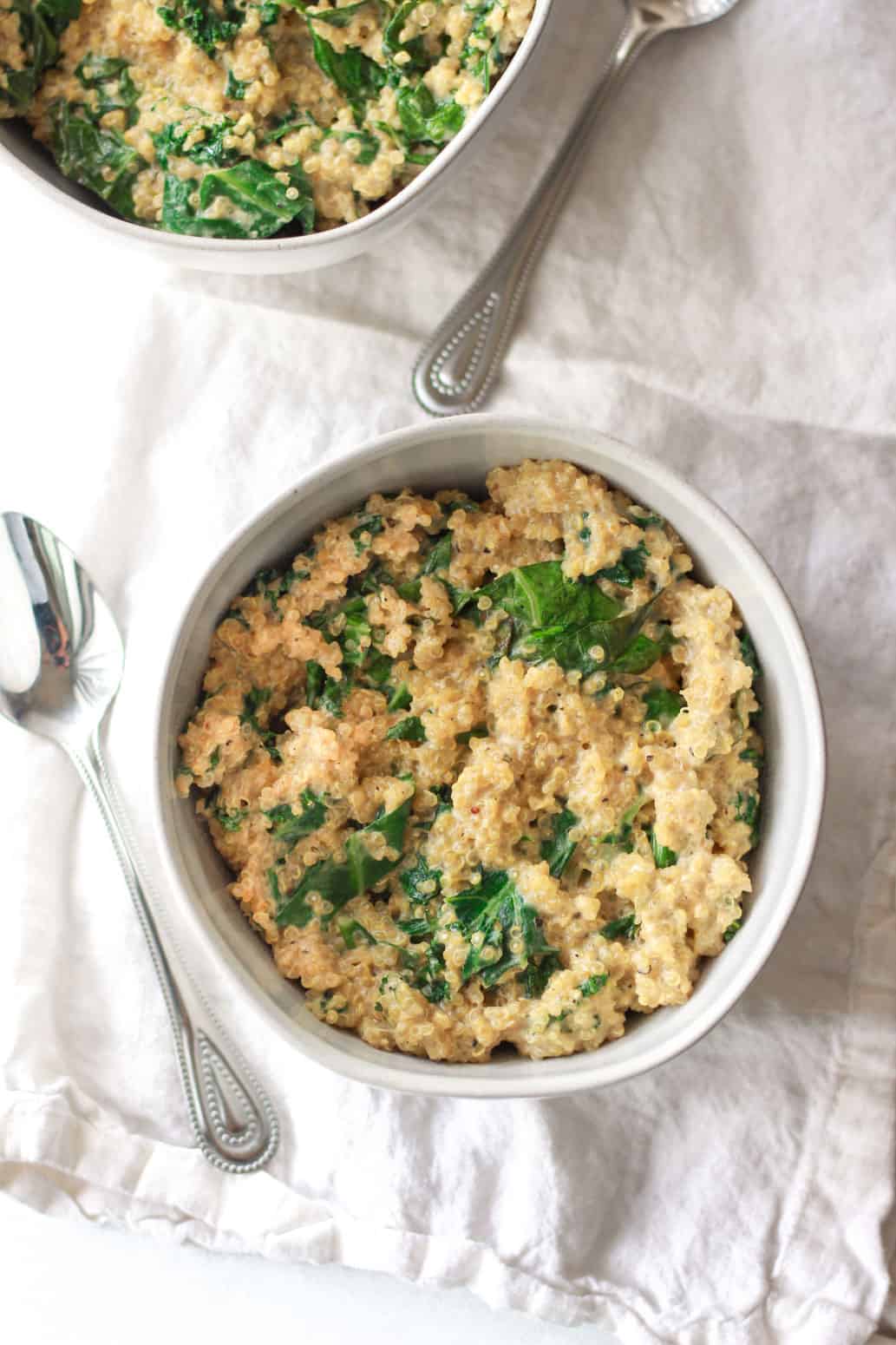 Creamy Coconut Quinoa & Greens
If you're not the biggest fan of quinoa, you need to try this recipe! This creamy coconut quinoa and greens is super savory, flavorful, and the creaminess makes it feel like a comfort food dish!
Oven Roasted Rainbow Carrots with Orange & Thyme
These rainbow carrots are roasted with sweet maple syrup, tangy fresh orange juice, earthy cumin, and herby thyme. It's all a perfect combo to make these veggies tender and flavorful. Topped with crunchy toasted walnuts, it's a stunner of a side dish fit for your Thanksgiving table.
Dauphinoise potatoes, or gratin dauphinois, is a traditional dish from southeast France that is similar to scalloped potatoes. This vegan version will make any holiday special.
Mashed Potatoes & Gravy with Cannellini Bean Cream
When you taste the satisfying combination of mashed potatoes, stuffin' muffins, and gravy, you'll understand how wild it is that these deliciously creamy, oil-free favorites begin with a simple can of protein-packed beans! These three classic gluten-free holiday faves come together in mere minutes, and they're so hearty; you'll have to remind yourself to save tummy room for sides!
This vegan stuffing recipe tastes just like the classic and is buttery and so flavourful with well-seasoned vegetables and the best herbs.
This vegetable divan, the vegan version of the traditional comfort-food dish, is a delicious, hearty meal baked to perfection and perfect to serve at your holiday table. It uses the same fresh vegetables as the original but leaves out the heavy dairy and oils.
Roasted Butternut Squash Salad
This roasted butternut squash salad is comforting, hearty, and delicious. Loaded with cranberries, pecans, pumpkin seeds, chickpeas, and a caramelized squash with a hint of spices! Plus an exciting maple dressing to blend it all together.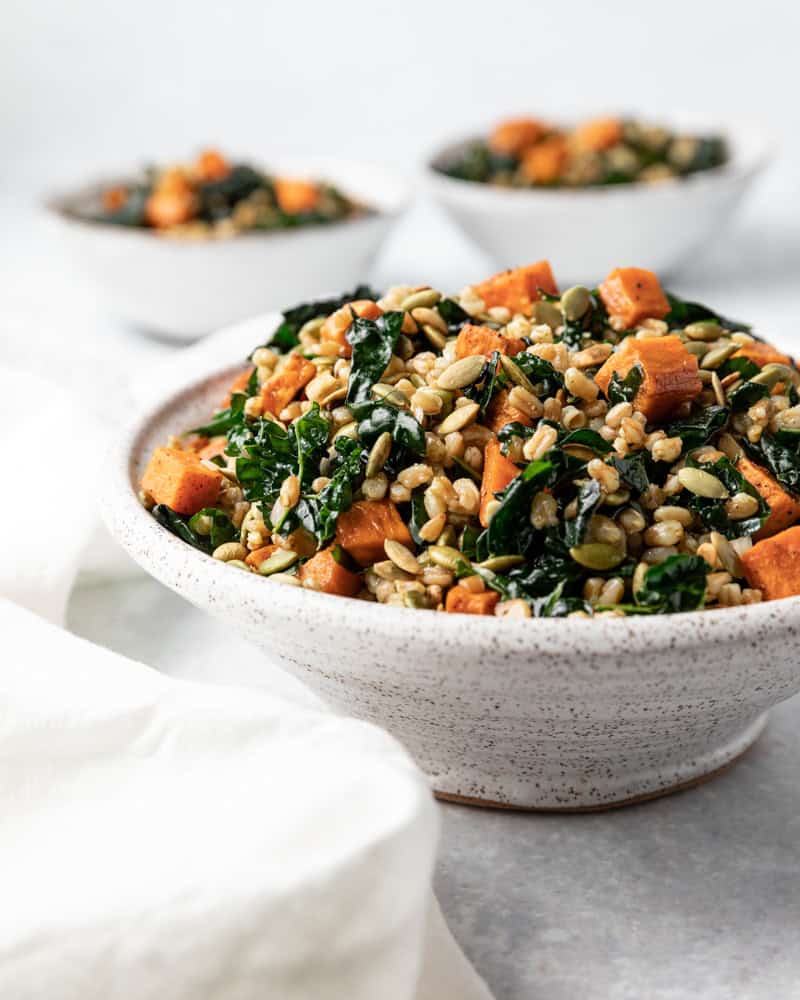 This Farro Sweet Potato Salad is the perfect vegan side dish that will satisfy all of your dinner guests, vegan and non-vegan alike. This hearty grain salad combines farro with slightly spicy roasted sweet potatoes, massaged kale, and crunchy pepitas, all coated in an apple cider vinaigrette.
Vegan Thanksgiving Desserts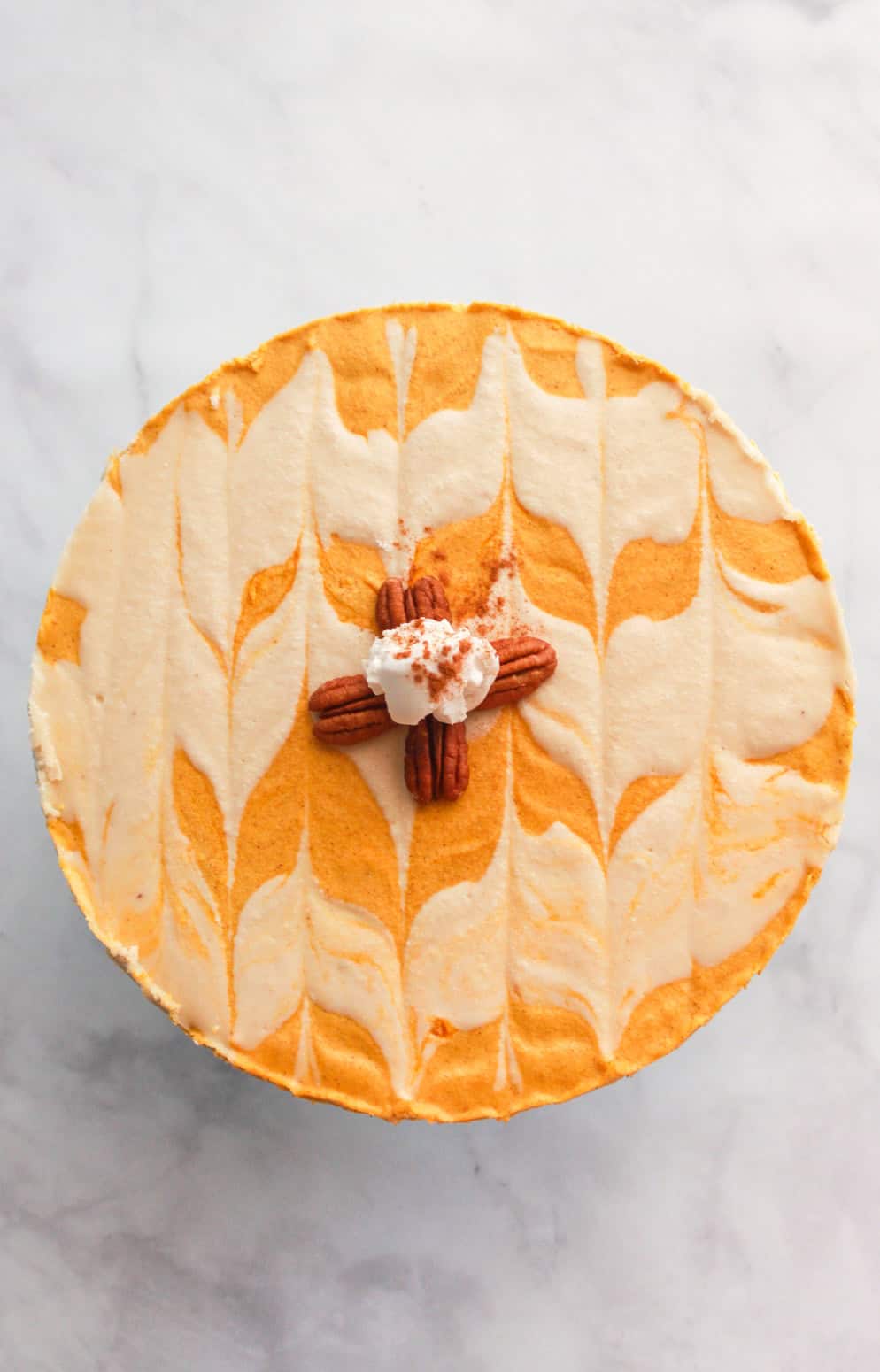 This no-bake vegan pumpkin cheesecake is perfect for the holiday season. You would never guess that this decadent dessert is also raw and gluten-free, without sacrificing any of the creamy richness and indulgent flavor.
Spiced vegan pumpkin coffee cake with a cinnamon swirl and generously topped with pecan crumble! Tender, moist and utterly delicious!
This chocolate sweet potato pie makes a great Christmas dessert. It is vegan and gluten-free and has a rich dark chocolate taste.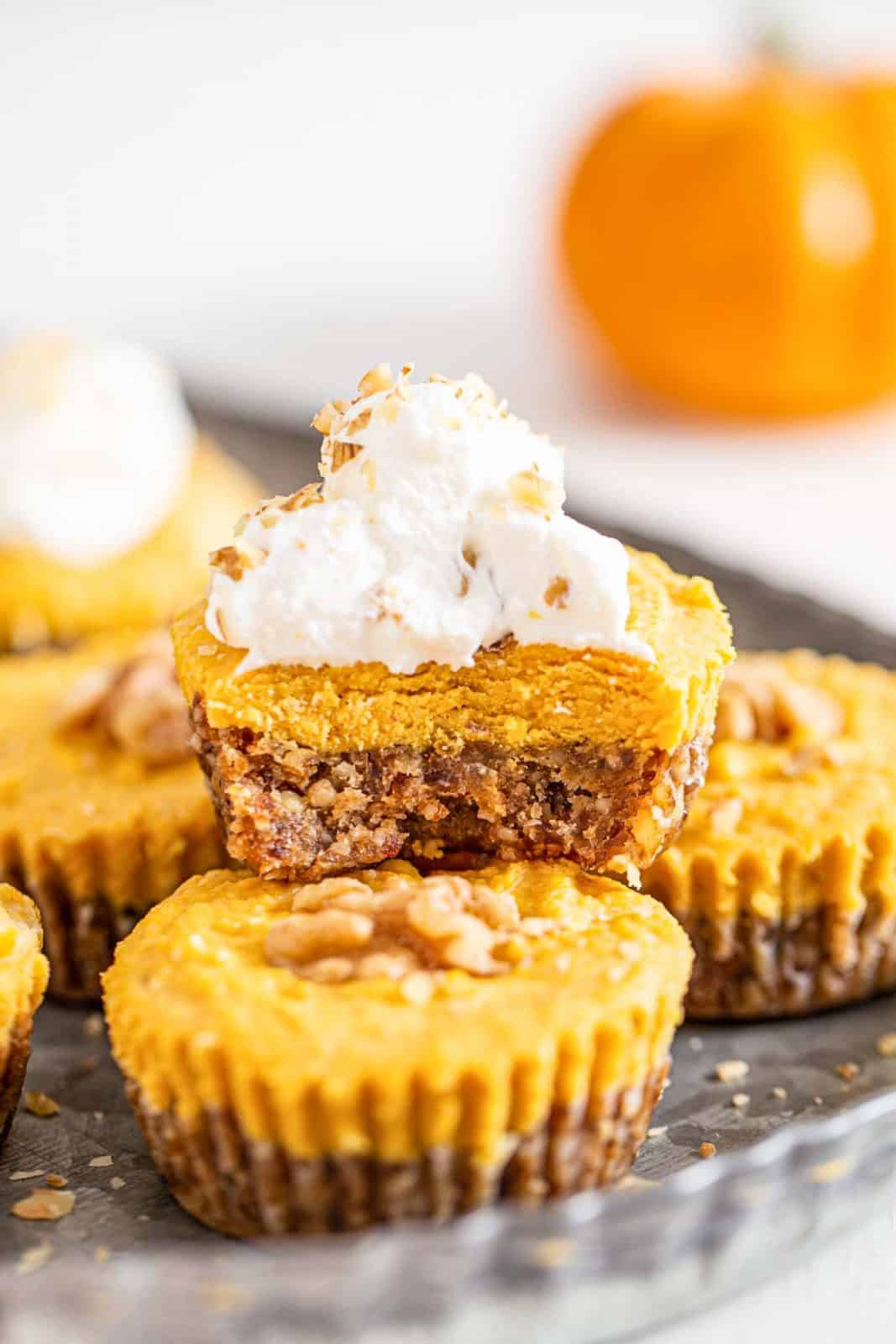 These lovely pumpkin tarts are the perfect way to finish a holiday meal! Serve with coconut whipped cream for a lovely alternative to pumpkin pie, no baking needed!
This vegan apple crumb pie is warm, cozy, and perfectly spiced! A crisp, buttery crust with a gooey apple inside, and a homemade crumble topping. Gluten & Oil-Free.
I hope you love these plant based Thanksgiving recipes and that you all have a lovely holiday, however you end up spending it. If you end up making these recipes, make sure to tag me on Instagram @zenandzaatar, or pin this post to save for later!