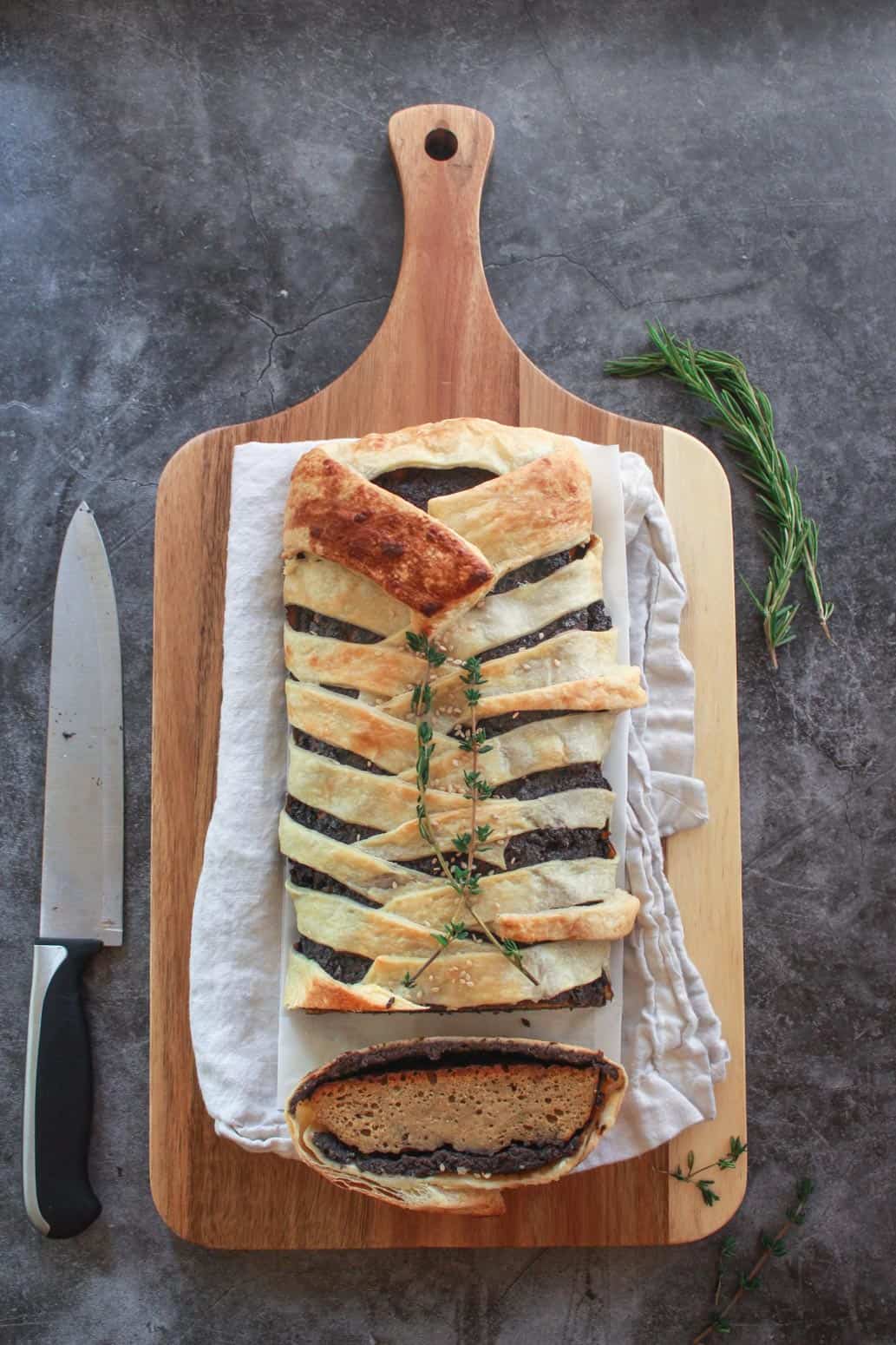 This vegan wellington makes a hearty and filling centerpiece for any table! It's filled with "meaty" seitan and covered in an aromatic mushroom mixture and flaky puff pastry. It is the perfect main dish for a holiday dinner! Serve it with my vegan caramelized onion gravy.Watch me show you how to make this vegan seitan wellington in the video below! I'll also show you how to create the braid down the middle of the vegan wellington's puff pastry coating.
Watch the full video right here on YouTube.
What is Wellington?
Wellington is an English pie that is well known around the world. Although a typical Wellington recipe is filled with beef, you can choose other proteins as well. The recipe below is a vegan wellington. A wellington has a protein that is coated with flavorful, herbed mushroom duxelles. It is then wrapped in a puff pastry, and baked. The end result is an amazing combination of textures and flavors.
If you don't eat meat, you might have ignored the thought of trying one, but I'm here to show you that the meat isn't necessary! Here is a vegan version where the star is not beef, but seitan. Meaty seitan, made of wheat protein, packs a filling and protein-dense meat substitute for the center of this vegan wellington. As it mimics the texture and flavor of meat, you can satisfy your wellington craving with this plant-based protein without feeling like you're missing out. So, adorn your table with this beautiful vegan seitan wellington and enjoy!
Ingredient Breakdown
Puff Pastry: Most store bought puff pastry is "accidentally" vegan, made with a plant based butter. The vegan puff pastry wraps up all the goodies in this wellington, and once cooked, it gives the dish body and crunch.
Vital Wheat Gluten: The main ingredient in this recipe is the vital wheat gluten or seitan. It is a plant-based protein that mimics meat. It is stretchy, protein packed, juicy, and flavorful once seasoned. You can easily find it online right here.
Chickpea Flour: This lightens the texture of the vegan meat. You can easily find it online.

Nutritional Yeast: Nutritional yeast gives the dish a cheesy, savory, umami flavor that provides depth to this dish. Since it's used in most vegan recipes and I can never seem to get enough at the grocery store, I prefer to get it online so I can get a large amount for a great price. You can get the same one I use right here.
Poultry Seasoning and Herbs: Made from a blend of herbs and spices, poultry seasoning adds complex flavor and depth to the seitan. Thyme, rosemary, and sage infuse the seitan with a wonderful fragrant aroma.
Mushrooms & Shallots: Mushrooms, shallots, and herbs create our aromatic and rich duxelles mixture, used to coat the seitan.
Maple Syrup & Olive Oil: Maple syrup is used in combination with olive oil to create a vegan egg wash. It gives the wellington a flaky golden brown crust!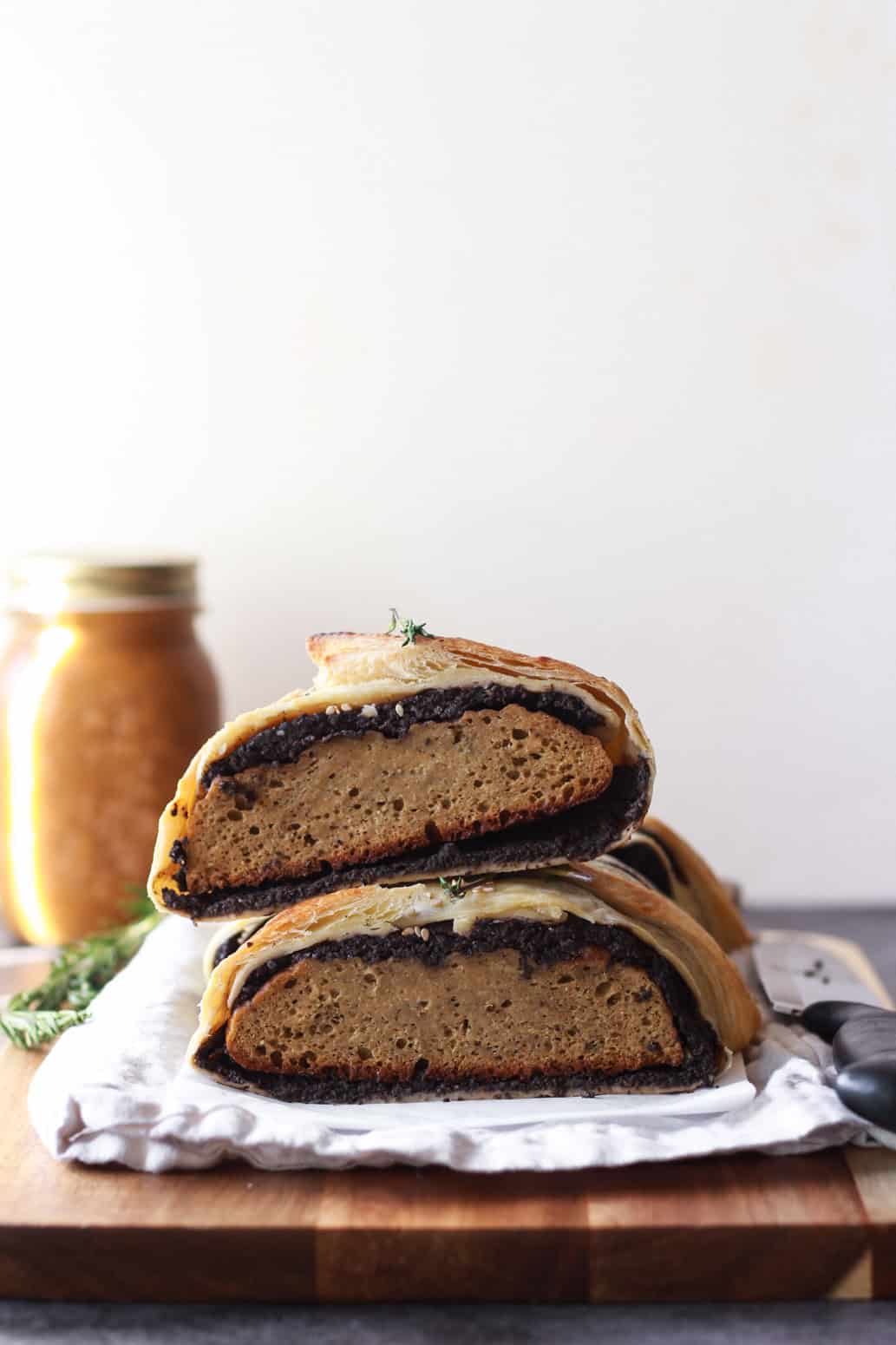 How to Make a Vegan Wellington
We will start preparing our vegan wellington by mixing together all the dry ingredients for the seitan roast. Next, we add the wet ingredients and knead the dough. After shaping it like a roast, we will pre-bake it in the oven. Next, we have to prepare duxelles by dicing and sautéing mushrooms and herbs. Finakky, we will assemble our seitan wellington. We will coat the puff pastry with the duxelles mixture, place the seitan roast on top, and cover the roast with the rest of the duxelles. We will wrap up the roast in the puff pastry and brush the top with maple syrup and olive oil. Then, we pop it in the oven to bake!
How to Serve this Seitan Wellington
You can serve seitan wellington with my scrumptious vegan caramelized onion gravy and your favorite veggie-based sides, like my sweet potato mac and cheese, green beans, or mashed potatoes.
The great thing about this recipe is that you can even make the seitan roast a day in advance if you plan to make this for a busy holiday, like Thanksgiving or Christmas. It will gain a tougher texture in the fridge, as well as develop further flavor.
I hope you guys love this seitan wellington as much as I do! I would love to see your recreations on Instagram @zenandzaatar #zenandzaatar. Make sure to pin this if you want to save it for later!
If you enjoy this free recipe, consider supporting me further by purchasing or gifting my e-book, including this recipe and over 55 others! Have the best vegan recipes at your fingertips, downloaded to your device, without the ads and extra text on my blog. Buy it HERE!
Vegan Seitan Wellington
Cook Time:
1 hour
45 minutes
Total Time:
2 hours
5 minutes
A delicious vegan wellington made of seitan, wrapped in an herbed mushroom duxelles mixture and flaky puff pastry. This seitan wellington makes a perfect vegan holiday main meal.
Ingredients
Seitan "Roast"
1 sheet vegan puff pastry*
2 cups vital wheat gluten
¼ cup chickpea flour
¼ cup nutritional yeast
½ tbsp poultry seasoning
1 tsp onion powder
½ tsp garlic powder
1 tsp salt
1 tbsp fresh thyme, chopped (or ¾ tsp dry thyme)
1 tbsp fresh sage, chopped (or ¾ tsp dry sage)
½ tbsp fresh rosemary, chopped (or ½ tsp dry rosemary)
1 ¾ cup + 2 tbsp vegetable broth or water
2 tbsp soy sauce
1 tbsp oil
Duxelles
1 lb mushrooms, roughly chopped or quartered
2 small shallots
4 cloves garlic
2 sprigs fresh thyme leaves
1 tbsp fresh rosemary leaves
2 tbsp olive oil
Egg Wash
1 tbsp maple syrup
1 tbsp olive oil
Instructions
Preheat oven to 350F. Mix all dry ingredients for the seitan roast, except for the puff pastry, together in a large bowl.
Make a well in the center of the dry ingredients and pour in the wet ingredients: broth or water, soy sauce, and oil, a little bit at a time, while mixing with a spoon. If it is too wet, add wheat gluten 1 tbsp at a time. If it is too dry, add water 1 tbsp at a time.
Knead for at least 3 minutes. Roll the seitan dough into a cylinder shape shape and roll in foil, twisting the ends. You can wrap it with a layer of parchment paper, followed by the foil layer, if you do not want the foil touching the seitan. It should be well fitting and not loose, but not too tight that it doesn't have a little bit of room to expand during cooking. Place on a baking sheet and bake for 1 hour and 15 mins.
Meanwhile, prepare your duxelles. Make sure your puff pastry is thawing according to package directions as well. Place garlic, herbs, and shallots in a food processor, or finely chop them. Then, add the mushrooms to finely chop them as well, or do it by hand. Make sure that it is not processed. You want it finely chopped, not puréed.
Sauté the mushroom duxelles in a pan over medium high heat for 5-10 minutes, until the water from the mushrooms evaporates. Set aside until the seitan is done.
Remove the seitan when done, and increase the oven heat to 400F. You can also store the seitan in the fridge a night in advance.
Assemble your wellington. Roll out your puff pastry dough thin enough to cover the wellington by a couple inches on each side. For me, this was about 10x14 in.
Spread a thin layer of duxelles, the same size as the wellington, in the center of your puff pastry. Cover with your cooked seitan roast. Cover the seitan roast on all sides with the duxelles mixture.
Trim off any excess dough, and fold over the top and bottom of the dough to cover the wellington. Cut the same number of diagonal slits on either side of the wellington, I cut about 7. Alternate covering the wellington with a strip of dough from either side, forming a braid down the middle. Alternatively, you could just fold the pastry over the seitan roast, and cut some slits in the top. You may need to wet your fingers to help seal the dough.
Mix the vegan egg wash together and brush it over the wellington before putting it at the oven at 400F for 30 mins.
Enjoy your vegan seitan wellington! Serve with vegan gravy alongside roast veggies or your favorite side dish.
Notes
*Many brands of puff pastry dough you find in the grocery store are vegan, just be sure to check the ingredients.
Recommended Products
As an Amazon Associate and member of other affiliate programs, I earn from qualifying purchases.