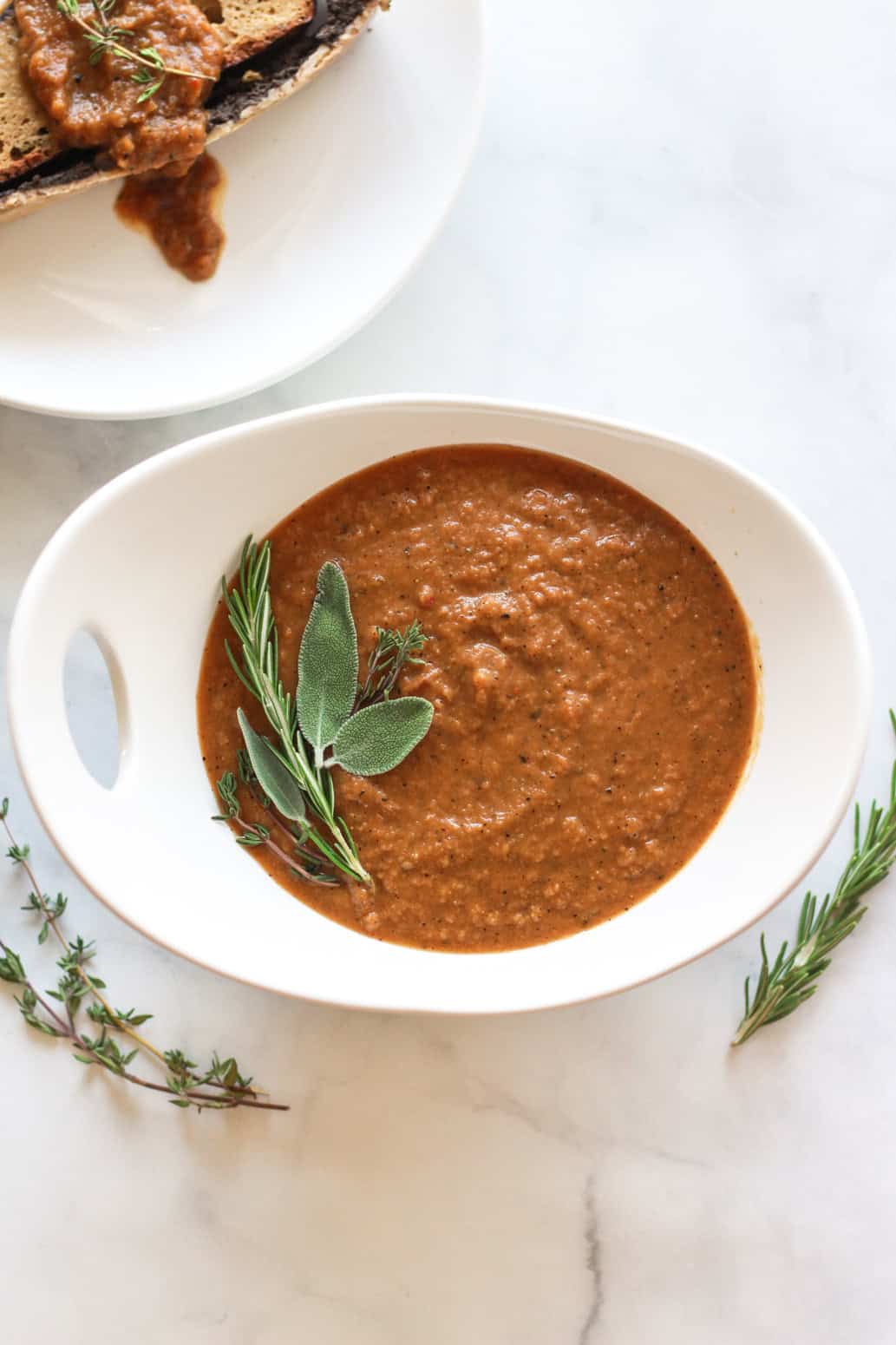 This vegan herbed caramelized onion gravy is packed full of aromatic flavor. It has a subtle sweetness, an umami richness, and a complex flavor profile from the delicate herbs. Also gluten-free, this vegan gravy is the perfect accompaniment to my seitan wellington, a hearty main dish that is perfect for the holidays.
Learn how to make this simple caramelized onion gravy step by step in the video below!
Watch the full vegan 5-course Thanksgiving dinner video right here on YouTube.
This vegan caramelized onion gravy would also be perfect served over fluffy mashed potatoes. I will also show you a way to speed up the process of caramelizing the onions!
We will quickly steam the onions so they release their liquids and can begin to caramelize much quicker. Our caramelized onions, along with aromatic garlic, sage, and thyme, will form the base for this vegan gravy which is blended until smooth, and reheated when ready to serve.
I hope you guys love this herbed vegan gravy as much as I do! I would love to see your recreations on Instagram tagged @zenandzaatar #zenandzaatar, or make sure to pin this recipe for later!
If you enjoy this free recipe, consider supporting me further by purchasing or gifting my e-book, including this recipe and over 55 others! Have the best vegan recipes at your fingertips, downloaded to your device, without the ads and extra text on my blog. Buy it HERE!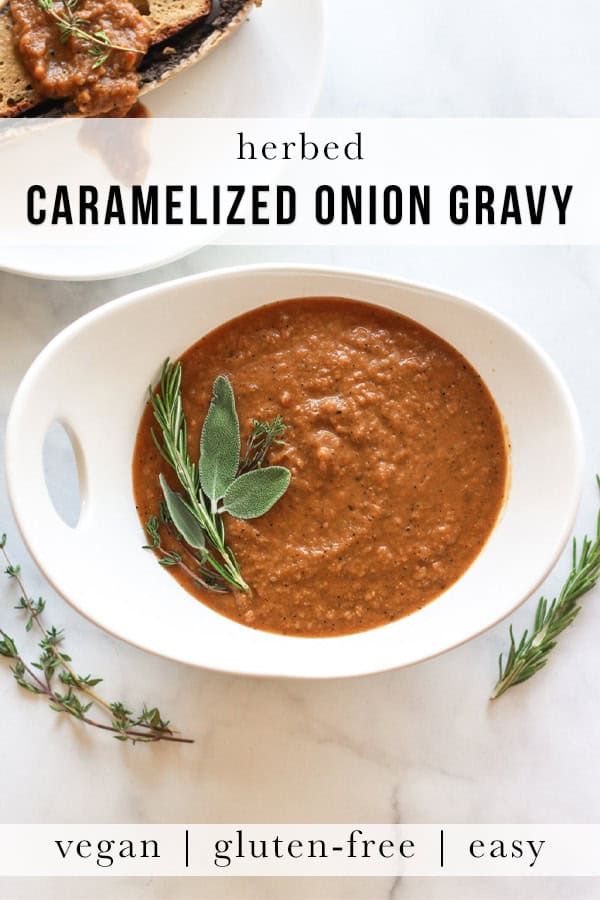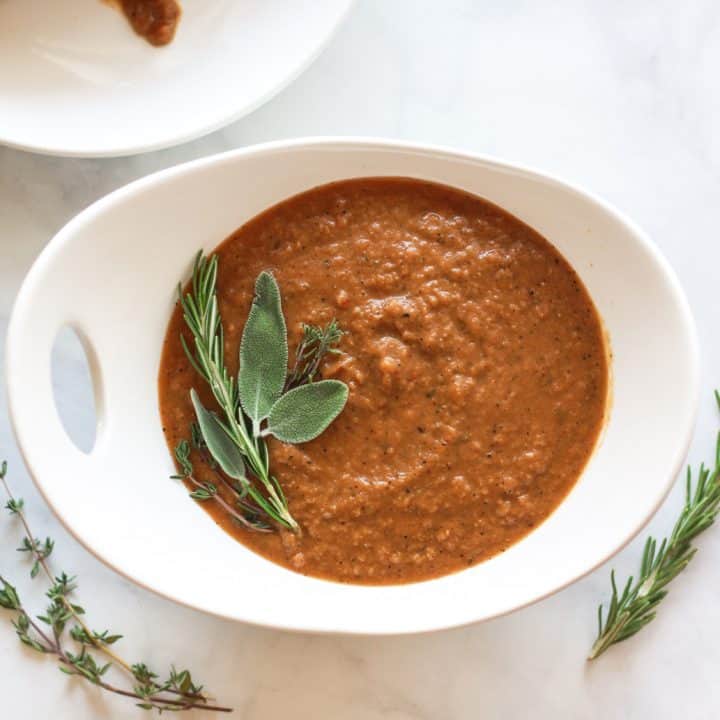 Herbed Caramelized Onion Gravy (Vegan, Gluten-Free)
A vegan and gluten-free caramelized onion gravy infused with aromatic herbs. This vegan gravy would be perfect over mashed potatoes or a vegan roast.
Ingredients
1 ½ sweet or yellow onion
½ tsp salt
⅓ cup water
1 tbsp oil
3 cloves garlic, minced
1 tbsp fresh sage, chopped
2 tbsp fresh thyme, chopped
2 tbsp cornstarch
2 ½ cups vegetable broth
2 tbsp tamari or soy sauce
1 tsp mushroom umami seasoning or mushroom powder (optional)
Instructions
Thinly slice onion. Add to a pan over medium-high heat with salt, water, and oil. Stir and cover with a lid to steam for about 15 mins, until the water has evaporated.
Add garlic, sage, and thyme, and sauté until the onions are caramelized and brown. This is easiest done if you leave the onions in a single layer without stirring, and flip them over when they start to brown. This will take at least 10 more mins.
Once your onions are caramelized, add the mixture to a blender, along with, cornstarch, vegetable broth, tamari, and umami seasoning. Blend until it is extremely smooth and no lumps remain.
Return the blended mixture to a saucepan and bring to a soft simmer, to heat and thicken, before serving. If you want, you can thin it out by adding water 1 tbsp at a time until you reach your desired consistency. Remove from heat and serve!
Recommended Products
As an Amazon Associate and member of other affiliate programs, I earn from qualifying purchases.