These crispy zaatar tofu steaks will change your mind about tofu! They are baked until crispy, infused with the tangy flavor of pomegranate, and topped with a savory, creamy green tahini.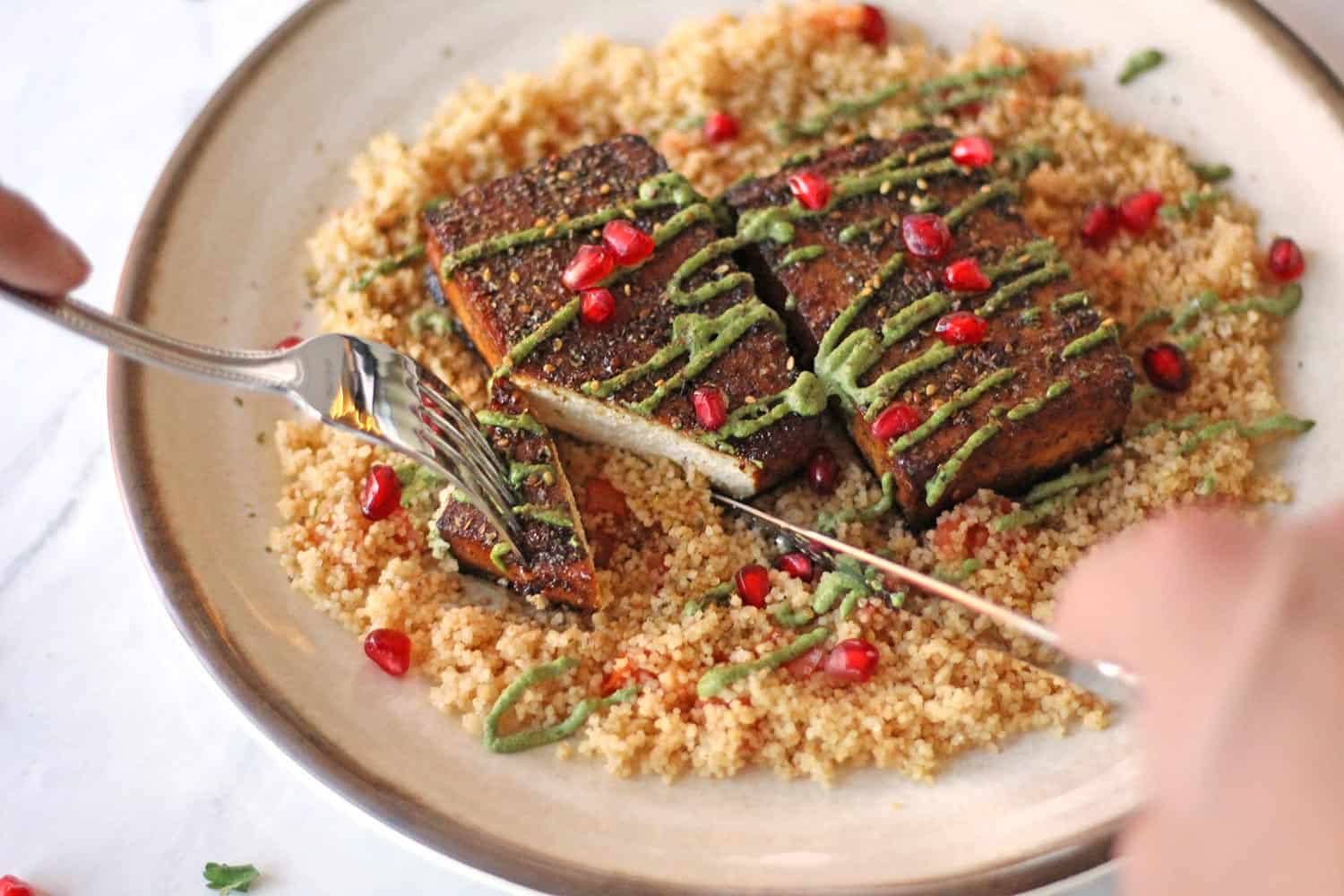 Tofu is not all what people make it to be! I remember before going vegan, I had never tried it and was honestly intimidated by it! I was scared of its soft texture and lack of flavor, and the pre-vegan me would have never imagined that tofu would suddenly become one of my favorite foods. So to all of the tofu skeptics out there, this tofu steak recipe is one that will challenge your ideas and beliefs about what tofu can or cannot be!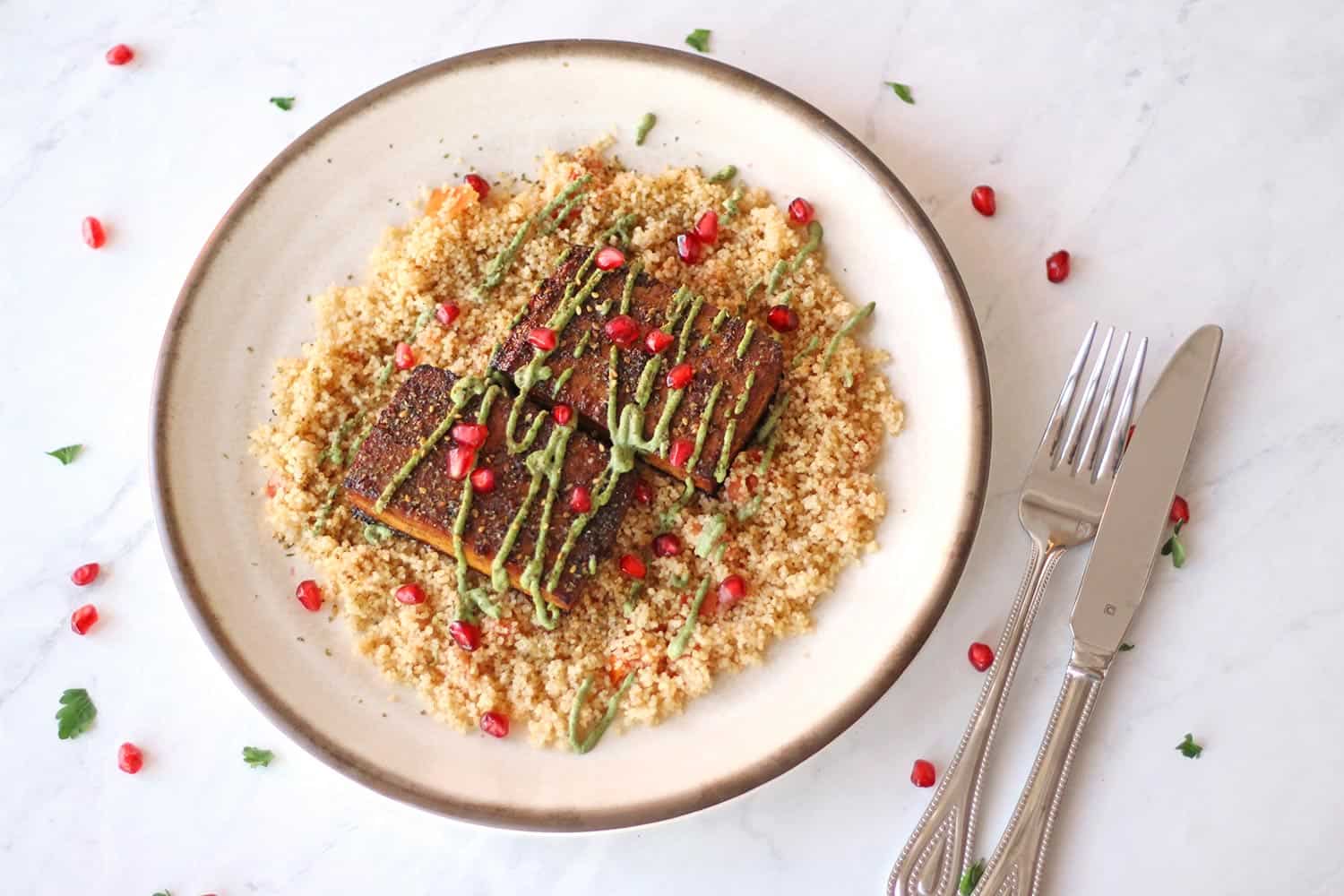 And by that, I mean to prove to you that tofu can be anything! And that is precisely its best quality. This Mediterranean tofu steak is coated with a crispy zaatar crust, infused with tangy pomegranate flavor, and baked to tender, firm perfection in the oven. Topped with a creamy green tahini and served over a bed of couscous, this unique fusion of flavors will prove to you just how versatile tofu can be.
The star of this dish is the high quality zaatar seasoning used to create the crispy crust! I used my personal brand of zaatar, Zen's Za'atar, which is an authentic blend of wild thyme, sumac, sesame seeds, and salt. Straight from the Middle East using fresh ingredients, it's hard to find za'atar this good- and it makes all the difference! Unlike other za'atar blends, this one is packed with flavor, so you don't have to use as much of it to get the same effect. Grab this delicious, authentic, Middle Eastern za'atar right here in my shop!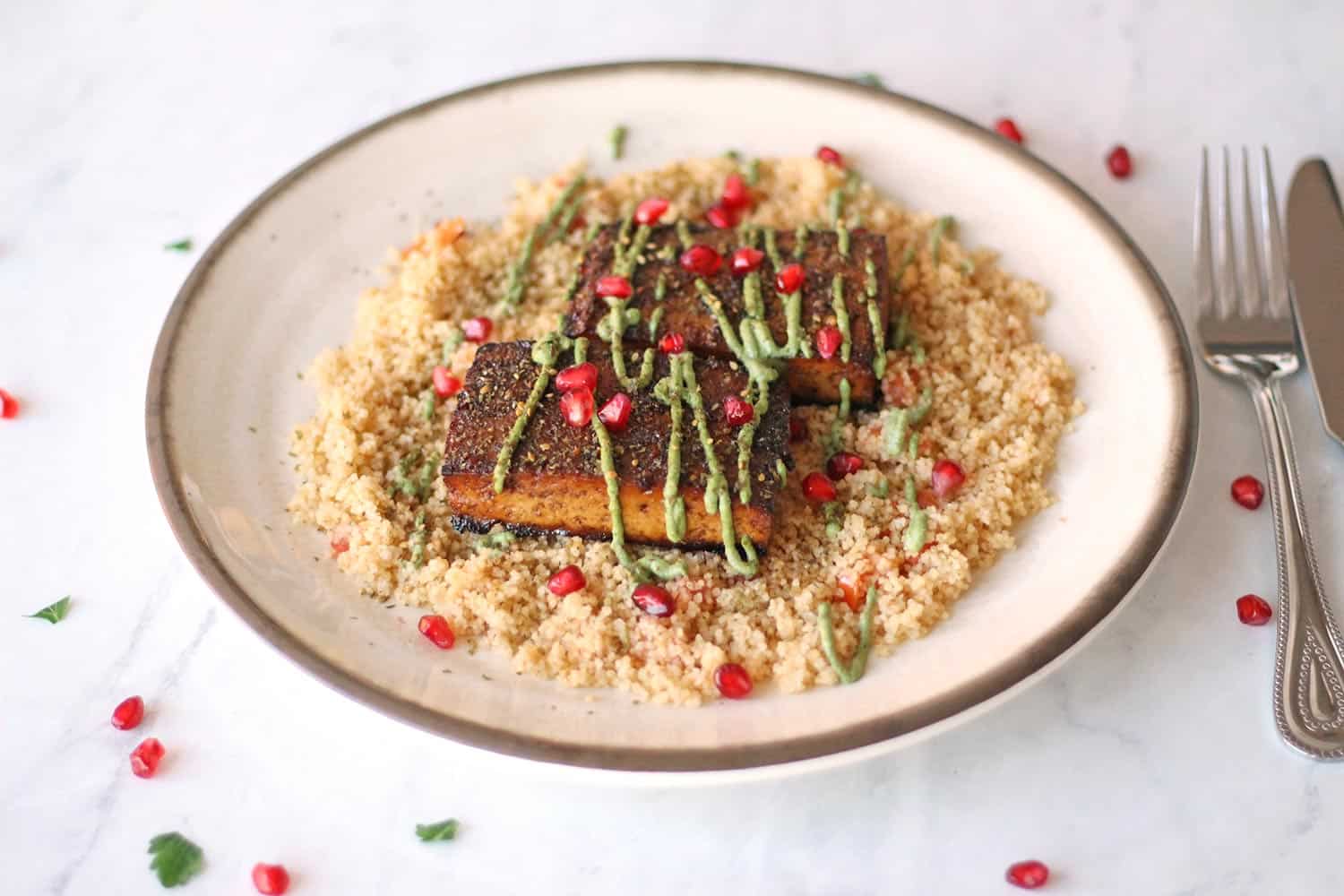 The crispy zaatar-and-olive oil crust on the tofu steak is reminiscent of one of my favorite Arabic street foods growing up, zaatar mana2eesh. They are fluffy Middle-Eastern flatbreads, like pizza dough, that are baked in a wood-fired oven and topped liberally with olive oil and zaatar, browned to perfection.
I hope you all love this recipe! Don't forget to tag your recreations @zenandzaatar on Instagram or pin this recipe for later! 🙂
If you enjoy this free recipe, consider supporting me further by purchasing or gifting my e-book, including this recipe and over 55 others! Have the best vegan recipes at your fingertips, downloaded to your device, without the ads and extra text on my blog. Buy it HERE!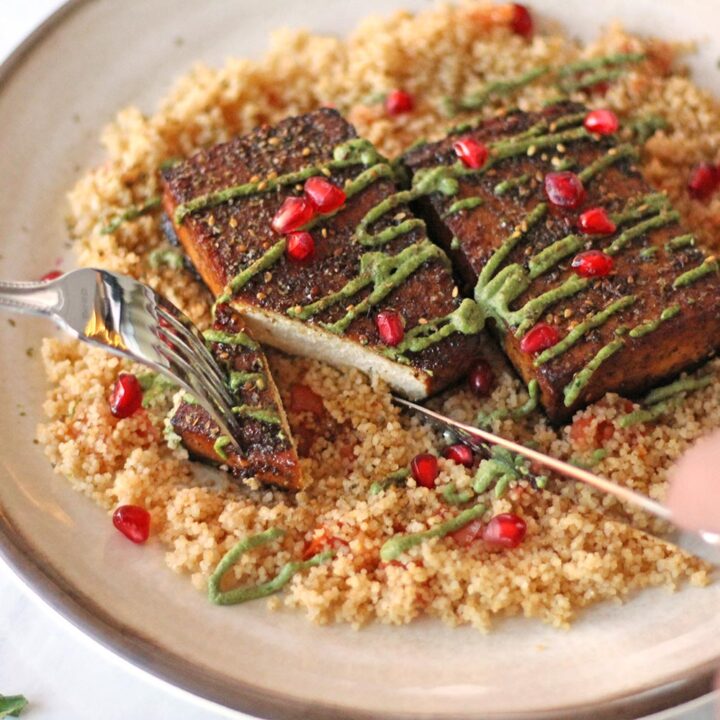 Zaatar Crusted Tofu Steaks with Green Tahini
Mediterranean tofu steaks with a crispy zaatar crust, infused with tangy pomegranate and topped with a creamy green tahini. Perfect over a bed of couscous. Vegan and gluten-free.
Ingredients
Tofu Steak
1 14 oz. package extra firm tofu
2 tbsp pomegranate molasses**
3 tbsp olive oil*** (see notes for an oil-free method)
½ tsp salt
2 tbsp zaatar spice*
Pomegranate seeds and chopped parsley for garnish (optional)
Green Tahini
½ cup tahini (sesame paste)
3-4 tbsp lemon juice
7-8 tbsp water
½ cup parsley
½ tsp salt
Instructions
Preheat oven to 425F. Whisk pomegranate molasses, olive oil, zaatar, and salt in a small bowl.** Drain tofu, pat off excess water and press it for at least 10 minutes. (If you don't have a tofu press, wrap the block in a towel, place a plate over it, and top with something heavy, like a can of beans.)
Slice tofu block into 4 "steaks." You can do this by slicing the block in half, and then slicing each half so that you have 4 thin steaks. Coat the tofu steaks with the pomegranate-zaatar marinade on all sides and press it onto the tofu. Let sit for at least 10 minutes for the flavors to infuse.
Place the marinated tofu on a parchment paper lined baking sheet and bake for 25-30 mins, flipping halfway through. If there's any leftover marinade, you can drizzle it over the tofu when you flip it.
Meanwhile, prepare the green tahini by simply blending all the ingredients together until smooth. Use 7 tbsp water and 3 tbsp lemon juice, and then taste the result to see if you would like to add more lemon or a thinner consistency.
Serve zaatar steaks with green tahini drizzled over. They go excellent over a bed of couscous.**** Top with parsley and pomegranate seeds if desired.
Notes
*It's important to use a high quality za'atar seasoning blend. Zen's Za'atar is an authentic blend I handpicked from the Middle East to deliver you the absolute best, authentic Mediterranean flavors- get it right here!
**I would not omit the pomegranate molasses, because that is what makes the coating so crispy and flavorful! Its thick, sticky texture also really helps stick the zaatar onto the tofu.
***Oil-free method: replace olive oil with 2-3 tbsp of water. The marinade consistency should be somewhat thick, but still easily spread over the tofu steaks. You may want to press the tofu for at least 20 minutes if using this method, to make sure no excess water is left.
****Couscous: These directions are for the fine type of couscous, as shown in photos. Bring 1 cup of water, ½ tsp salt, and 2 tbsp olive oil (optional) to a boil. Add in 1 cup couscous, ½ tsp cumin and ¼ tsp black pepper. Remove from heat and cover with a lid- let steam for 5-10 mins. Fluff couscous with a fork and serve.
Recommended Products
As an Amazon Associate and member of other affiliate programs, I earn from qualifying purchases.