I love avocado toast, but it can get boring after a while. That's why I decided to make a Mediterranean version with all of my favorite ingredients! An avocado pita is a great healthy alternative to your everyday avocado toast- especially on whole wheat pita bread.
Chickpeas are one of my absolute favorite foods- packed with protein and fiber, they are a great way to start your day! And, not to mention, I find them absolutely delicious no matter how you prepare them! One of my favorite ways to eat chickpeas is spiced and roasted. They get a nice crunchy exterior in the oven and the Mediterranean spices infuse them with fragrant flavors.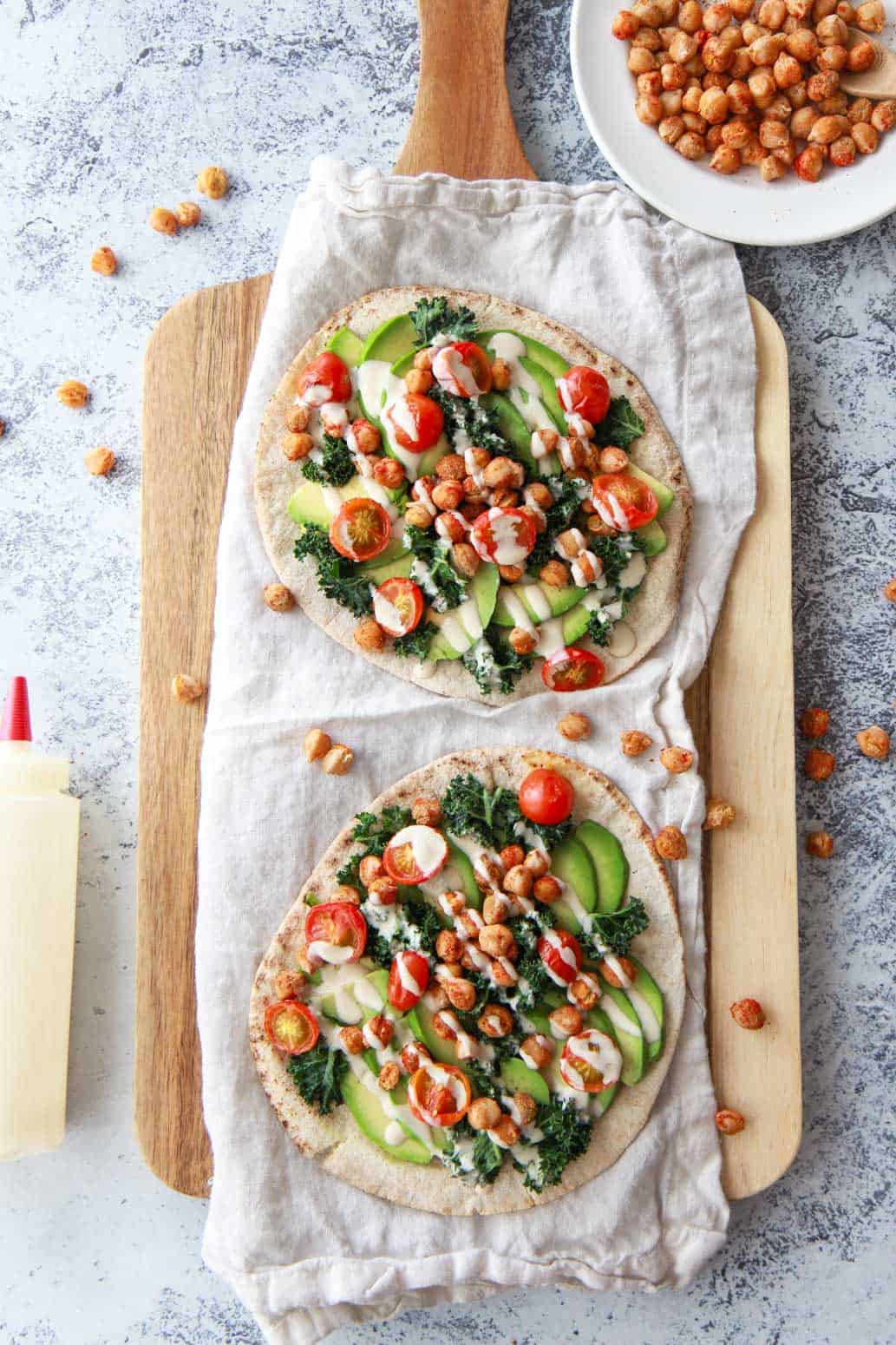 I was never a big fan of tomatoes as a child, but as I got older, I learned to love the juicy texture and fresh flavor they add to dishes. Roasting the tomatoes makes them sweeter, juicier, and the perfect accompaniment to the crunchy spiced chickpeas.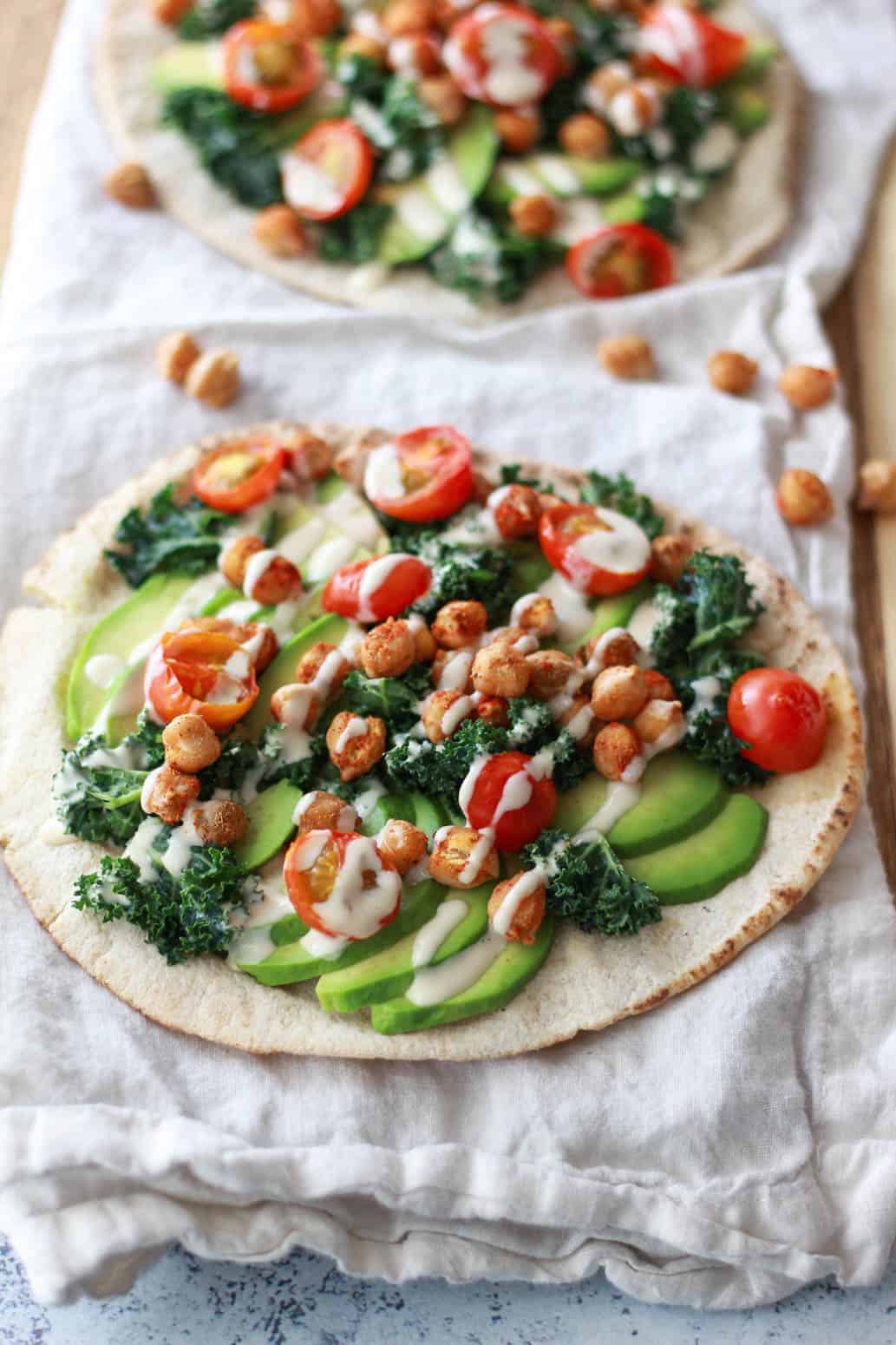 The kale makes this avocado pita the perfect way to get your greens in first thing in the morning. It also makes this dish totally acceptable to eat as a salad. If you do not massage your kale, you need to start now. It seems silly, but massaging the kale actually makes it softer and much less bitter. You can absolutely taste the difference; massaged kale has a more pleasant and subtle taste than raw kale straight out of the bag.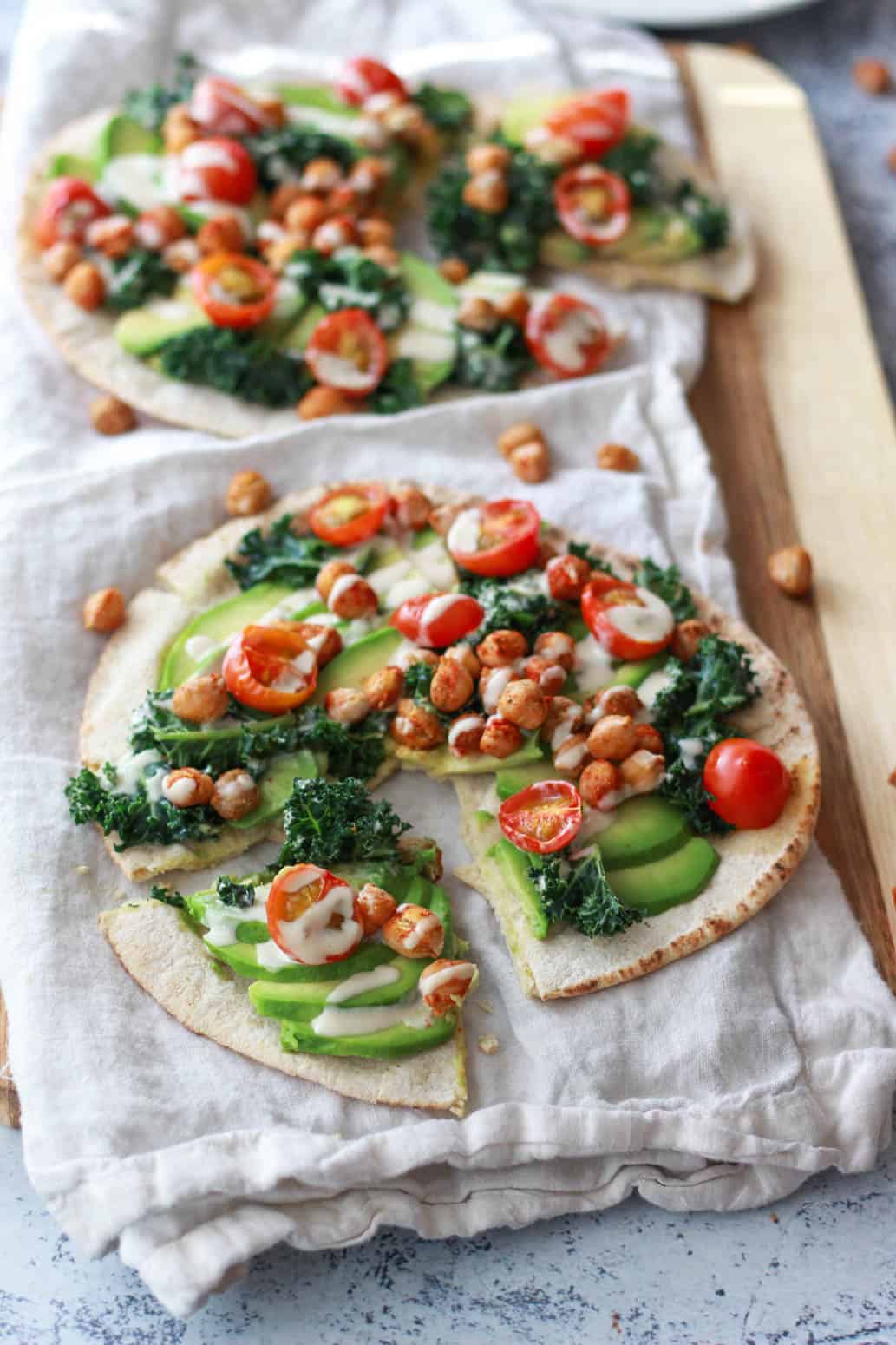 Do not forget to drizzle your beautiful Mediterranean breakfast avocado pita with a healthy dose of tahini! The creamy sauce goes so well over the crunchy spiced chickpeas, juicy roasted tomatoes, and refreshing kale.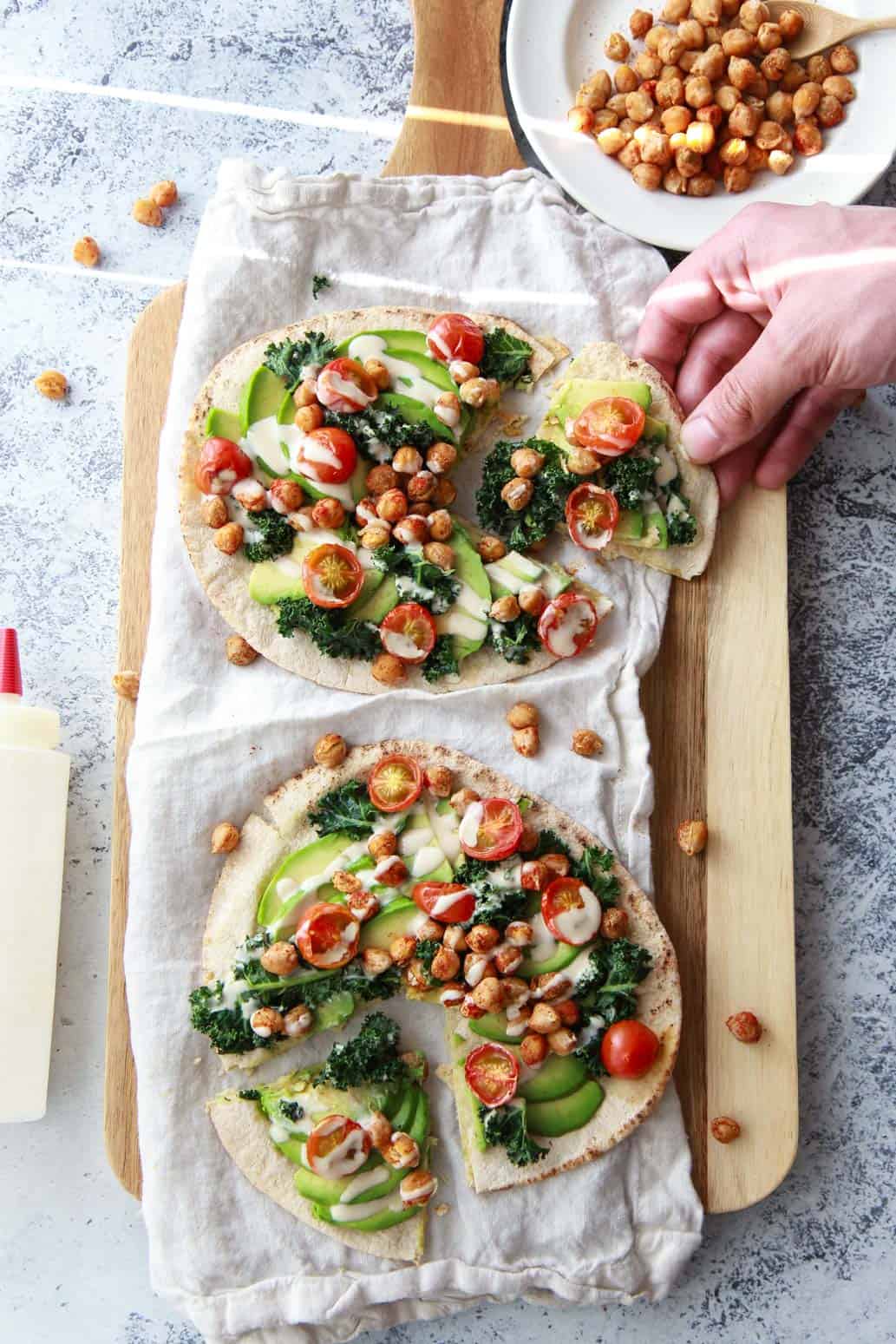 Don't forget to let me know in the comments if you try it and tag your recreations @zenandzaatar #zenandzaatar. And if you don't plan to make it now, pin this recipe for later!
Breakfast Avocado Pita with Spiced Chickpeas
A healthy Mediterranean take on the beloved avocado toast. Avocado breakfast pitas topped with roasted spiced chickpeas, juicy tomatoes, massaged kale, and creamy tahini drizzle.
Ingredients
¾ cup cooked or canned chickpeas
¾ cup cherry tomatoes
⅛ tsp chili powder
¼ tsp smoked paprika
¼ tsp cumin
½ tsp lemon juice
pinch of salt
¾ cup kale leaves
1 avocado
2 pita rounds
Tahini Sauce
Instructions
Preheat oven to 375. Toss chickpeas with chili powder, smoked paprika, and cumin. Slice cherry tomatoes in half. Place cherry tomatoes and spiced chickpeas onto a parchment paper lined baking sheet and bake for 15 minutes.
Meanwhile, massage kale with the lemon juice and salt.
Make tahini sauce by whisking together tahini, lemon juice, water, and salt.
After removing the chickpeas and tomatoes, put the 2 pita bread rounds in the oven to toast for 4-6 minutes.
Assemble the breakfast pitas. Start with mashing half an avocado on each pita. Then top each pita with half of the kale, chickpeas, and tomatoes. Drizzle tahini sauce over each pita and serve immediately.
Love avocado? Try these recipes!:
Zaatar Avocado Toast
Avocado Mac & "Cheese"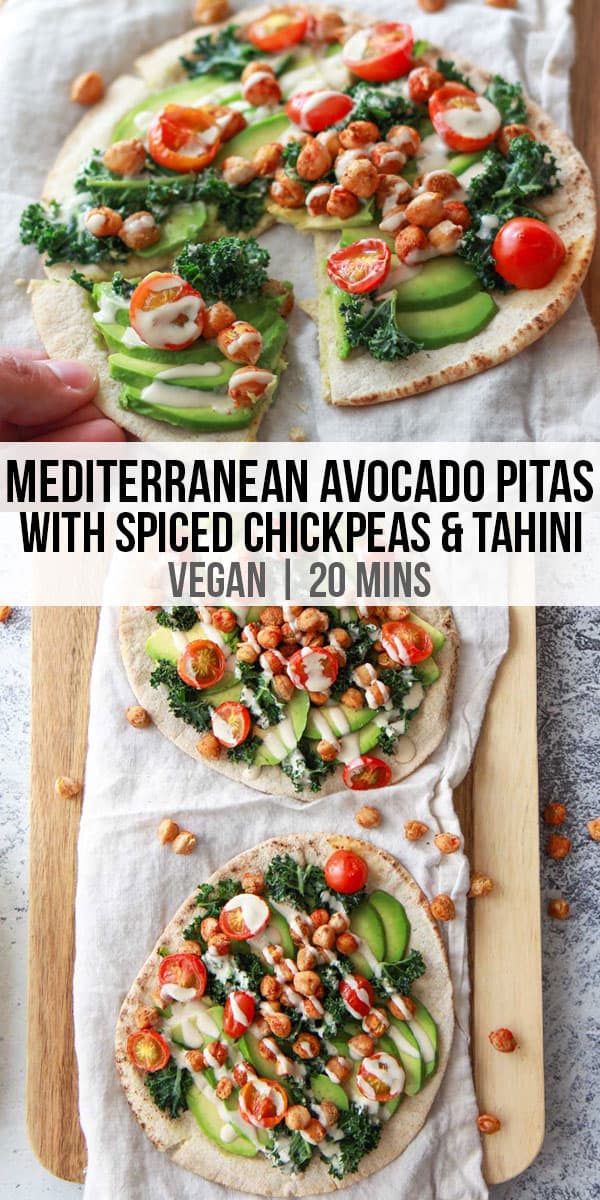 Save