Want to skip the ads and fluff and download this recipe straight to your device? Download this recipe and over 55 other vegan recipes as part of my e-book, HERE!
This colorful Mediterranean-style smashed chickpea salad sandwich is a healthy, protein-packed meal bursting with flavor and topped with a deliciously creamy vegan tzatziki.
This delicious vegan chickpea salad sandwich offers a healthy alternative to traditional chickpea, chicken, and tuna salad sandwiches without sacrificing the protein or flavor. Tahini replaces the commonly used mayo, and offers a creamy texture while complementing the Mediterranean aromas. It is important to use a super smooth, high quality tahini, like this Seeds of Collaboration tahini that is sourced in the Middle East and contributes to Middle East Entrepreneurs of Tomorrow! Check it out here.
I love to eat smashed chickpea and tahini sandwiches in a pita pocket or wrap for breakfast as well as lunch! They make such a simple, quick, anytime meal and fill me up for hours.
I hope you love this recipe as much as I do! Don't forget to let me know in the comments if you try it, or pin it for later. I would love to see your recreations on Instagram @zenandzaatar!
If you enjoy this free recipe, consider supporting me further by purchasing or gifting my e-book, including this recipe and over 55 others! Have the best vegan recipes at your fingertips, downloaded to your device, without the ads and extra text on my blog. Buy it HERE!
Mediterranean Chickpea Salad Sandwich (Vegan)
This vegan Mediterranean-style chickpea salad sandwich is colorful and bursting with flavor. Topped with a creamy thick tzatziki, pickled red onions and mashed avocado.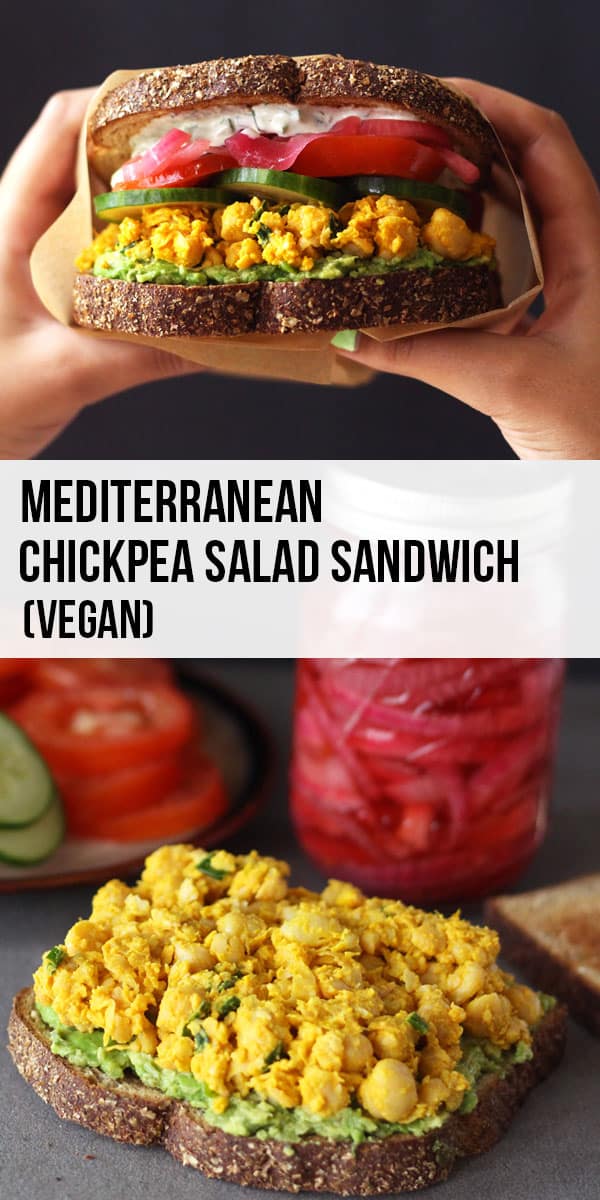 Save
Save