Want to skip the ads and fluff and download this recipe straight to your device? Download this recipe and over 55 other vegan recipes as part of my e-book, HERE!
Nachos are the ultimate comfort food and party dish! There is nothing better than digging into a plate of crispy nachos held together by gooey, melty nacho cheese after the most eventful nights out or stressful days at work. At the same time, the colorful toppings join together to create a visual fiesta, making them a fun, festive dish at any party! These baked sweet potato nachos offer a healthier take on the beloved comfort food.
I am a huge fan of sweet potatoes eaten in any form and for any meal, and they are the perfect vessel for all of the delicious nacho toppings to come. They are first baked in the oven, without needing any oil, until crispy.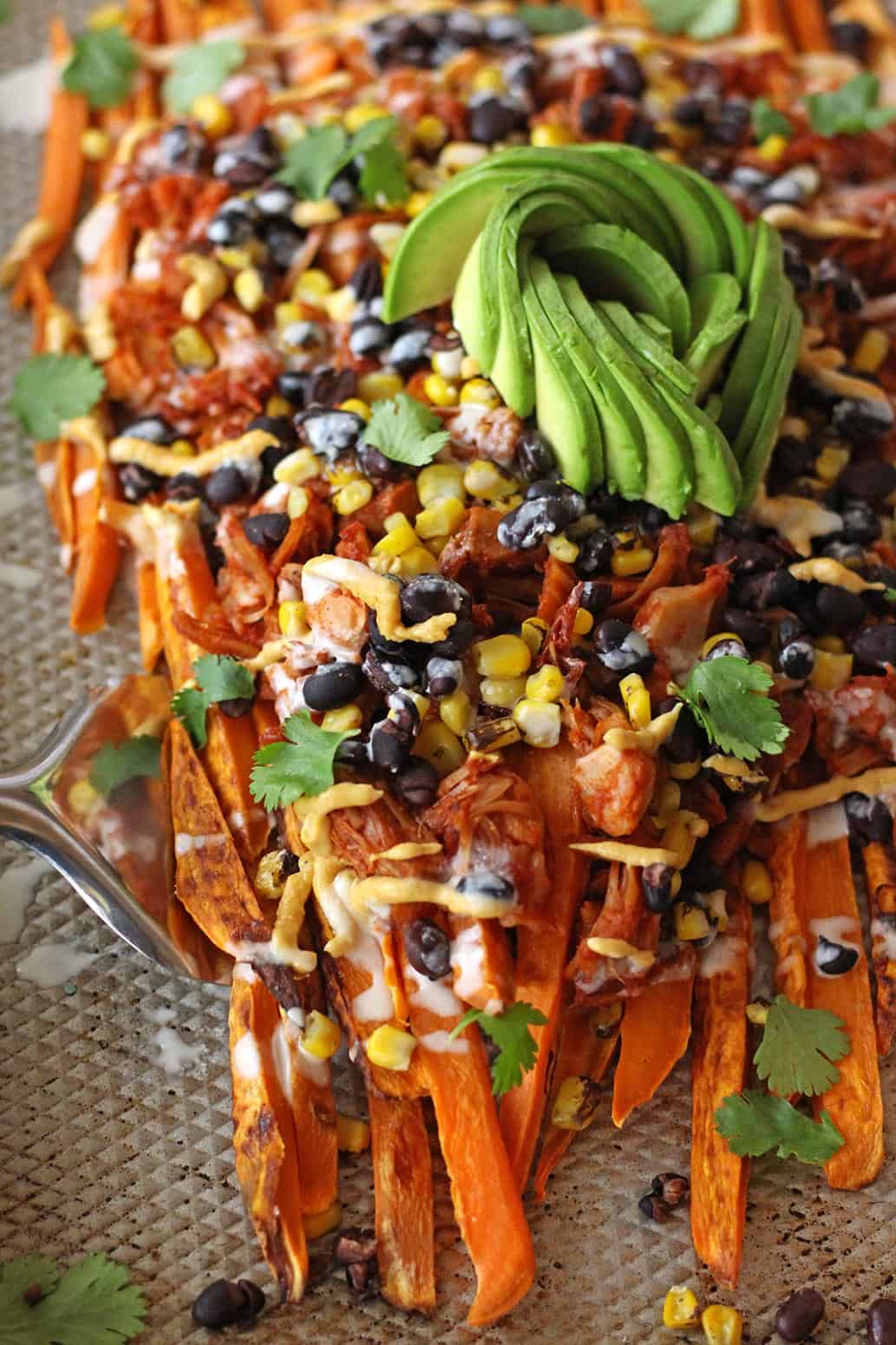 While the sweet potato fries bake in the oven, begin to prepare the barbecue pulled jackfruit. If you have not tried jackfruit yet, when seasoned properly, its meat-like texture and appearance could fool anyone. It absorbs the smoky flavors of the spices and barbecue sauce, creating the perfect savory, tangy, pulled BBQ "meat" for your nachos.
After being topped with pulled BBQ jackfruit, black beans, and roasted corn, these delicious sweet potato nachos go back in the oven for the flavors to meld together as you prepare a creamy nacho cheesy sauce.
Topped with the creamy nacho cheese, avocado, and cilantro, these meat-eater approved BBQ jackfruit sweet potato nachos create a flavor fiesta in anyone's mouth!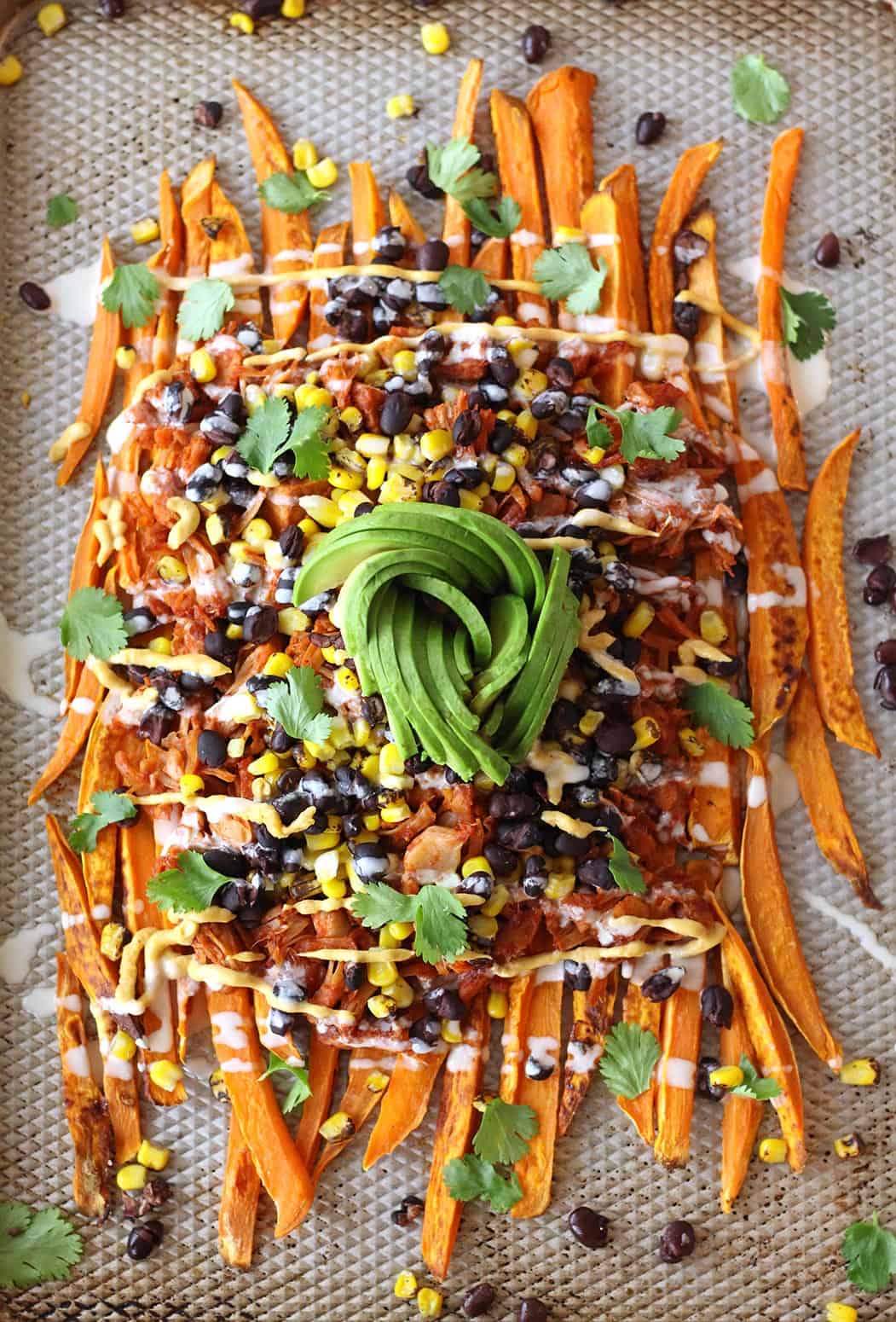 Don't forget to let me know if you try this recipe and tag your recreations on Instagram @zenandzaatar! And if you don't plan on making it now, pin it for later!
If you enjoy this free recipe, consider supporting me further by purchasing or gifting my e-book, including this recipe and over 55 others! Have the best vegan recipes at your fingertips, downloaded to your device, without the ads and extra text on my blog. Buy it HERE!
Loaded BBQ Jackfruit Sweet Potato Nachos (Vegan)
Loaded vegan sweet potato nachos topped with smoky barbecue pulled jackfruit, black beans, roasted corn, avocado, and an unbelievably creamy nacho cheese sauce. Vegetarians and meat-lovers alike will love these healthy meatless nachos.
Cuisine:
American, Mexican
Ingredients
Nacho Cheese
¾ cup cashews (soaked for at least one hour if you do not have a high speed blender or food processor)
½ cup water
2 tbsp. lemon juice
2 tbsp nutritional yeast
¼ tsp smoked paprika
¼ tsp garlic powder
¼ tsp salt
BBQ Jackfruit
1 20 oz. can jackfruit in water or brine (not syrup)**
2 cloves garlic, minced
1 tbsp coconut oil
¼ tsp smoked paprika
½ tsp salt
¼ tsp cumin
⅛ tsp chili powder
⅛ tsp black pepper
½ cup BBQ sauce
Sweet Potato Fries and Toppings
3 lbs. sweet potatoes
½ avocado
¼ cup chopped cilantro
½-3/4 cup black beans
½-3/4 cup corn kernels
Instructions
Preheat oven to 425 F. Peel sweet potatoes and chop into fries. Dry fries thoroughly using a kitchen towel or paper towels. Line a baking sheet with parchment paper and add the fries, making sure there is little to no overlap. Sprinkle some sea salt on top of the fries and bake for 30-40 minutes, until edges begin to brown and crisp (I baked mine for 35 minutes).
Meanwhile, prepare the barbecue jackfruit. Rinse and drain jackfruit, and cut away and discard all pieces of the dense core and seeds.
In a medium saucepan, sauté garlic in coconut oil until fragrant, about 2 minutes. Add jackfruit followed by smoked paprika, salt, cumin, chili powder, and black pepper. Stir the jackfruit to coat with spices and cook for about 5 minutes, until jackfruit begins to lightly brown.
Add vegan BBQ sauce of choice and simmer on medium low for 20 minutes, until tender. About 10 minutes into cooking, use two forks to pull apart and shred the jackfruit while in the saucepan.
Lower oven heat to 375 F. Arrange baked sweet potato fries into desired position on a parchment lined baking sheet. Top with BBQ jackfruit mixture, followed by black beans and corn. Bake for 8-10 minutes.
Meanwhile, prepare nacho cheese sauce. Blend all ingredients for the nacho cheese in a high speed blender or food processor until smooth. Set aside.
Remove sweet potato nachos from oven. Generously drizzle or pour nacho cheese over the fries. Warm in oven for a couple mins if desired. Top with chopped avocado and cilantro. Enjoy!
Notes
**Can be found in most Asian groceries or easily ordered online. I like to use
Native Forest brand
(pack of 6).
Save