I've been trying to come up with more pantry-friendly, simple dinner recipes for you all to enjoy during this time. This one-pot cheesy vegan quinoa with broccoli and chickpeas is a healthy comfort food that can easily be made with pantry and freezer ingredients. It's creamy, gluten-free, hearty, and so easy to make!
This dish is made by simple cooking the quinoa in a savory broth, flavored with aromatic onion and garlic. Then we add nutritional yeast for a cheesy flavor, and a quick homemade cashew milk for creaminess. Then we add chickpeas and broccoli, and the veggies get steamed as the flavor marinates throughout the dish.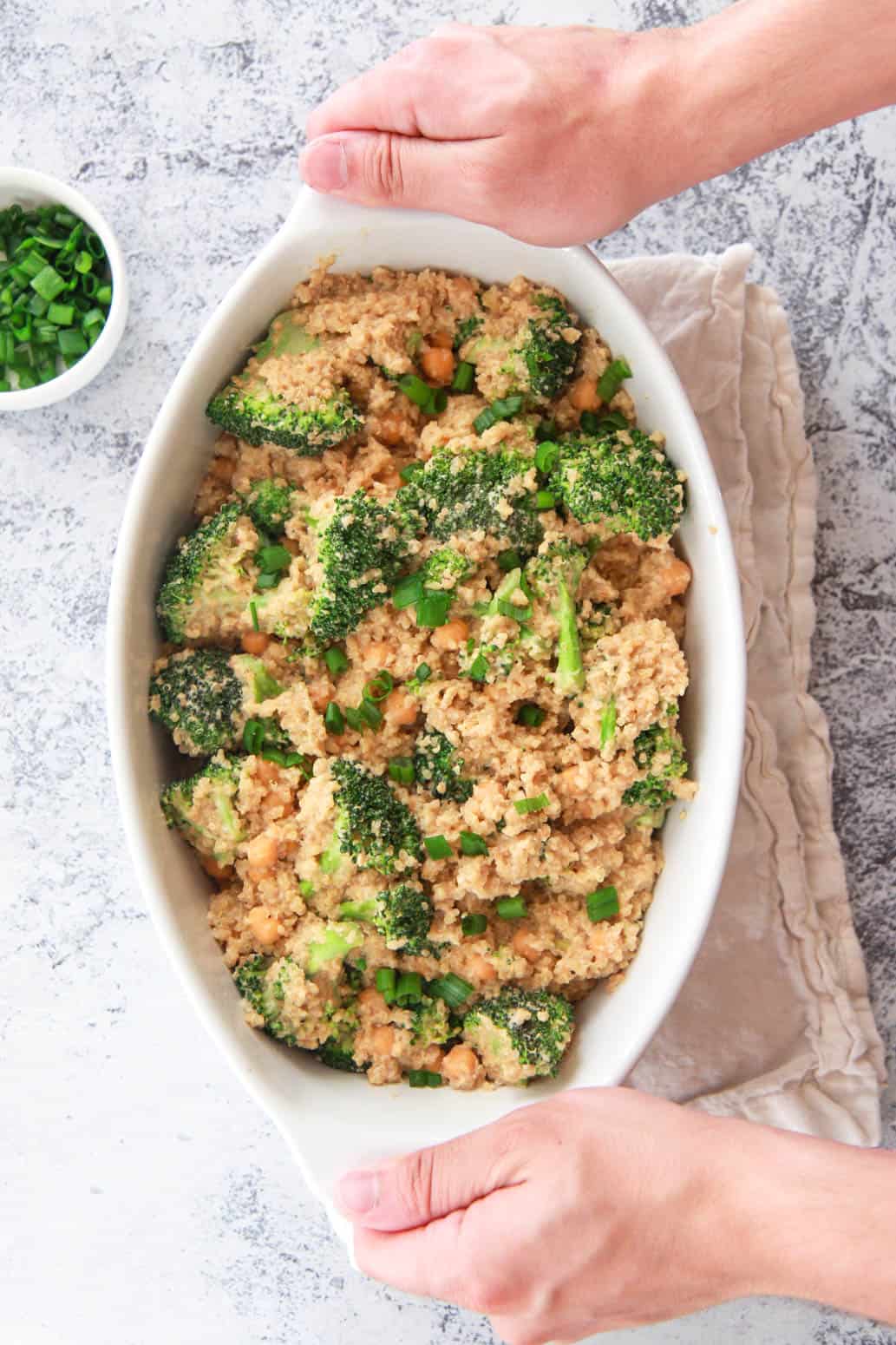 As I'm cooking a lot during quarantine, the dishes just seem to pile up. And since we don't have a dishwasher, I love anything that minimizes the amount of dishes used during the process, which is why this one-pot meal is the perfect cozy dish for these nights.
The protein in the quinoa, chickpeas, and broccoli make this a complete, filling meal. These are also ingredients I always have in my pantry, and I tend to at least have frozen broccoli florets. But if you don't, feel free to get creative and add the veggies you do have. Spinach or mushrooms would be delightful in this dish, and chickpeas could also be substituted for another bean such as white beans.
This vegan cheesy quinoa is garlicky, creamy, and comforting. I love to add chopped chives or green onions on top for garnish.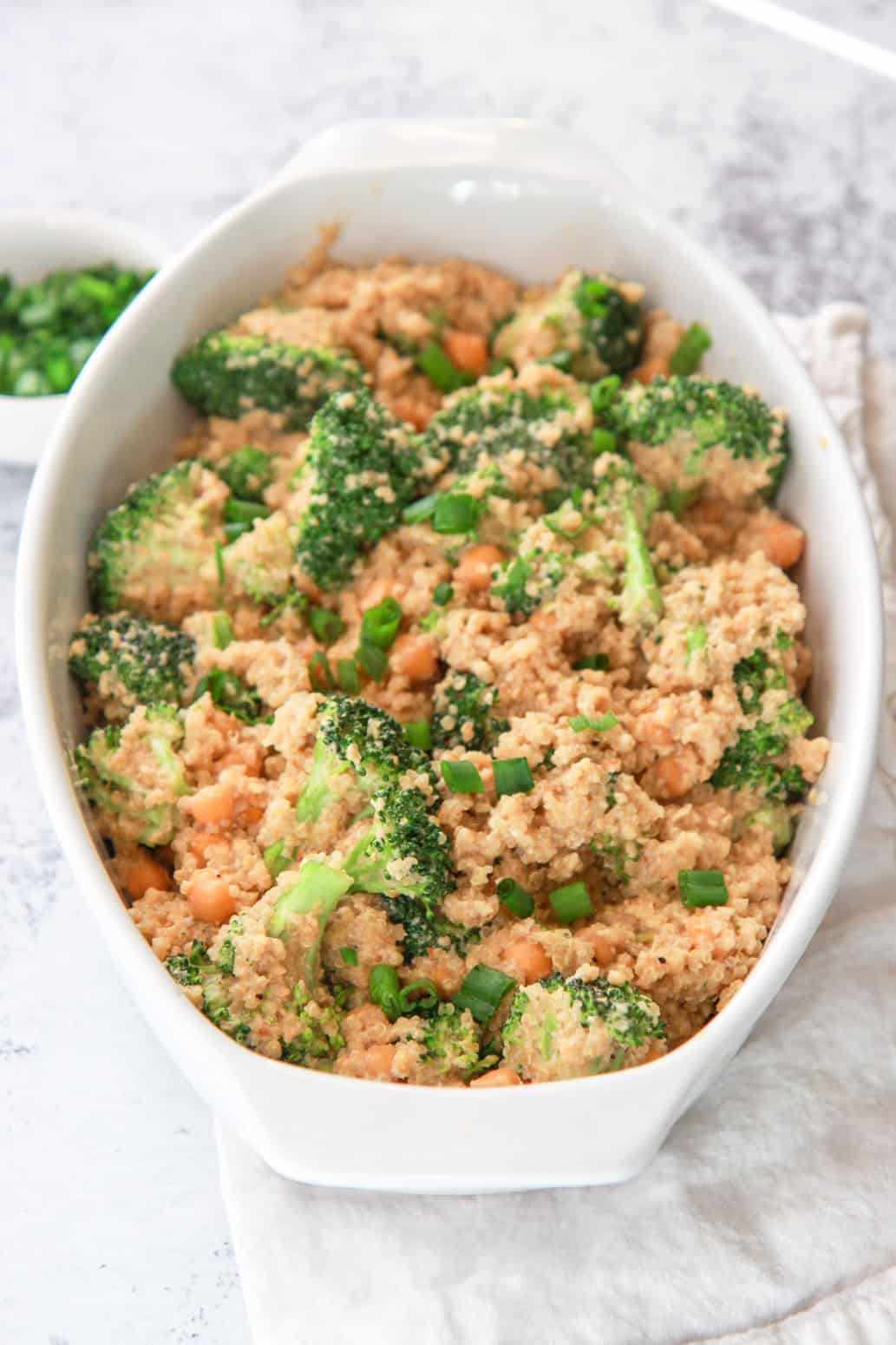 I hope you guys love this vegan cheesy quinoa as much as I do! I would love to see your recreations on Instagram @zenandzaatar. Don't forget to pin this recipe for later!
One-Pot Cheesy Vegan Quinoa with Broccoli & Chickpeas (GF)
This cheesy vegan quinoa with broccoli and chickpeas is a pantry-friendly, gluten-free, healthy comfort food dish that can be made in one pot.
Ingredients
1 cup raw cashews
2 cups water
½ cup diced onion
3-4 cloves garlic, minced
1½ tbsp oil or water
1½ cups quinoa
3 cups vegetable broth or 3 cups water + 1 tbsp vegetable bouillon
12-14 oz. fresh or frozen broccoli florets
1½ cups cooked chickpeas or 1 15 oz. can chickpeas
¼ cup nutritional yeast
1 tsp salt (or to taste, depends on saltiness of bouillon)
½ tsp black pepper
1 tsp garlic powder
3 tbsp lemon juice
chives or green onions, chopped, for garnish
Instructions
Sauté onion in oil or water in a pot over medium high heat until translucent, 3-5 mins. Then, add minced garlic and sauté until fragrant, about 2 more mins.
Add in quinoa and toast lightly for 1-2 mins, before adding in vegetable broth or water and bouillon. Bring to a boil, and then cover and simmer on medium low heat until most of the liquid is absorbed, 8-12 mins.
Meanwhile, make your cashew cream by blending 1 cup cashews and 2 cups water until smooth; it doesn't have to be perfect.
Once quinoa is cooked, add in cashew cream, nutritional yeast, salt, pepper, garlic powder and chickpeas. Stir to combine, and then add the broccoli florets. Cover with a lid to steam the broccoli and cook until tender, 3-5 mins.
Check with a fork to see that the broccoli is tender, add lemon juice, and stir to combine. Serve topped with chopped green onions or chives. Enjoy!