This isn't just any vegan bacon cheeseburger- sandwiched between a toasted glazed donut bun, also known as the Luther burger, this recipe really illustrates that anything can be turned vegan- while still being equally as delicious!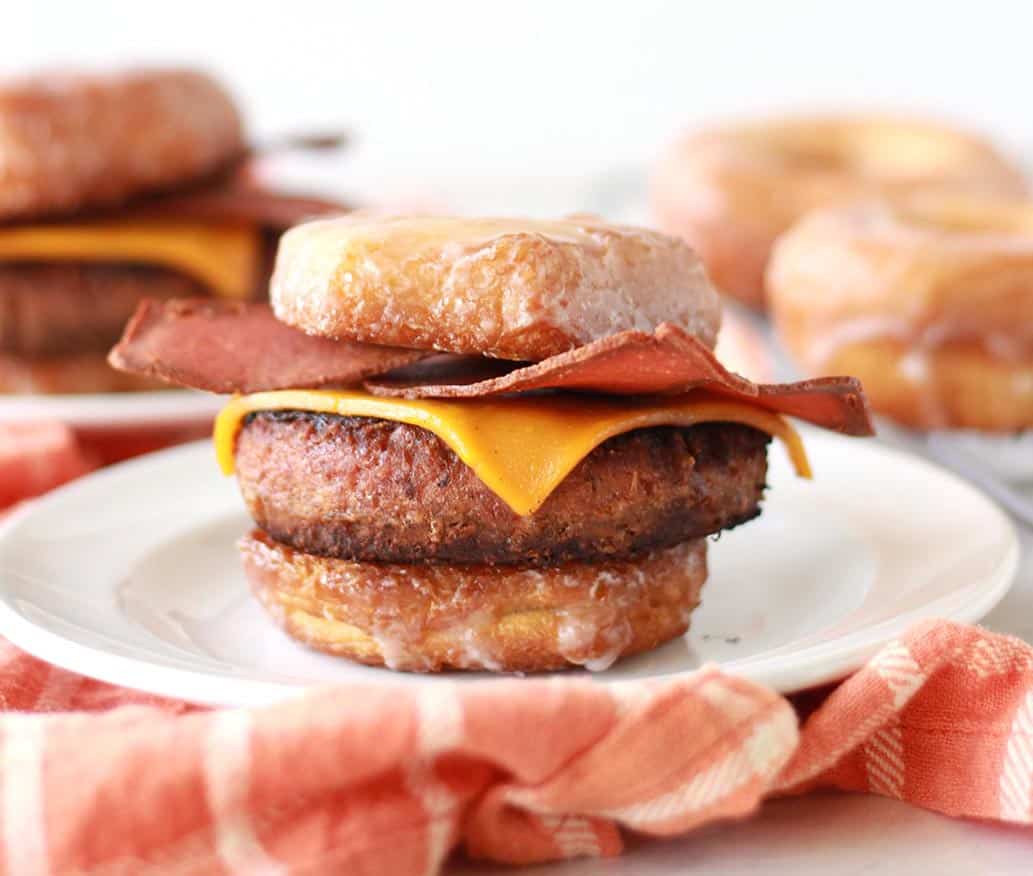 Although this is by no means a "healthy" recipe, I didn't feel weighed down or sluggish at all after eating one of these, despite their tantalizing appearance! I think this is a great alternative to the actual Luther burger, dubbed by some the "heart attack burger"- not only is it free from cholesterol, but it is also free from cruelty!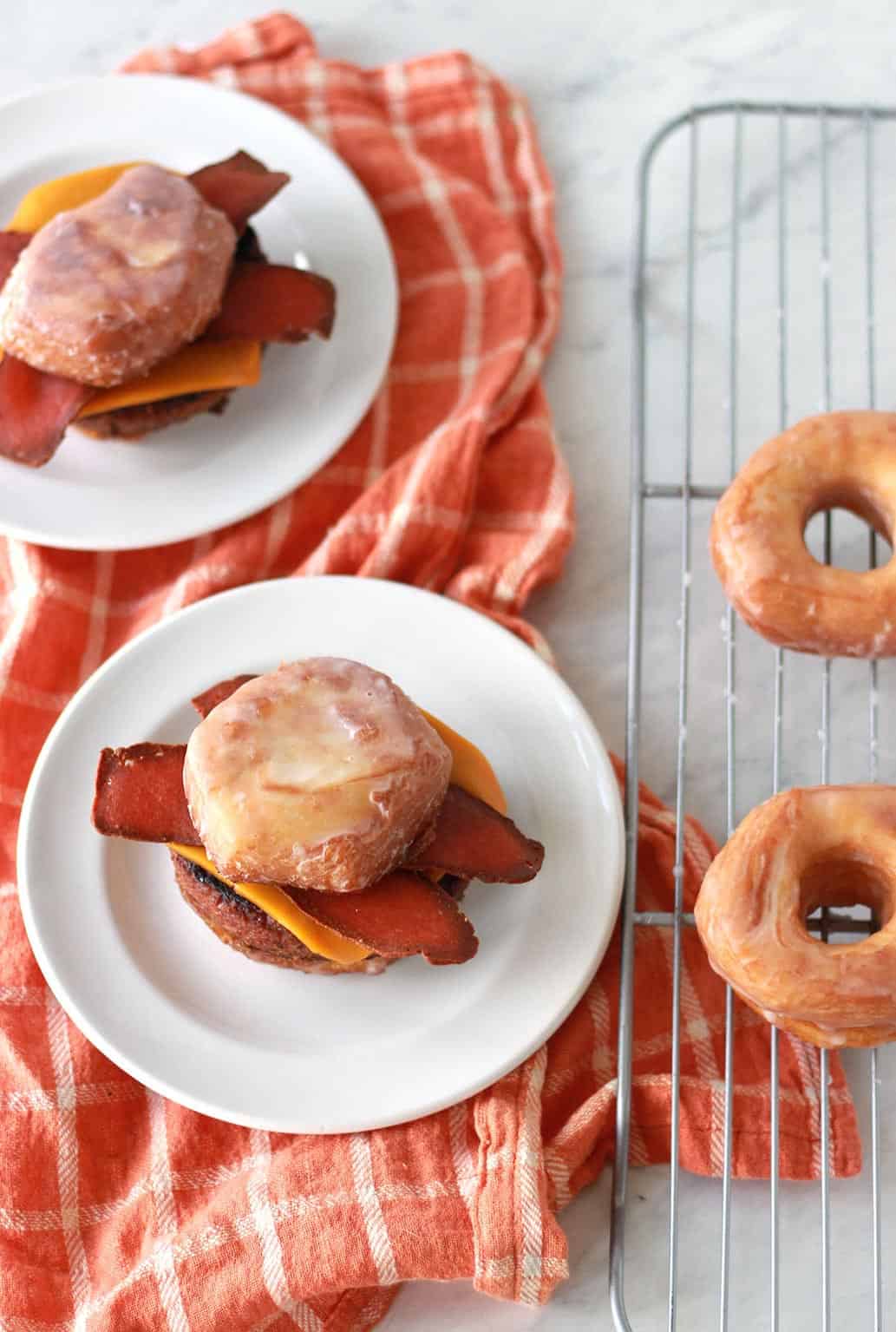 I hope you love this vegan donut burger as much as I do! Don't forget to tag your recreations on Instagram @zenandzaatar & #zenandzaatar! Or just pin this recipe for later! 🙂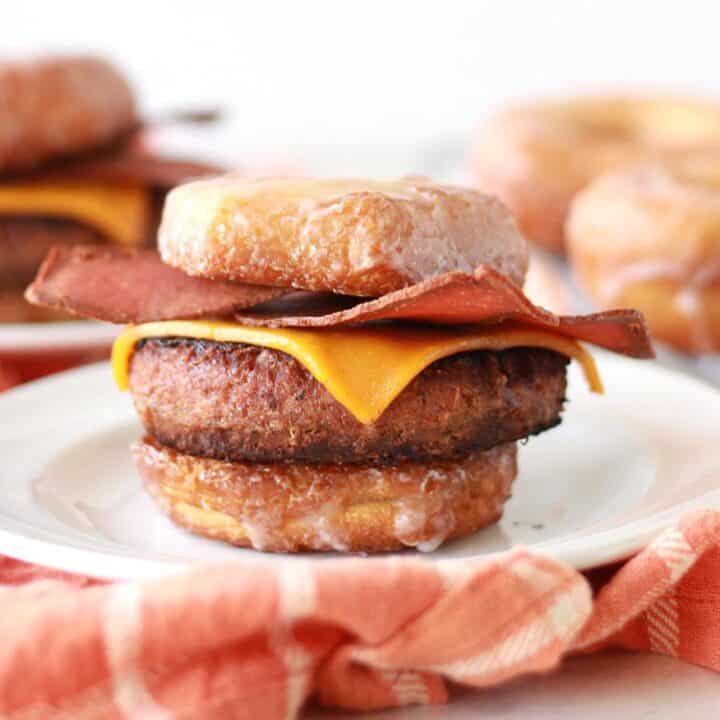 Vegan Bacon Cheeseburger (Luther Burger) with easy Donut Hack!
This vegan bacon cheeseburger is sandwiched between two glazed donuts as buns! Also known as the Luther Burger, this recipe comes with an easy vegan donut hack.
Ingredients
Burger
4 plant-based burger patties*
1 tbsp vegan butter (like Earth Balance)
Donut
1 package of vegan biscuit dough**~
1 cup powdered sugar
2 tbsp non-dairy milk
Vegetable oil for frying
Instructions
On a non stick surface (I used greased parchment), lay out your raw biscuits. If you wish to cut a donut hole in the center, use a greased smaller glass to cut it out. However, I find that the donut buns hold together better without a donut hole.
Heat about an inch deep of oil in a skillet over medium to medium high heat. You can test to see if the oil is hot enough by dipping a chopstick or wooden spoon in and watching for steady bubbles upon contact. Once the oil is hot, drop the biscuits in and fry them for 1 minute on each side, until golden brown. Remove and place each donut on a paper-towel lined surface, or a drying rack with paper towels underneath.
Whisk together the powdered sugar and non-dairy milk in a small bowl to make the glaze. Once the donuts are cool to touch, dip each one in the glaze, carefully coating the entire surface. Place on a drying rack.
Heat the vegan butter over medium high heat in a skillet, and fry the bacon slices until crispy on both sides, usually a couple mins for each side. Set aside on a paper-towel lined surface.
Cook plant-based burger patties for 3 mins on each side over medium high heat, or until browned. In the last minute of cooking, place a slice of vegan cheese on the burgers and cover with a lid so they melt.
If you wish to use donut halves as buns, cut the donuts in half and toast them in the skillet. Otherwise, just use whole donuts as buns.
Assemble your burgers! Place a cheeseburger topped with two bacon slices in between your donut buns. Enjoy!
Recommended Products
As an Amazon Associate and member of other affiliate programs, I earn from qualifying purchases.