After many tries (4 to be exact) I finally found the winning combination of ingredients to produce the ultimate gluten-free, oil-free AND vegan double chocolate chip cookies! And they only require 7 ingredients and 15 minutes to prepare, which can be done in one bowl… they are almost too good to be true!
Watch me show you how to make these epic double chocolate cookies in the video below!
Watch on YouTube!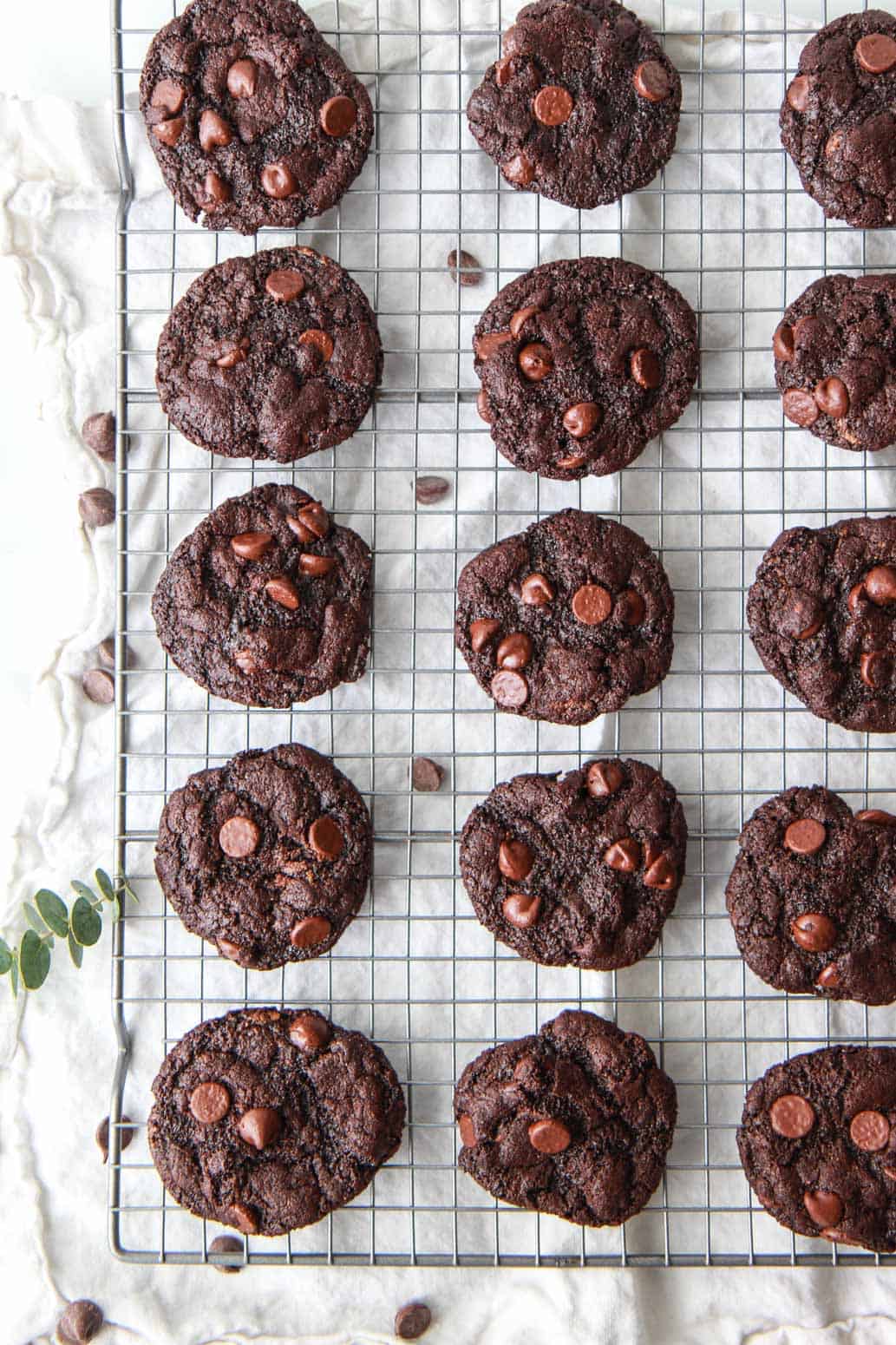 I have always loved flourless double chocolate chip cookies and the secret to making these delicious cookies without any oil, eggs, dairy, or flour is to use aquafaba and almond butter. Aquafaba works as a miracle egg-replacer in so many baking recipes, and the almond butter offers a deliciously healthy alternative to any oil or butter.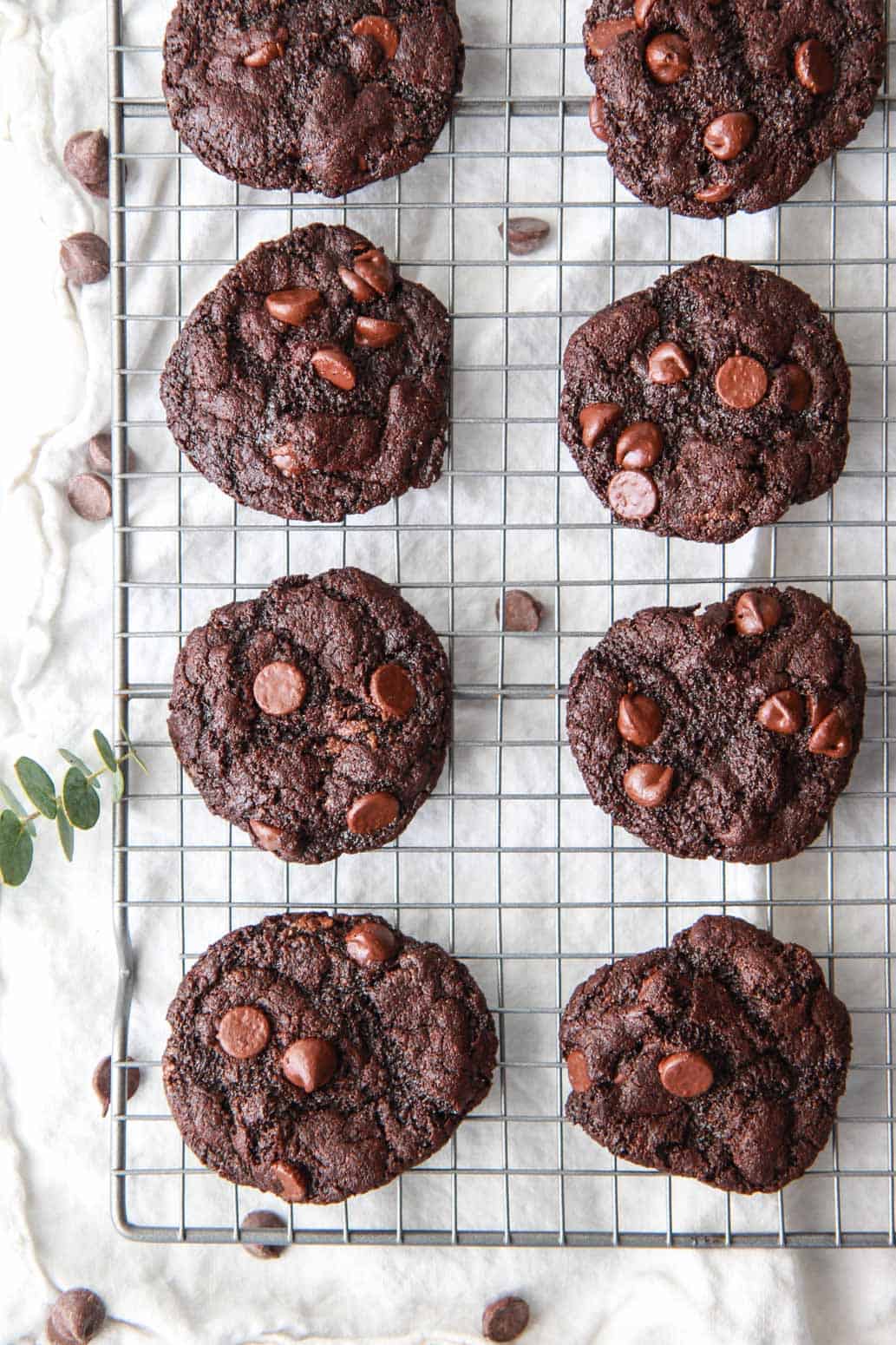 The best part about this recipe is that you barely have to wait for them to be ready… and if you can't even wait that long, the dough is delicious on its own!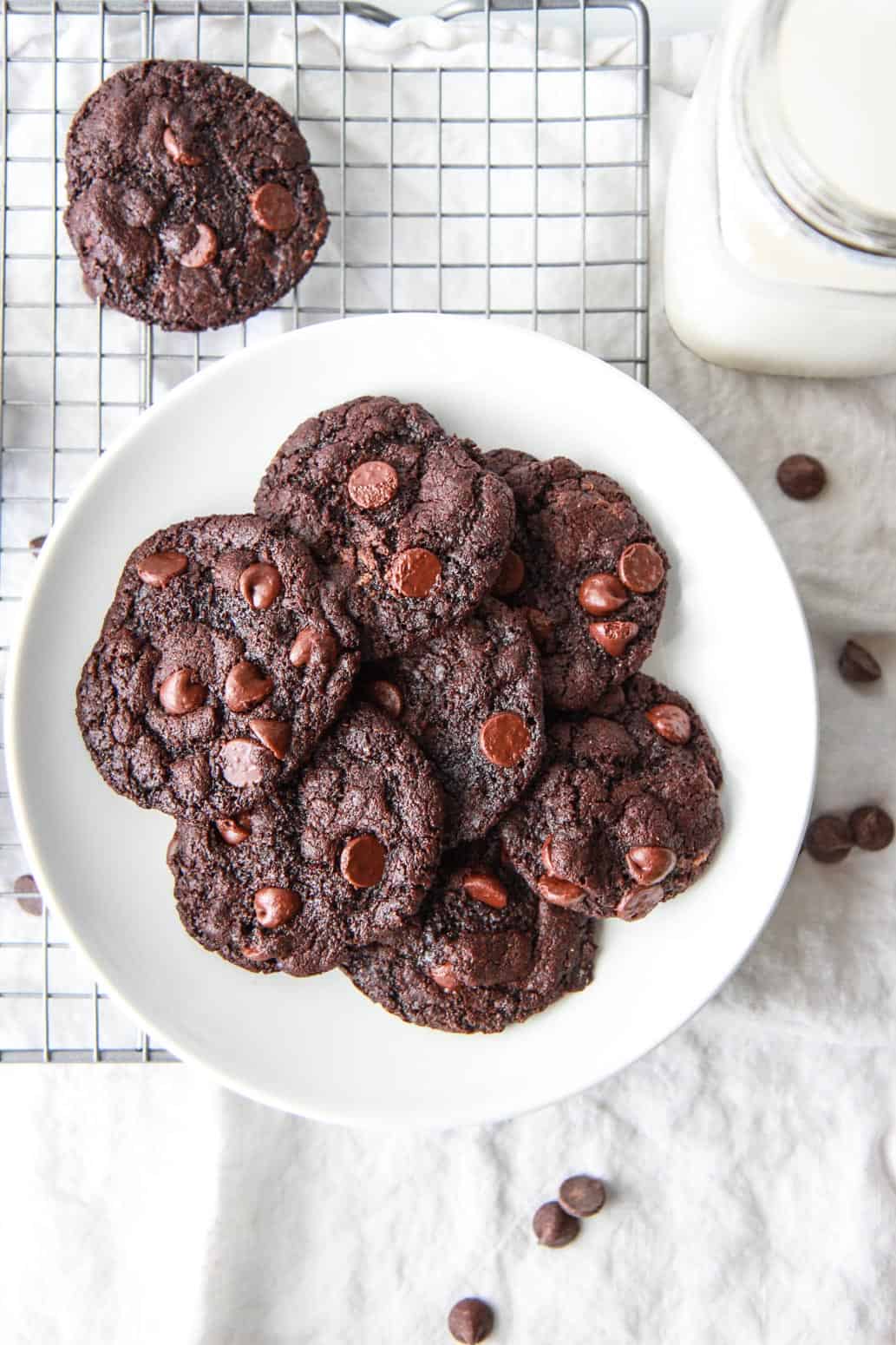 These cookies are the perfect companion to a tall, cold, glass of almond milk.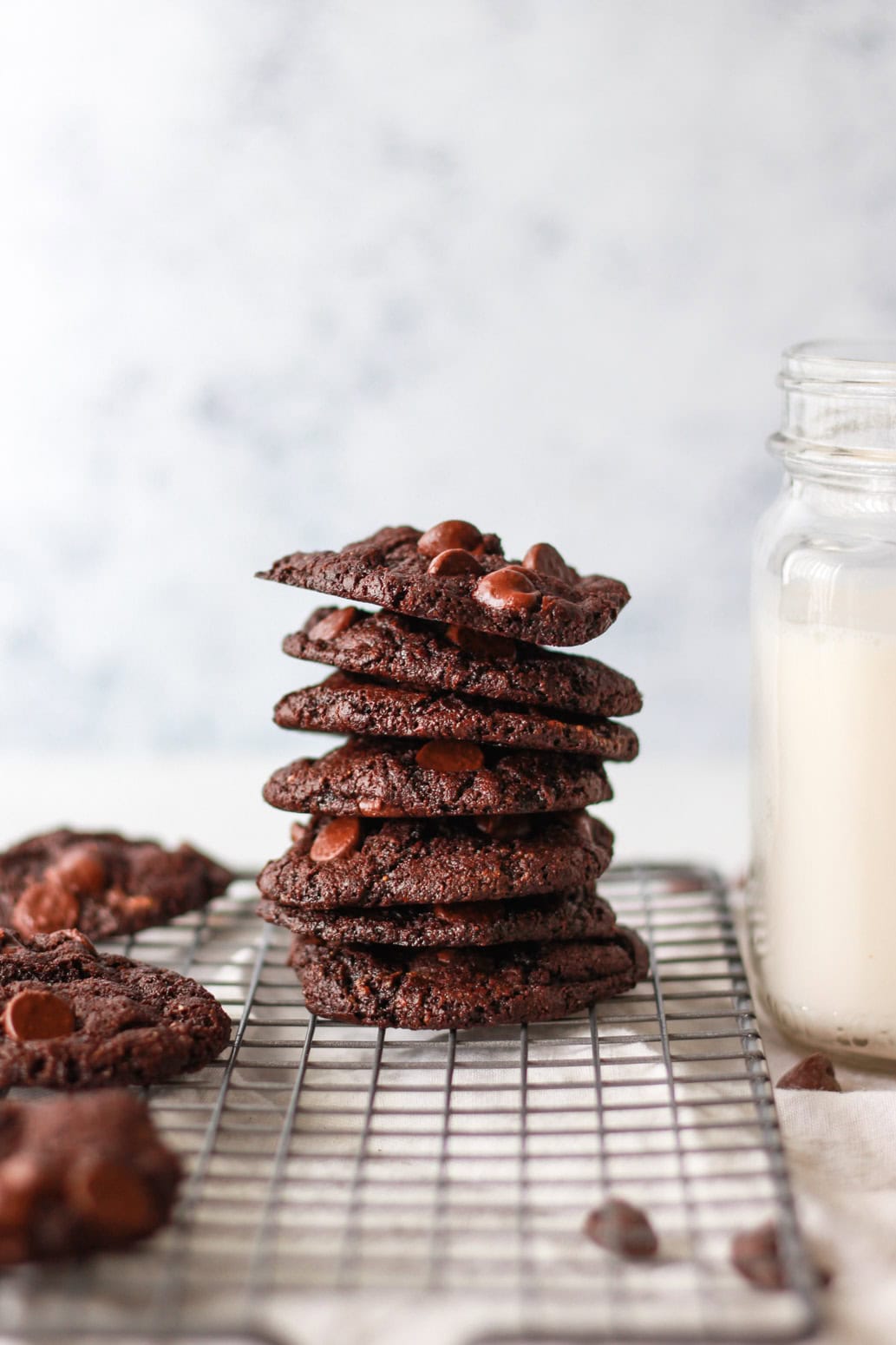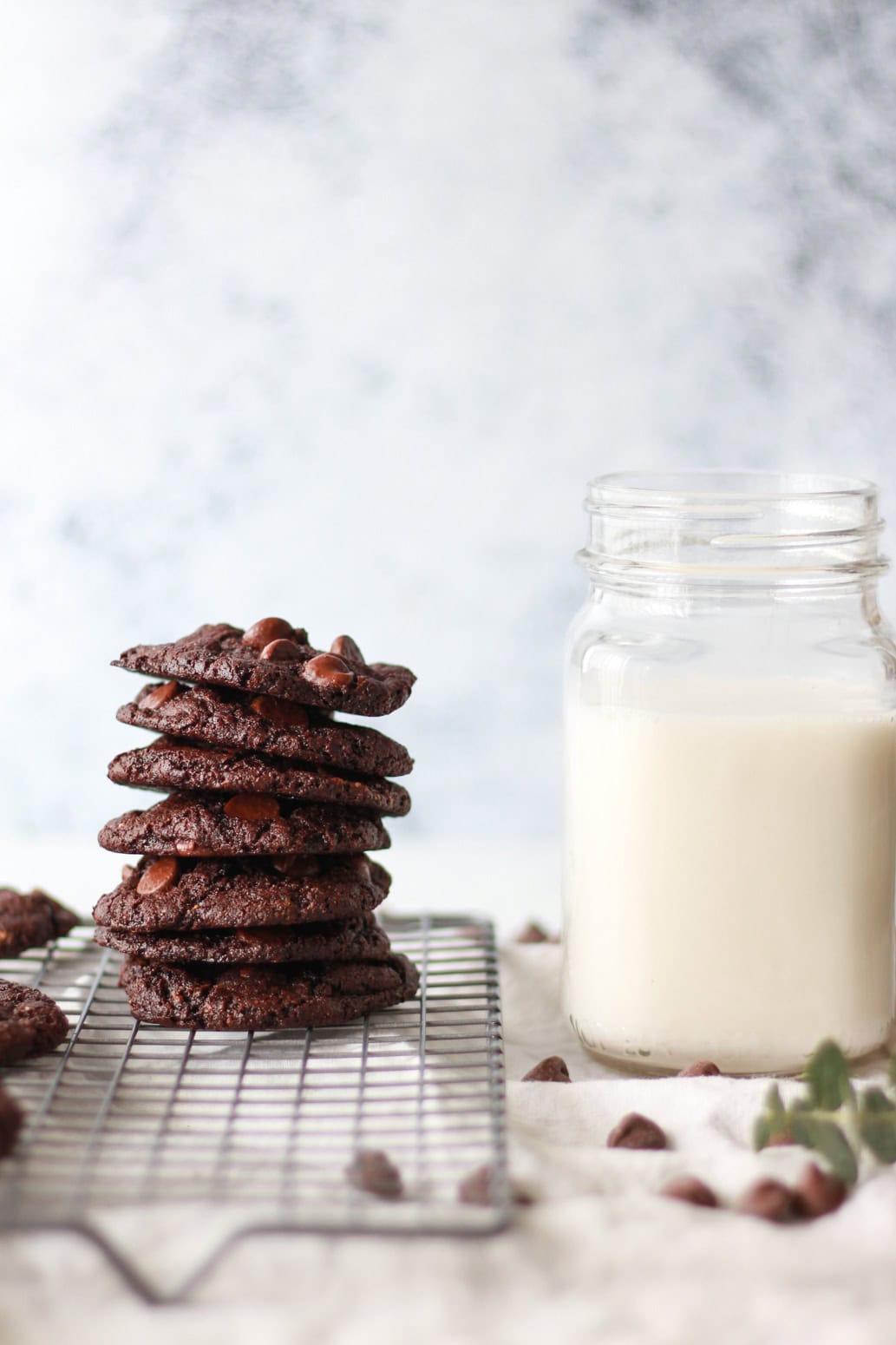 I hope you guys love this recipe as much as I do! Don't forget to let me know below in the comments if you try this recipe, tag your recreations on Instagram @zenandzaatar #zenandzaatar or pin it for later!
Best Gluten Free Vegan Double Chocolate Chip Cookies
The best gluten-free, oil-free, AND vegan double chocolate chip cookies that can be enjoyed in just 15 minutes, and require only 7 ingredients and one bowl!
Ingredients
¼ cup aquafaba (water from a can of chickpeas or other white beans, or cooking liquid from cooking dry chickpeas)
½ tsp baking soda
¾ cup + 2 tbsp coconut sugar
⅓ cup cocoa powder
1 tsp vanilla
½ cup almond butter
½ cup chocolate chips (ensure vegan)
Instructions
Preheat oven to 350F. Combine almond butter, aquafaba, and vanilla in a large bowl.
Sift dry ingredients (baking soda, coconut sugar, and cocoa powder) over the wet ingredients, stirring to combine as you do so. Alternatively, you can whisk the dry ingredients in a separate bowl.
Add dry ingredients to wet ingredients and mix with a spoon until just combined. This should result in a sticky dough. Fold in chocolate chips.
To make it easier to work with, you can refrigerate the dough for at least 30 mins. Drop rounded spoonfuls of the dough onto a cookie sheet lined with parchment paper.
Bake for 9-12 minutes. Baking for 9 minutes will yield chewier cookies, while baking for 11-12 minutes will yield cookies that are thin and crispy. Be careful not to overbake. Let cool for at least 2 minutes before transferring to a cooling rack.