Want to skip the ads and fluff and download this recipe straight to your device? Download this recipe and over 55 other vegan recipes as part of my e-book, HERE!
This vegan BLT salad is filled with crunchy romaine lettuce, smoky-sweet coconut bacon, juicy cherry tomatoes, creamy avocado, and topped with a heavenly hemp seed ranch dressing!
This crispy, smoky, sweet coconut bacon is one of my favorite vegan bacon alternatives. It is healthier because it is baked without any oil, and it adds the perfect crunch to this salad.
I love the contrast between the crispy coconut bacon and creamy avocado. I almost always add avocado to my BLT's because it is a healthy, creamy and satisfying alternative to mayo.
The creamy hemp seed ranch dressing brings this salad together in the most delicious and nutritious way. Hemp seeds are a great source of both omega-3 and omega-6 fatty acids, as well as being an excellent source of protein, even containing all of the essential amino acids our body needs! Who knew that this oil-free dressing could taste just as good as traditional ranch dressing yet have so many amazing nutritional benefits!
Don't forget to let me know if you try this recipe in the comments below or pin it for later! And I would love to see your recreations on Instagram @zenandzaatar!
If you enjoy this free recipe, consider supporting me further by purchasing or gifting my e-book, including this recipe and over 55 others! Have the best vegan recipes at your fingertips, downloaded to your device, without the ads and extra text on my blog. Buy it HERE!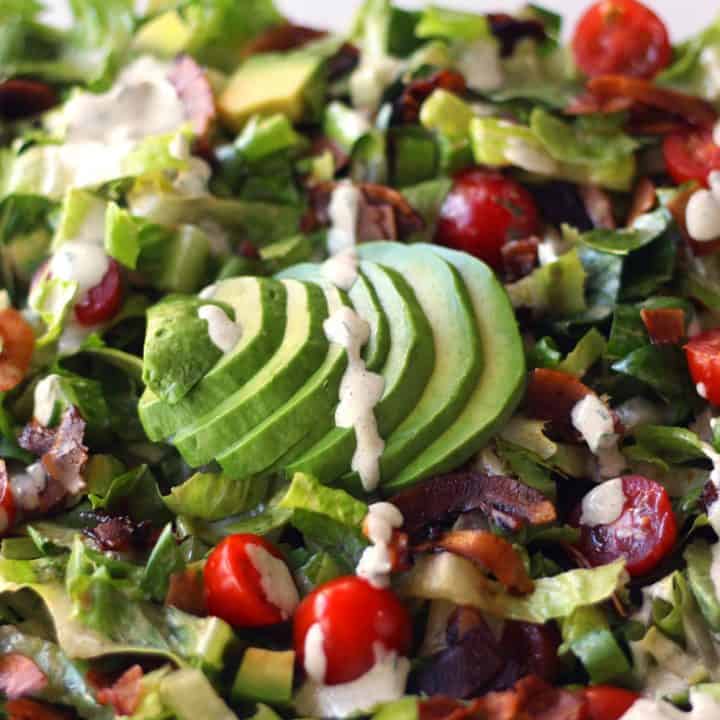 Vegan BLT Salad with Hemp Ranch Dressing (V, GF, Oil-Free)
A vegan bacon, lettuce, and tomato salad. Made with crispy coconut bacon, creamy avocado, and topped with a heavenly hemp seed ranch dressing.
Ingredients
Coconut Bacon
2 tbsp soy sauce
1 tbsp maple syrup
2 tsp liquid smoke
¼ tsp smoked paprika (optional, or use double if you don't have liquid smoke)
Hemp Ranch Dressing
½ cup water
¼ cup lemon juice
1 tbsp apple cider vinegar
½ tsp salt
½ tsp garlic powder
½ tsp onion powder
¼ tsp black pepper
2 tbsp fresh dill, finely chopped
2 tbsp fresh parsley leaves, finely chopped
Salad
1 avocado
1 ½ cup cherry tomatoes
1 romaine lettuce heart
Instructions
Preheat oven to 350F. Mix together soy sauce, maple syrup, liquid smoke, and smoked paprika if using in a medium bowl. Add coconut flakes and toss to combine, until the coconut flakes are all evenly coated and have absorbed most of the liquid. Spread out coconut flakes evenly on a baking sheet lined with parchment paper. Bake for 10-15 mins, until browned, stopping halfway through to stir them around and flip them over. Watch closely to make sure they don't burn.
Meanwhile, prepare the hemp ranch dressing. Blend all ingredients for the dressing, except parsley and dill, in a high speed blender until smooth. Once blended, mix in the chopped parsley and dill by hand. Set aside.
Chop romaine lettuce and slice cherry tomatoes in half. Chop avocado into small cubes. Top romaine lettuce salad with tomatoes, avocado, finished coconut bacon, and some hemp ranch dressing. Toss to combine or leave dressing drizzled on top. Enjoy!
Recommended Products
As an Amazon Associate and member of other affiliate programs, I earn from qualifying purchases.